Since we have paid off all of our credit card debt with our income tax refund, we took what was left and divided it up between the 5 of us, the kids got money put into their savings account and hubby and I each got $200 as "free" money. So I took a trip to the Coach store
Everything in the clearance section was 50% off the lowest price on the tag and I had a 30% off coupon!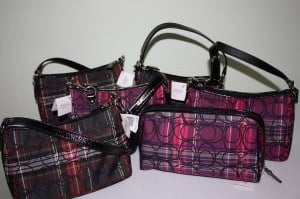 After looking at my receipt I realized that they rang up 3 pink/black ones and 2 red and black so I was over charged by $5:(
1 Makeup bag(Original price $88)@ 39.99-13.99 (after all discounts)
3 Purses(original price $148) @69.99-24.50 (after all discounts)
2 Purses(original price $148) @ 59.99-20.99(after all discounts)
total-137.23
Total saved-698.54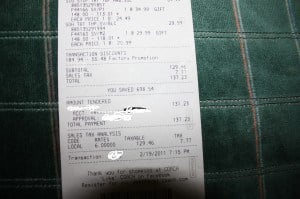 Hopefully my sisters do not see this or they will know what they are getting for their birthdays since my one sister's birthday was the other day and my other sister's is next month. lol. One will be for my daughter for Christmas(yes hubby thinks I am crazy to give our 6 year old a Coach bag, but she has been asking for a purse and well if I went to walmart to get her one I would end up spending the same amount on a purse there as I did tonight for her for a Coach one)
Combining coupons with sales can easily score you some AWESOME Deals!
This post may contain affiliate links. Please read my disclosure policy here
The following two tabs change content below.
MidgetMomma
Stay-at-home mom of 3 turned work at home mom living in the Poconos, Lauren is a self admitting coffee addict, coupon loving lady who loves helping others and teaching others to save money. Lauren loves a good deal on quality products and finding ways to save money so she can do the things she loves. Lauren believes the challenges in life are what make us who we are and we should love and embrace ourselves and take time to help others. When not blogging Lauren loves to shop (with coupons and deals of course), travel, hang out with family and enjoy great food.
Latest posts by MidgetMomma (see all)