Oh wow, I am so excited about this one! I am a total foodie and spent some time taking cooking classes in college. I learned a lot from those classes and started making some amazing meals at home. But the number one thing I missed from the completely professional, commercial kitchen we were using at my college was the scales. Most people that I've met don't bother using scales in their homes, but there's a lot to be said about having one in your kitchen. And this one is super easy to use, is completely digital and comes with a calorie counting guide as well, which can be very helpful in measuring out portion control sizes.
Here's the scale: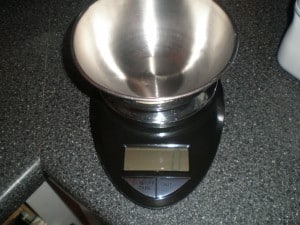 It has two buttons, one for turning it on or off or taring (resetting) the weight and one to switch between grams, pounds, ounces and kilograms.  It can measure up to 11 pounds, which is amazing since it's so compact!  I know lots of people (like Midgetmomma!) have no idea what you would even do with a scale in their kitchen.  My favorite thing to have it for honestly is to make my sauces.  I'm excellent at making gravies and sauces, but it took a lot of bad batches to finally learn the secret to an amazing sauce.   It is all in the roux, which needs to be equal parts stiffener (usually flour) and fat (usually butter) by weight. This is the key, because if you just measure two tablespoons of butter and two tablespoons of flour, your sauce is going to be very runny.  I've been having trouble making some of the sauces I made in class at home simply because i didn't have a scale.  Other great uses are measuring out portions (it's hard to measure out 6 ounces of meat that your diet tells you you need without a scale!) or measuring baking ingredients.  I've come across lots of baking recipes that use weight amounts for things like flour and sugar, that doesn't translate well to a cup amount.  Technically, you can use cups, but since baking is a more exact science, you may run into some rock hard brownies that way (I know I did!).  This scale is so much more simple and basic then the ones we used in our commercial kitchen, which is perfect because I just wanted something that would fit easily on my counter, look nice, and works.  Its also a lot more affordable!  When this first arrived, my husband didn't understand why I even wanted one, but I got him to use it to make biscuits and gravy one night (so I wouldn't have to make it).  I usually eye the ingredients, but since we have the scale now, I can tell him exactly how much to add and there's no chance for an oops that ends up being thrown away!  I love having the EatSmart in my kitchen and now a lucky Luxury living reader will get to have one too!
BUY IT
Pick up your very own EatSmart Digital Scale!
WIN IT:
One lucky Luxury Living reader will win their very own Digital EatSmart Scale!
Mandatory Entry:
Tell me what you would like to use this scale for in your kitchen!
Extra Entries:
Mandatory Entry must be completed, leave a separate comment for each entry; leave ID and links in comment
■Like EatSmart Products on Facebook -1 entry
■"Like" Luxury Living Frugal Style on Facebook– 1 entry
■Follow Luxury Living Frugal Style with Google Friend Connect-1 entry
■Follow EatSmart Products on Twitter– 1 entry
■Follow Luxury Living Frugal Style on Twitter and Tweet #giveaway for EatSmart Scale @eatsmartscales @MidgetMomma1200 http://www.midgetmomma.com/?p=6128 -1 entry per day
■Subscribe via e-mail (must verify)-1 entry
Giveaway Rules
This giveaway is open to US residents who are 18 years old This giveaway will end on May 30th at 11:59 PM EST Winner will be selected at random and contacted by e-mail and will have 48 hours to reply to contact e-mail or a new winner will be picked. The sponsor of this giveaway is responsible for prize fulfillment.
Disclaimer: I was provided product to facilitate this review, I was not compensated for this review. All opinions are my own.
This post may contain affiliate links. Please read my disclosure policy here