So yesterday I took a really awesome picture of myself and my daughter. I normally am behind the camera and then most pictures I am in I hate and so my profile photo on facebook has been the same one forever and I hardly ever change it. So back to yesterday, I had gotten dressed, done my hair and make up for the Skype interview I had and while we were waiting for it to start my daughter and I were taking some fun pictures and the one I fell in LOVE with…
Here is the picture… LOVE IT! My daughter looks super cute and we are both looking at the camera (If you have kids you know what I mean by that statement) and I really liked the way I looked so I decided to use it as my profile picture.
SO here is the original Photo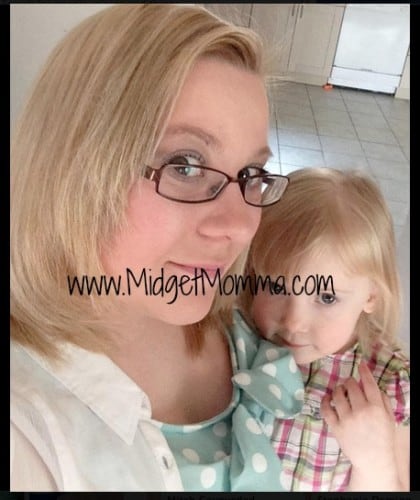 And here is what I am using for my profile picture
Well apparently it got one person (a guy) on my friends list in a tizzy because I cropped my kid out and then used it as my profile pic. The person is single, has no kids and the end result is calling me a scumbag (Which was done immaturely I might add as a status update on their page)! WHAT!?!? Like seriously it baffled my mind that someone would get that upset about it. Especially since it is my page but I am sure when they have kids they will get it LOL.
I know I don't have to explain myself but for the sake of it all I am going to
I am sure many of you know this…. When does a Mom NOT have their kid in a picture? Heck going to the bathroom alone is impossible taking a picture alone falls right along with it. So I am really not understanding the big deal.
I did it also because as you all know reading this post, I have the blog. My family did not ask for me to have this job and so I want to protect them, I don't want people being able to find my kids names and information and nor do I want them seen unless there is a watermark on the picture of them…. and we all know how awesome a watermarked photo would be as a profile pic! I get friend requests daily from people I don't know I don't want pictures of my kids to be what people are finding.
I also as you know share photos of my kids and they are watermarked, there are weirdos out there and I don't need them stealing pictures of my kids!
Anyone on my personal page can see all the pics I post, but that is what it is I know them personally and I am friends with them and as much as I love sharing things with the world about my family well there are things that I don't like everyone and their mother to have easy access to…. such as my kids!
Don't worry…. that person…well they can't see pictures of anything anymore.
Do you see anything wrong with people cropping their kid out for a profile pic?
This post may contain affiliate links. Please read my disclosure policy here