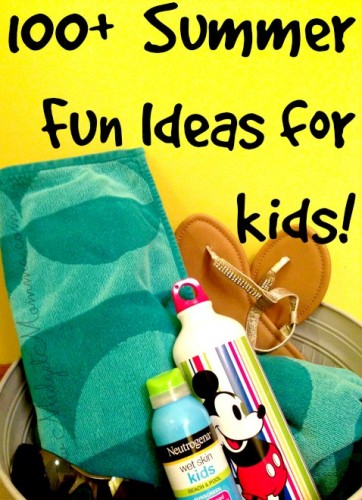 Summer Activity Ideas for Kids
Summer is right around the corner and if you are like me you don't want the kids sitting around just playing video games but you want them to have fun and get out lots of energy. Here is a HUGE list of Summer Activities for Kids, that includes recipes, crafts and places you can go to have a TON of fun this summer many with out breaking the bank because there is so much that is FREE or really cheap to do!  
Crafts to do with Kids during the summer
Activities to do with kids during the Summer
Free summer reading programs
Reading at home – Find FREE Kindle books for kids on Amazon
Make Homemade Marshmallows – great for using with S'mores!
Build a fort with blankets
Blow bubbles
Play hop scotch and use chalk to draw yours
Swing on the swings
Have a campfire and make S'mores
play tag
play in the sandbox
play hide-and-seek
Read FREE Kindle Books- you do not need a Kindle to read them
have a water gun fights
have a water balloon fight
run through the sprinklers
have them come up with a lunch or dinner idea and have them cook it with you
Go fishing
Go on a hike
find a local pond that has ducks and feed the ducks (make sure its ok first)
Homemade Bubble Maker
Kids Skate FREE at select Rinks around the country!
Veggie picking - search online for local U-Pick farms
Summer Recipes for kids
This post may contain affiliate links. Please read my disclosure policy here
The following two tabs change content below.
MidgetMomma
Stay-at-home mom of 3 turned work at home mom living in the Poconos, Lauren is a self admitting coffee addict, coupon loving lady who loves helping others and teaching others to save money. Lauren loves a good deal on quality products and finding ways to save money so she can do the things she loves. Lauren believes the challenges in life are what make us who we are and we should love and embrace ourselves and take time to help others. When not blogging Lauren loves to shop (with coupons and deals of course), travel, hang out with family and enjoy great food.
Latest posts by MidgetMomma (see all)