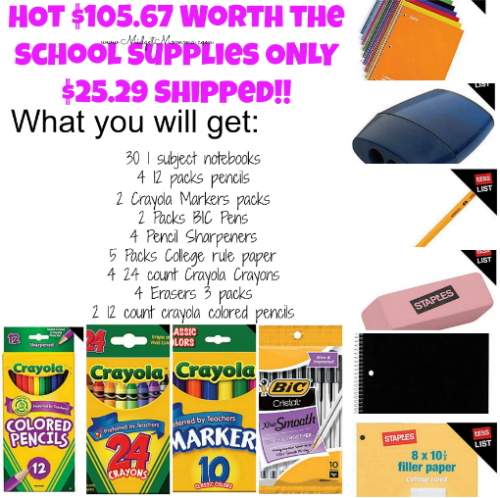 Earlier today I told you about getting notebooks for .17 each shipped from Staples while after the kids went to bed I started looking around Staples and found an AWESOME deal that will make it so you are able to score almost everything you need for 1 kid for back to school for under $25!!
You have to buy the exact items I list to get this to work. Just add them to your cart, same items and same totals (each one is linked so you can click the link to get directly to the product). There are offers that when you spend $25 you get x amount off and it is working on the predeal price on some items and not the predeal price on others so It took me a bit to get this one to work out but I am super excited that it did!
You will get 105.67 worth the school supplies for only $25.29 shipped!!!
Here is the deal
24 of these 1 subject notebooks
6 of these 1 subject notebooks
Head to check out and pay just $25.59 with FREE Shipping!!!
This post may contain affiliate links. Please read my disclosure policy
here
The following two tabs change content below.
MidgetMomma
Stay-at-home mom of 3 turned work at home mom living in the Poconos, Lauren is a self admitting coffee addict, coupon loving lady who loves helping others and teaching others to save money. Lauren loves a good deal on quality products and finding ways to save money so she can do the things she loves. Lauren believes the challenges in life are what make us who we are and we should love and embrace ourselves and take time to help others. When not blogging Lauren loves to shop (with coupons and deals of course), travel, hang out with family and enjoy great food.
Latest posts by MidgetMomma (see all)