So its a warm summer night and everyone has eaten a delicious dinner and you are itching for a sweet treat but want something that is light and tasty and just do not know what to make. Well you are in luck, we recently were contacted by Dole to try out a sweet treat using the Dole Fruit in a Jar fruits and I have a tasty treat for you. It is super easy to make, just a few ingredients and it takes literally less then 5 minutes to make enough for everyone.
The fruit in a jar is great because you just open thejar and taste the goodness of all-natural, ready-to-eat fruit that was picked and packed at the peak of ripeness and then put the lid back on after using the amount of fruit you need, so if you do not use the whole jar just put the lid on and put it in the fridge for the next time! There is also no prep work for the fruit, which is great when cooking with kids!
You can change up your dessert to if you want to since there are 5 different flavors of fruit in a jar!
DOLE Fruit in Jars Mandarin Oranges
 DOLE Fruit in Jars Pineapple Chunks
 DOLE Fruit in Jars Tropical Fruit
DOLE Fruit in Jars Sliced Peaches
 DOLE Fruit in Jars Mixed Fruit
DOLE Fruit in Jars Pineapple Chunks & Raspberry Greek Yogurt Parfaits are so easy the kids can get involved and really make them by themselves which will make any of the younger kids who like to help in the kitchen and feel like a big kid super easy.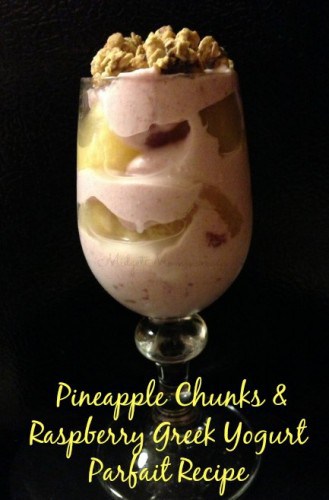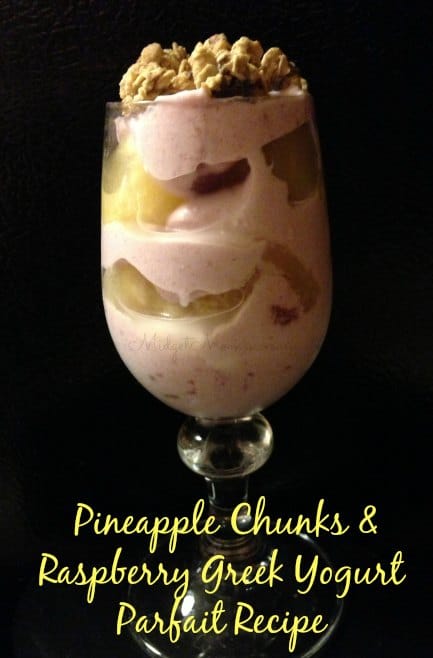 DOLE Fruit in Jars Pineapple Chunks & Raspberry Greek Yogurt Parfait Ingredients
1 Jar Dole Fruit in a Jar Pineapple
1 bag of granola – not picky here just use your favorite one or what you have on hand
Raspberry greek yogurt – use your favorite, we used the store brand (for all of us I needed 5 yogurts, so use 1 container of yogurt per person)
Directions for DOLE Fruit in Jars Pineapple Chunks & Raspberry Greek Yogurt Parfait
Get out your cute dessert cups, open the greek yogurt and mix well to get all the fruit blended into the yogurt. In your dessert cup add 2 large spoonfuls of yogurt, layer 4-5 piece of pineapple, then 2 more spoonfuls of yogurt (continue until you have used all your yogurt and make sure the yogurt is the last layer) then sprinkle some granola on top. And that is it, I told you it was super simple!
(You can get the printable version of this recipe below)
Plus being a Mom that works from home and has a houseful of kids during the day while working things can get a bit crazy when it comes to eating healthy foods and trying to get some fitness in my day. Here are 5 Tips for Good Food & Fitness this summer:
Go the easy route with fruits and veggies – buying fruit in a jar, frozen veggies or cutting up fresh ones and keeping them in the fridge for snacking will keep you from reaching for the chips.
Plan a break time when you can step away from working for 15 minutes at a time a few times a day and go run around outside with the kids. You will get exercise and the kids will be happy to have you playing with them!
Go fruit and Veggie picking, you will be getting fresh air, fresh fruit and veggies and then you will have great snacks too. When making a fruit salad use the fresh fruits you picked that are local to you with the DOLE Fruit in Jars fruits that you can not get fresh locally and have an awesome fruit salad
Skip the ice cream and have a healthier dessert option like fruit
For breakfast start your day off with a lighter meal, eat your bigger meal at lunch and then a smaller meal at dinner!
[amd-zlrecipe-recipe:106]
Disclaimer: This post is sponsored by DOLE, as always all opinions are 100% my own because no one can tell me how I feel and think 🙂
This post may contain affiliate links. Please read my disclosure policy here