If it were up to my kids we would be eating at Olive Garden every other day JUST for their Alfredo. That is not possible in my budget nor the time it takes for us to get to Olive Garden so I needed an option that I can make right at home. Tada came this Olive Garden Alfredo Copy Cat Recipe!  This Olive Garden Alfredo Copy Cat Recipe hits the spot perfectly whenever we are wanting some Olive Garden. Prep a salad and some breadsticks if you want to, but I find a loaf of fresh made italian bread from the grocery store does the trick. Even better when I make this dinner is done in about 20 minutes so this is one of my go to meals when I need a quick awesome dinner!
You can make this even more awesome by making homemade pasta to go with it, however boxed pasta will work just fine too. This recipe makes enough for using with a 1 pound box of pasta and feeds our family of 5. You can easily double and triple the recipe if needed.
If you really want to ramp up the game you can grab some Olive Garden Salad dressing here and then put it on your salad. Plus they make Olive Garden Croutons too!! You can really have the WHOLE shebang right at home!!
For Tasty Recipes every day join us on our Facebook page here
Olive Garden Alfredo Copy Cat Recipe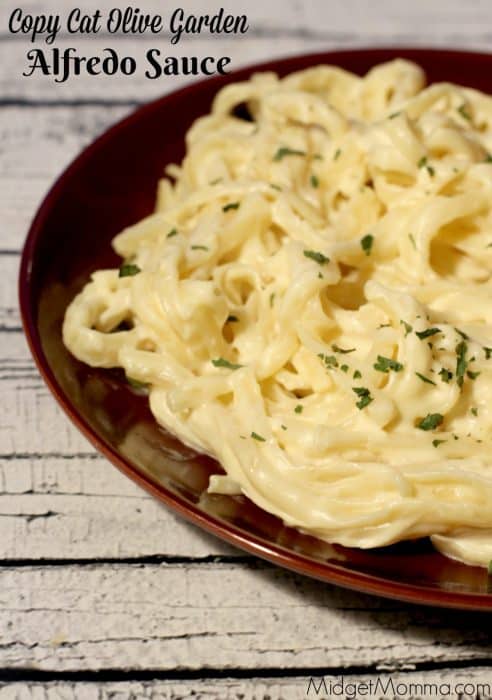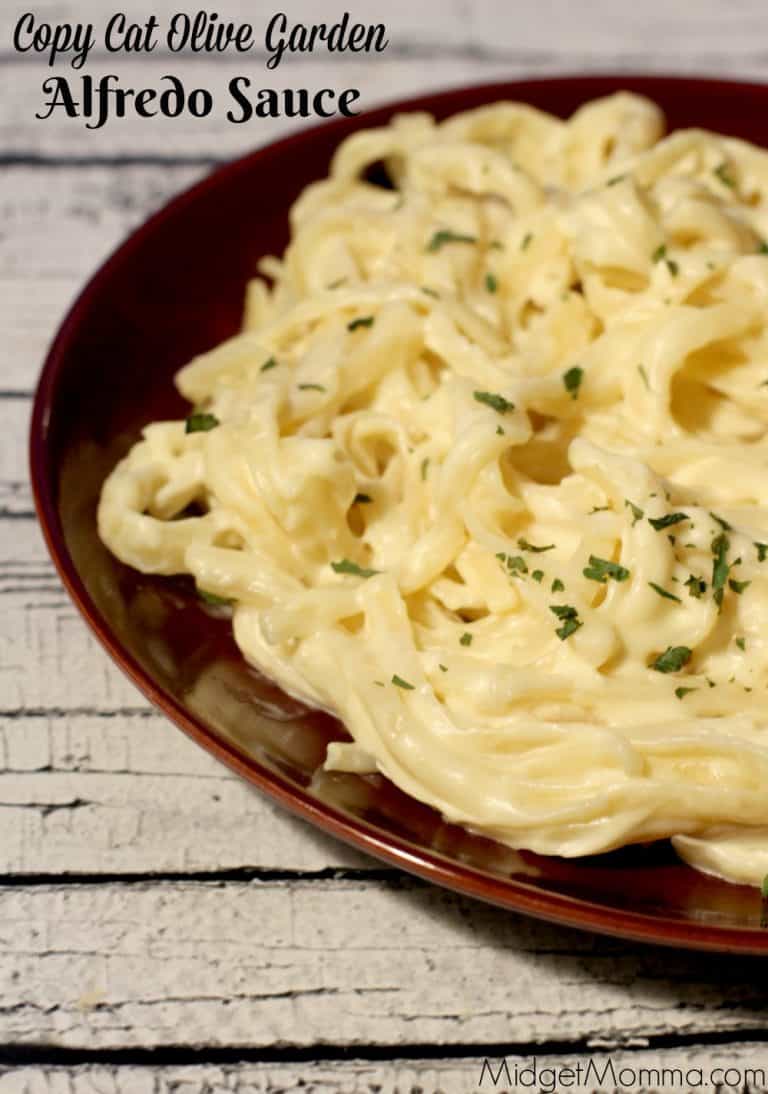 Olive Garden Alfredo Copy Cat Recipe Ingredients 
8 oz cream cheese
1 stick of butter
1 quart of heavy whipping cream
6 oz grated parmesan cheese
2 tablespoons garlic powder
Parsley (optional)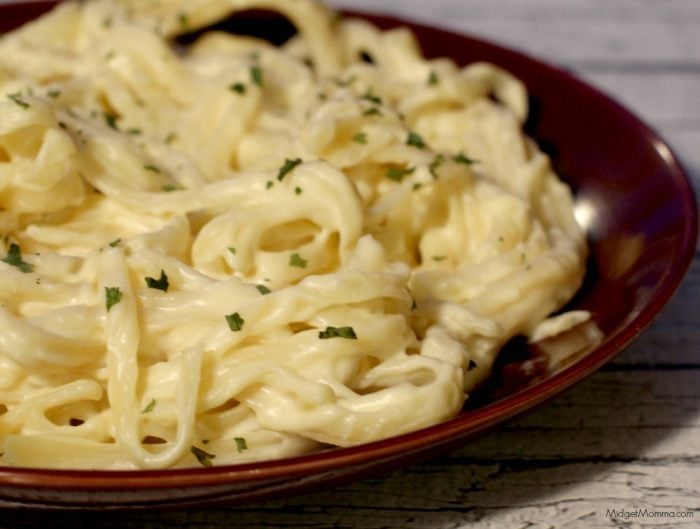 Olive Garden Alfredo Copy Cat Recipe Directions
Melt butter and cream cheese in a sauce pan over medium heat. The cream cheese might look a bit strange it is going to be clumpy and curdled looking but that is how you want it! Once melted stir it until you have it as smooth as you can get it.
Pour in the whipping cream and turn the heat to medium-high.
Whisk together until butter and cream have combined and until the sauce bubbles slightly.
Add Parmesan cheese and garlic powder and stir to combine well. You want it nice and creamy.
Put it on top of pasta, dip bread and YUMMY!!!
If you are putting it on top of pasta just pour all of the alfredo sauce on top of your cooked pasta in a bowl and mix it so all of the pasta is covered in the yummy Alfredo sauce goodness!
This post may contain affiliate links. Please read my disclosure policy here