Thanks To Traci66 and Heck of a Bunch For this blog hop! Head on over here to sign up for this blog hop!
Welcome to everyone who is new here and hello again to everyone who has been here before! I am really liking these blog hops and getting lost reading blogs I hope everyone else is too!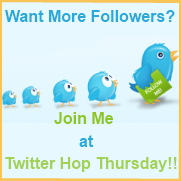 Thanks to Review Retreat for Twitter Hop Thursday! Head on over here to link up!
This post may contain affiliate links. Please read my disclosure policy here