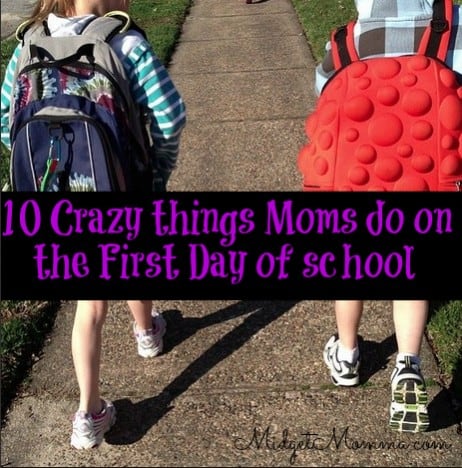 Back to school is here and there are lots of things we do as moms on the first day of school to make sure they have the best day ever and we capture every memory we can! But of course we all know these things only happen on the first day of school and by day 2 we are already exhausted from making the first day of school awesome that we then let things slide 😉
1. Pick out the kids first day of school outfit so your kid looks adorable. You know we all have that perfect image when we are back to school shopping with our kids on and what poses we want them to do for pictures and the outfit must be perfect.
2. Wake the kids up 30 minutes earlier then normal to make sure there is enough time for all the pictures we are going to take.
3. Making a huge pretty breakfast with tons of fixings (that we know they won't eat all of it but hey its the first day of school and they need a good breakfast!)
4. Cut all the fruits and veggies into pretty shapes, along with the sandwiches into some thing fun and make the lunch box look perfect.
5. Get up an hour before the kids so we can get showered, dressed and have ourselves look good in the pictures too.
6. Take TONS of pictures. Take them on the front porch, the back porch, getting into the car, getting out of the car, walking to the bus, getting on the bus. While at it make sure you take one of them eating breakfast too 😉
7.Screaming have a great first day at school as the bus pulls away or they are walking into the school building.
8. Spending an hour to make sure the hair is done perfectly and all hair accessories are in and matching the outfit.
9. Running out the door 5 minutes late because you were spending to much time getting the kids to wear the perfect outfit, have the perfect hair, eat the perfect breakfast and take the perfect first day of school pictures.
10. Dance around the house in excitement that summer is over and the kids are in school so you can have a few minutes of quiet while crying at the same time that they are a year older and now the fun of summer is over.