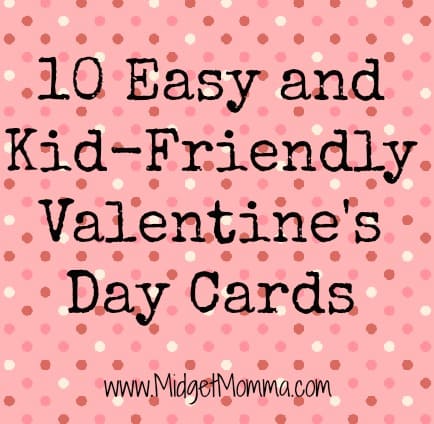 Don't forget to Pin it 🙂
Why buy pricey and boring Valentine's Day cards at the store, when you can spend a fun afternoon making them yourself? Here are our 10 favorite valentines that are just as fun to make as they are to receive. These DIY cards are so simple, inexpensive and enjoyable for kids to create on a cold winter afternoons. Plus, it's a great activity to do with nannies or babysitters.
Want more Valentine's Day fun? Check out our article on 41 Easy DIY Valentine's Day Crafts for Kids »
Heart Blotto Valentine– the littlest kids can make these pretty Valentines. All they need is a dab of paint and some heart-shaped paper.
We all know little boys who love to drag mud through the house and surprise us with their favorite critters. Here are some cute Valentine's Day cards for them that will bring smiles not screams.
Rockin' Candy Card
Do you know a kid who thinks they're "too cool" for making V-day cards with mom or the babysitter? Introduce them to these candy cards that really rock.
Butterfly Lollipop Card
Calling all girly-girls! This is a cute way to incorporate everyone's favorite V-day candy into an adorable card. Use the free printable here or make your own.
Superhero Lollipops to the RescueBoys shouldn't miss out on all the fun this holiday! Make these easy superhero lollipops the whole class will love to receive.
Shaving Cream Valentine
Who knew shaving cream could be made into colorful cards? Use this unusual ingredient to make cards that will impress everyone in your child's class — including the teacher!
"Unloading Some Love"
Little boys love little toy trucks, so help them make this easy dump truck valentine. Come up with some extra cute sayings to write on the card like "Just stopping by to unload some love."
Woven Heart Card
Kids will feel crafty and creative after just seven quick steps of this beautiful woven heart card.
Make a simple flower, butterfly or dinosaur card using chocolate candy hearts
Stamp Art Cards  – Stamp your love onto each and every card this Valentine's Day with your own DIY stamps that double as awesome valentines
This is a guest post from Jessica Retrum is a Contributor for Care.com 
Join the newsletter
Subscribe to get our latest content by email.