I have been sharing all sorts of fun information about the Ant-Man movie this week leading up to this post that I have bee keeping a secret because they told me I had to and of course that means I have to listen to them or I get in trouble, but now I can spill the beans 🙂
STORY SYNOPSIS:
The next evolution of the Marvel Cinematic Universe brings a founding member of The Avengers to the big screen for the first time with Marvel Studios' "Ant-Man." Armed with the astonishing ability to shrink in scale but increase in strength, master thief Scott Lang must embrace his inner hero and help his mentor, Dr. Hank Pym, protect the secret behind his spectacular Ant-Man suit from a new generation of towering threats. Against seemingly insurmountable obstacles, Pym and Lang must plan and pull off a heist that will save the world.
Marvel's "Ant-Man" stars Paul Rudd as Scott Lang aka Ant-Man, Evangeline Lilly as Hope Van Dyne, Corey Stoll as Darren Cross aka Yellowjacket, Bobby Cannavale as Paxton, Michael Peña as Luis, Tip "T.I." Harris as Dave, Wood Harris as Gale, Judy Greer as Maggie, David Dastmalchian as Kurt, and Michael Douglas as Dr. Hank Pym. Directed by Peyton Reed and produced by Kevin Feige, Marvel's "Ant-Man" delivers a high-stakes, tension-filled adventure on July 17, 2015.
10 Reasons Ant-Man is a MUST See Movie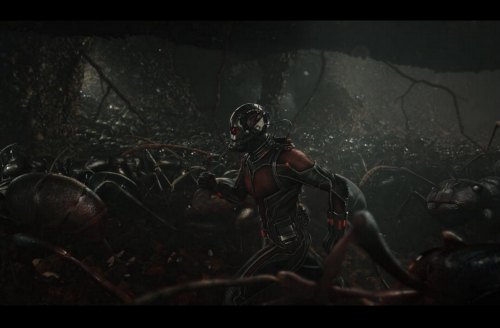 10. The Ants and Anthony
Marvel did a lot of research into ant behaviors and what the different species of ants could bring to the movie in terms of what filmmakers needed for the heist. For instance, the Paraponera clavata or bullet ants have a very painful sting and resemble dinosaurs in the movie; the Solenopsis or fire ants are like architects as they can link together and form bridges and rafts to help Ant-Man; and the male Camponotus carpenter ants can fly, providing Ant-Man with a helpful mode of transportation.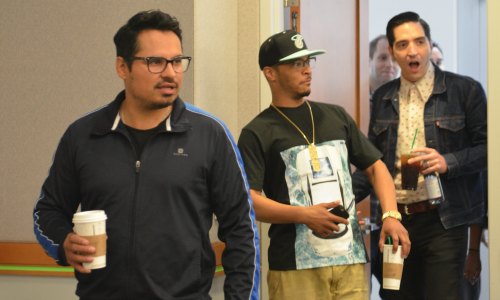 9. The "Antorage" 
The humor of this threesome brings the laughs to the movie that you don't want to miss You can read my exclusive interview with the "Antourage" for some inside secrets about them!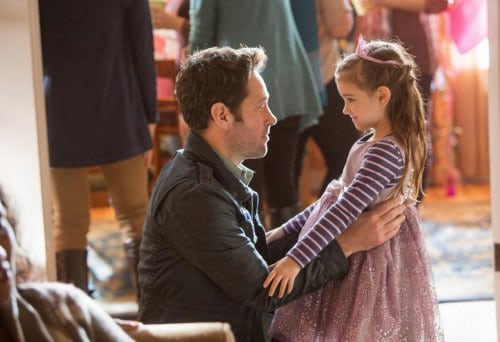 8. Parenting
Parenting is hard, parenting when you are also the size of an ant or your child and you don't get along is a bit harder. The relationships and the importance of relationships that we all have in our lives is important and a great message. I sat down with Paul Rudd and Evangeline Lilly and got the inside scoop on the parenting aspect of Ant-Man.
7. "You can be small and do BIG things"
Ant-Man is small, but he is powerful and can do "big" things. I think it is a great message that size doesn't determine anything about life 🙂 But we all know I would of course love that its a small little guy being able to do BIG things.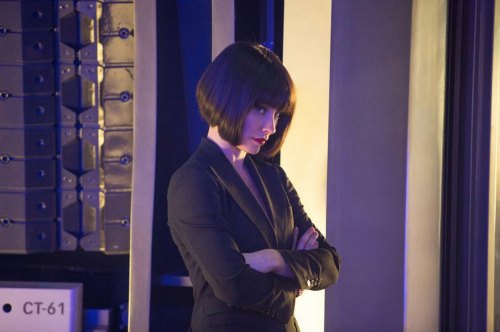 6. Girl Power
It is not "in your face" but the power of women and how they are just as awesome as men and kick butt just like they can is an important part of the movie for me. I think it is good for kids no matter what their gender is to see that gender doesn't stop someone from doing something that they want to do. Those of us who have boys can leave out the "girl power" and tell them about how in life we can do whatever we set our minds to.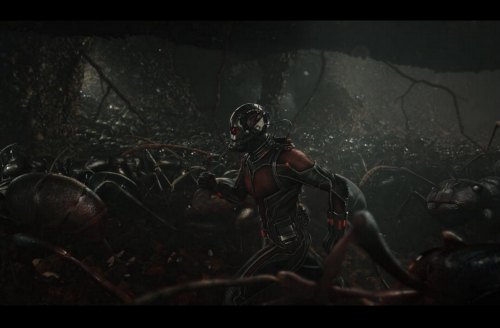 5.Tech and Special affects
Obviously to make a movie with a guy who is the size of an ant there is quite a bit of tech that goes into it. In this exclusive interview Michael Douglas talks about the tech stuff of Ant-Man. The special affects, well they are nothing short of amazing. Which of course is something we all expect from a Marvel movie and Ant-Man doesn't fall short of what we would expect!

In each Ant-Man suit there are over 159 LED lights, which are controlled remotely. All the circuitry and batteries for the lights are in a very small backpack. The whole suit can light up, including the gloves and belt.

Each Ant-Man helmet has 54 different pieces to it as well as 10 LED lights. If you add in the nuts and bolts and the helmet lining, it's over 60 individual components just for each helmet.

In the spirit of shooting everything in miniature, the macro photography team built a mini clapperboard, the device filmmakers use to help synchronize picture and sound. Originally made of wood and handwritten on with chalk, clapperboards now have digital features, but the one for the macro sets was of the old-fashioned variety.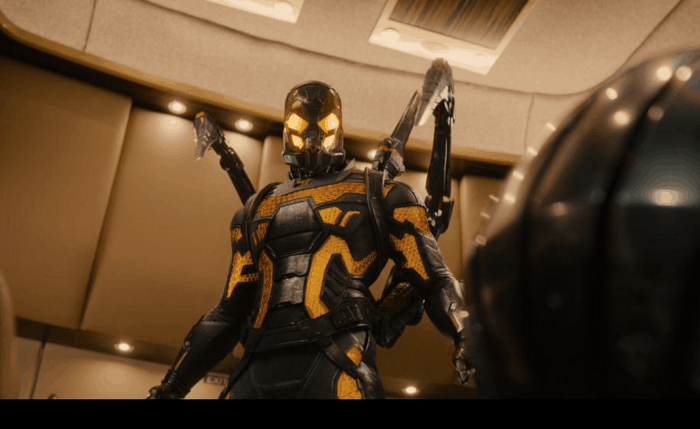 4. The Villain is relatable. 
After a sit down with Corey Stoll about being Yellowjacket and how is character is one that has good intentions but makes bad choices. We can all relate to that and while his character is not a teen, this is one character I feel will reach the teens.
3. After the credits
You are going to LOVE the TWO, yes I said 2 special secrets that I can not mention that are after the credits so make sure that you do not leave until you see the very end of the credits!
2. Tiny Secrets
When you watch Marvel's "Ant-Man," look closely at some of the set dressing in Hank Pym's house. You'll see a little chair or a tiny weapon or other miniature everyday items. There are items placed all around the house that hint at the adventures Pym had when he was Ant-Man and suggest the experiments that he made shrinking inorganic objects before he made the breakthrough to shrinking organic objects.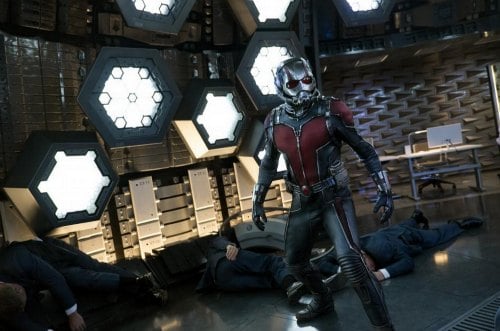 1. If you have never seen a Marvel movie you can understand this one and enjoy it!
Many times movies are made so you need to have seen the other ones. While Ant-Man does have references to other Marvel movies if you have never seen a Marvel movie you can still see this one and understand it all and enjoy it.
Ant-Man is in theaters TODAY July 17, 2015!!!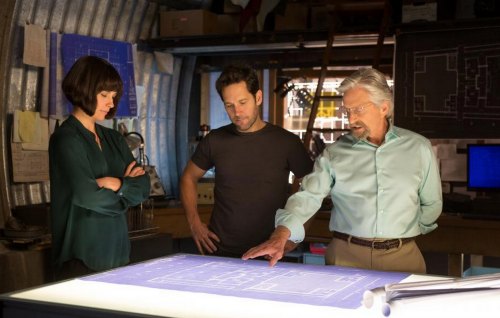 Disclaimer: I was invited to an all expenses paid press trip with Disney for the Marvel ANT-MAN Movie. All opinions are 100% my own.