When we were at the Disney Social Media Moms conference in May we got to take a peek at the new Disney Inside Out movie, I have held back on posting about it because I knew once I got started writing the post that I wouldn't be able to stop and a sneak peek would turn into me divulging to much information about the movie before I was supposed to. However the movie is now out in theaters and I am going to tell you it is a MUST See movie.
Instead of giving you a full review because I don't know if I would be able to stop myself from divulging all the secrets and the plot and the whole reason you are there to see it I am going to give you information about it and a 10 Reasons Inside Out Will become a "Core Memory" list. I know you don't know what a core memory is just yet but you will and you will LOVE it!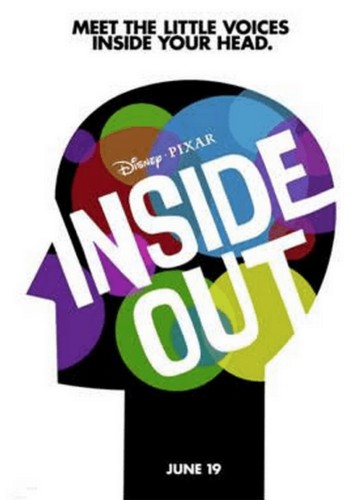 Inside Out Movie Synopsis
Do you ever look at someone and wonder what is going on inside their head? Disney•Pixar's original new film "Inside Out" ventures inside the mind to find out.

Based in Headquarters, the control center inside 11-year-old Riley's mind, five Emotions are hard at work, led by lighthearted optimist Joy (voice of Amy Poehler), whose mission is to make sure Riley stays happy. Fear (voice of Bill Hader) heads up safety, Anger (voice of Lewis Black) ensures all is fair and Disgust (voice of Mindy Kaling) prevents Riley from getting poisoned—both physically and socially. Sadness (voice of Phyllis Smith) isn't exactly sure what her role is, and frankly, neither is anyone else.

When Riley's family relocates to a scary new city, the Emotions are on the job, eager to help guide her through the difficult transition. But when Joy and Sadness are inadvertently swept into the far reaches of Riley's mind—taking some of her core memories with them—Fear, Anger and Disgust are left reluctantly in charge. Joy and Sadness must venture through unfamiliar places—Long Term Memory, Imagination Land, Abstract Thought and Dream Productions—in a desperate effort to get back to Headquarters, and Riley.
10 Reasons Inside Out Will become a "Core Memory"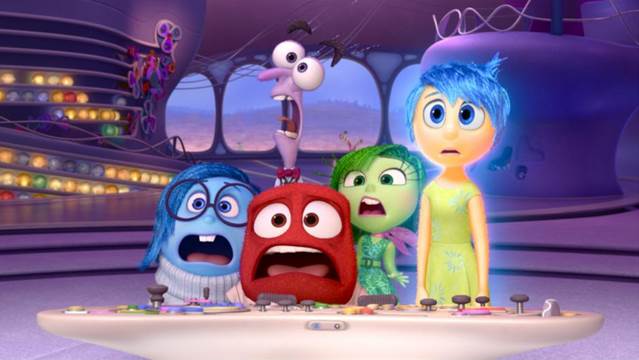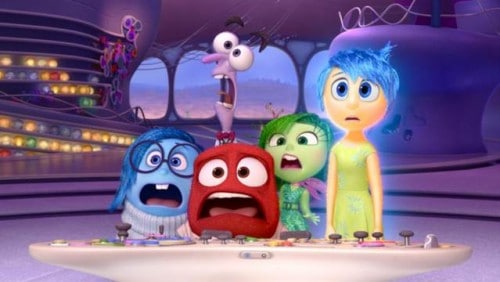 10. There are no princesses, no princess, no bad guys, no fantasy characters!
This means that your kids will want to have you buy the dress up for the characters or the fight with the little boy who wants a princess dress but they don't make them to fit. There are no castles and fairy tales, it is a movie that is not directed at just one demographic of kids, but all kids. Not just kids but the whole family.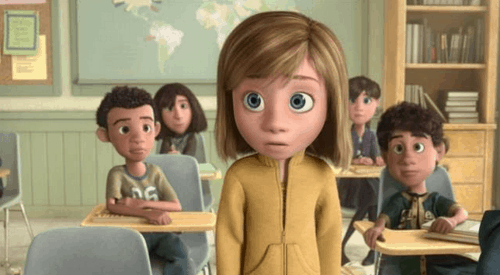 9. Nothing bad happens in the first 10 minutes of the movie!
Ok so most movies start with something bad a tragedy or something that makes up want to yell at the screen, yes in the movie the family moves and that is "bad" BUT its not BAD! There is nothing that is going to make you need a box of tissues as soon as the movie begins. There is nothing that sets a bad tone in the movie.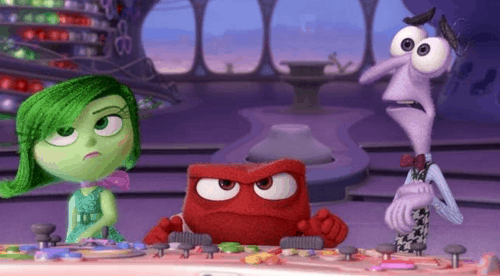 8. It is relatable.
As a family who has moved 7 times in 10 years of being a family moves are not something that we are strangers to. Moving is not easy on anyone and it can be very challenging for kids, and hard to move to a new place, with a new school and making new friends.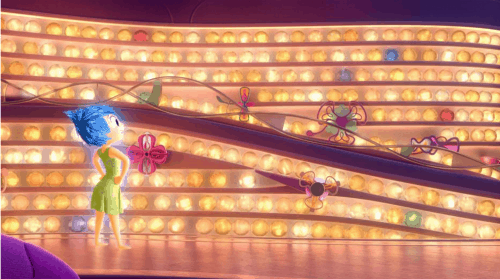 7. Joy, Fear, Anger, Disgust and Sadness.
The main characters in the movie are Joy and Sadness and as I am sure you can guess they are complete opposites. While the emotions live in headquarters of Riley's head that might lead you to believe that Riley is the focal point, but these 5 are what "Make the movie". These 5 are the ones who make the movie (well for the most part anyway).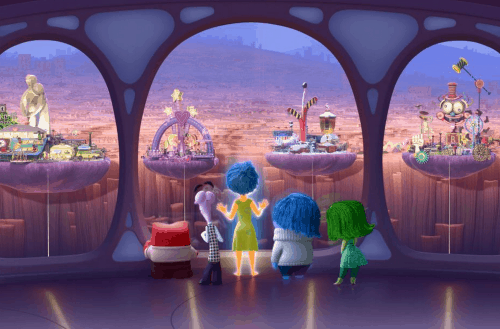 6. "Core Memories"
We all have them, we might not know it, it might not look the same in our head (or we don't really know if it does or not because we can not get in our own heads like an animator can a characters head) but they shape us. They turn us into us, and when core memories fall there can be complications.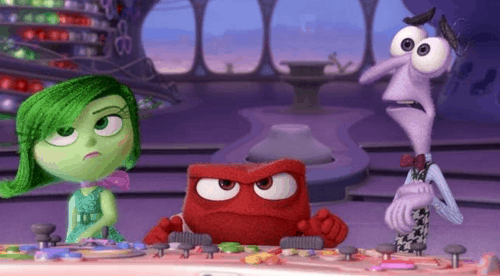 5.Emotions.
We all deal with emotions and we don't always understand them. Explaining emotions, how they work and why they happen is hard for parents to do when it comes to the kids. This movie is a great way to bring up the topic of emotions and put a "face" to emotions that we have. The ability to "see" emotions and feelings, with the research that Disney did is amazing.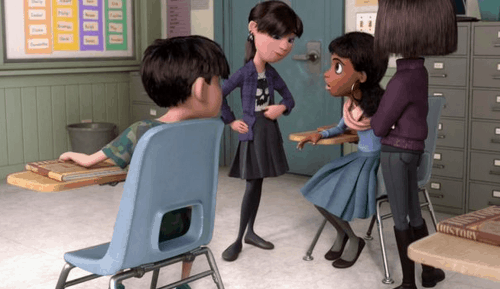 4. Toy Story features in the Inside Out Movie.
The globe in the Riley's classroom has been used in all the "Toy Story" films and one of Riley's classmates is wearing a camo pattern made up of "Toy Story" characters.. As a HUGE Toy Story fan I love that this a fun little Easter Eggs that Pixar put in. There are also lots of other fun "easter eggs" you can find in this movie.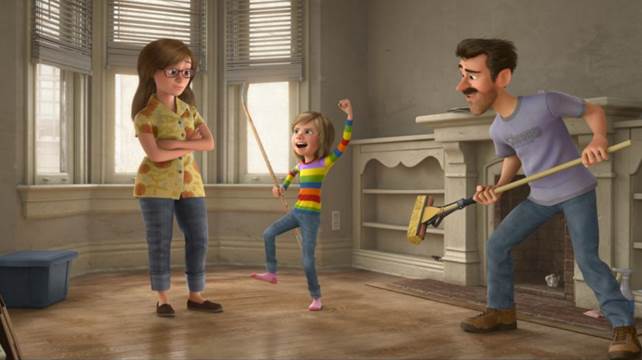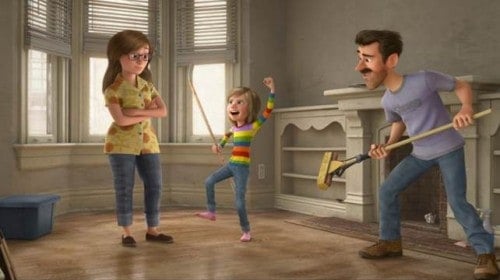 3. Importance of Family.
Riley is a little girl who has moved with her family, the whole family has emotions of their own and we get a peek into all of their emotions even though the movie is focused on the emotions that Riley has as a preteen girl. Along with seeing the emotions of the family we get to see why family is important and why no matter what it is important for family to be there for one another. We don't see a lot of family events and not a lot of focus on the family itself in the movie, but the importance of family is seen and all viewers of all ages will be able to see it.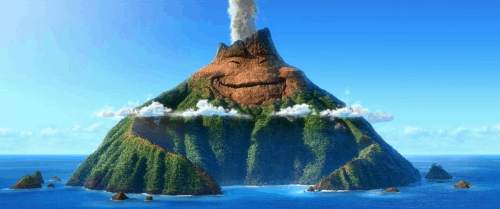 2. LAVA Short.
Ok so this is not in the movie itself but this LAVA Short is one of the best ones I have seen. It may even be taking the top spot for me! Inspired by the isolated beauty of tropical islands and the explosive allure of ocean volcanoes, "LAVA" is a musical love story that takes place over millions of years. You may find yourself singing the awesome song randomly as well 🙂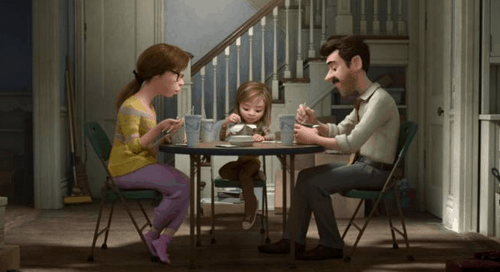 1. Connecting with your children.
As parents we sometimes wonder "what is going on inside their heads" especially when our toddler has a tantrum or our preteen is bursting out in tears for no apparent reason that "the world is ending when there is nothing that seems to make it that way".
Stay connected with Inside Out
Like INSIDE OUT on Facebook: https://www.facebook.com/PixarInsideOut
Follow INSIDE OUT on Twitter: https://twitter.com/PixarInsideOut and https://twitter.com/headquarters
Follow INSIDE OUT on Instagram: https://instagram.com/PIXARINSIDEOUT/
Follow INSIDE OUT on Pinterest: https://www.pinterest.com/disneystudios/inside-out/
Visit INSIDE OUT on Tumblr: https://insideoutheadquarters.tumblr.com/
Follow Disney/Pixar on YouTube: https://www.youtube.com/user/DisneyPixar
Visit the official INSIDE OUT website: https://www.wdsmediafile.com/walt-disney-studios/InsideOut/