If you have a Nickelodeon fan then the Nickelodeon Suites Resort in Orlando Florida could be the destination spot for you, when taking a trip to Orlando. However it can be a hit on the budget if you don't plan accordingly and you go in with out knowing all the different ways that you can save money while there and the saving money will make you even more happy that you picked this place to spend your vacation. We spent a day there and had a blast the whole time, but I would say you need 2-3 days there and my kids said they wished we had more time to spend in the waterpark. If you are wondering if the cost of the resort is worth it, in my opinion yes it is and if you are on a budget you can still make a trip to this awesome resort and stick to your budget.
There are some easy ways to ways to Save Money at Nickelodeon Suites Resort in Orlando Florida,
1. Make sure you check out the Special offers tab on the Nick Resort website. If you are a AAA member, a military member or are looking to have a special trip with the grandparents there are many different savings offers to pick from.
2. Buy the unlimited 4-D movie pass. Each movie will cost you $8.50 per movie and there are 5 movies a day but with the 4-D Unlimited Movie pass you can see all the movies you want to for just $13! Our kids loved seeing the movies and they have fun 4-D affects during the movies, like water splashing, snow, seats rattling and more!
3. When eating meals you can buy a full pizza for around $20, or if you are like us we went with the subway that is in the mall. The kids and I each got a sub, but we bought 2 footlongs and split them and then cookies for dessert and we feed the 4 of us for $20! We didn't do drinks because we brought cases of water with us when we drove down and with it being hot water is better to drink then soda. Go with buying a full pizza instead of the personal pizzas, or buy the large sandwiches at Subway instead of the kids meals.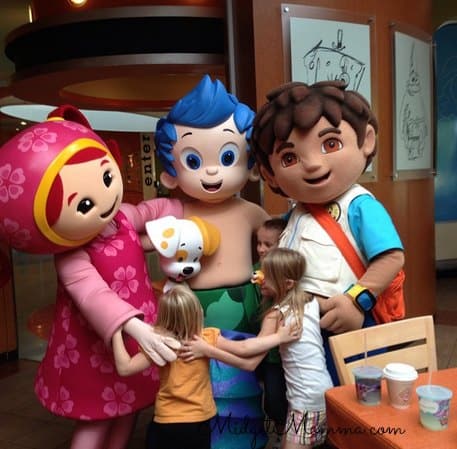 4. If you are wanting to do a character meal do breakfast. You can still see the same characters as you would at dinner, but it is cheaper. For breakfast it is  $25 for Adults 13 and up, $14 for children 4-12 and kids 3 and under are free. For character dinners it is $33 for adults 13 and up, $17 for children 4-12 and children 3 and under are free. The breakfast is what we did, the food selections were amazing and the kids had a blast dancing and signing with the characters. You can buy an autograph book for $8 and the characters sign it. There is also no need to worry about the kids having to rush around the room to meet the characters because they come right to your table to meet you!
5. As much as having food delivered to your room for you instead of having to leave the awesomeness of the room, it will cost you more so you can save by going and picking up your food and bringing it back to your room. You will pay an additional fee and it is the same food you would get walking down to get it yourself. Also the rooms have mini fridges and microwaves so you can keep cold snacks and drinks in the room for those mid meals snacks.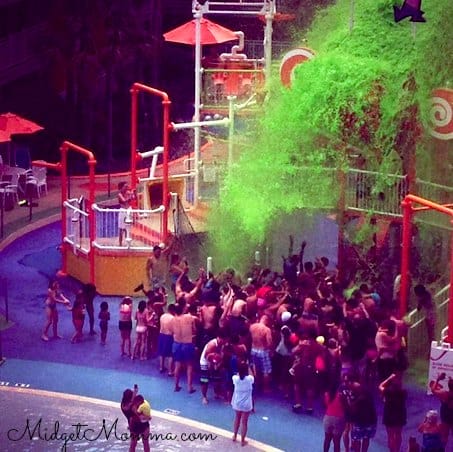 6. Go to the mass sliming at the pool instead of paying for the family slime. Now if you are looking at something to splurge on while you are there and being slimed has been on your bucket list then go for it. If not do like we did and do the one at the pool. Plus you can buy slime in the gift shop if you are wanting to get yours hands on some 🙂
7. Go during off peak times, during the summer months it will be busy, it will be crowded and it will cost more. The same applies for holiday times. If you go during times that most people are not then you will pay less for your room.
8. Stick with the basic free internet instead of the upgrade. I used the free internet while there and I had no issues blogging with it other then it being a little bit slow on my own site when I was uploading photos but if you are using it for checking email, or playing on facebook you will be good to go with the basic internet.
9. Set a budget ahead of time for the kids on spending money and stick to it. We gave the kids each a budget and they did not even spend it all. They used their money to get an autograph book at the character breakfast and then with the meal they got a plastic cup that has spongebob on it and says Nick Resort and that was their souvenirs. They most important thing to them was to have fun, make memories and take pictures of the things we were doing.
10. Spend all day at the water park, it comes with your stay and it is a ton of fun. My kids spent 2 hours in the water park and when it was time to get out they said they could have stayed all day in the water park. There are two different water areas and even an area that is just for the kids who are younger to play in. The pool is great for those who just want to swim and the waterpark's mass sliming that happens a few times a day is not to be missed! When you head to Nick Resort, remember it is meant to be fun. A family vacation to make memories and yes you will be splurging a bit (which is what we all use coupons and shop sales for to begin with, so we have money to do the other fun things in life that we want to) this is a place that I would go back to with my family again. We all had a blast and the kids are still talking about it.
Disclaimer: We were provided a complimentary stay at Nick Hotel to facilitate our review. No compensation was received and all opinions are 100% my own.