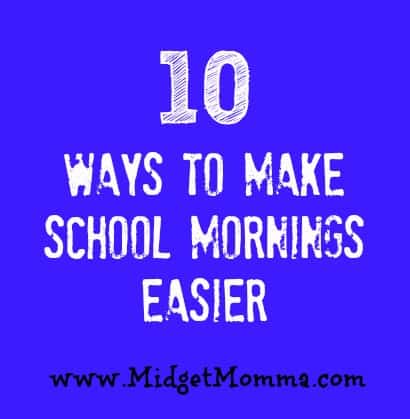 School mornings can be rough – from getting the kiddos up (especially if you have a child who likes their sleep) to getting breakfast and out the door to head to school. Here are 10 tips for making school mornings easier!
10 Ways to Make School Mornings Easier
Wake your kids up in a way that makes the morning fun – at times you will find me singing and dancing to wake up my kids

Pack the lunches the night before (See my

10 Lunchbox sandwich ideas other than PB & J

post for ideas) then you just need to stick it in the lunchbox then in the backpack while the kids are eating

Set clothes out the night before

Get backpack and shoes together by the front door 

Put an alarm clock in your child's room and have it set for 10 minutes before they really need to be up

Plan breakfast the night before (Check out my

10 Quick and easy breakfast ideas other than cereal

to get some ideas)

Find a morning routine that works for your house (I know for us my kids need to be awake for a few minutes before eating so they get dressed and do their hair before eating breakfast)

Plan to leave your house 10 minutes earlier then you need to everyday- this gives time for the morning meltdowns that can happen and for those mornings where the kiddos are excited about something and get a little of track or even time to just sit and talk with the kids before they leave for school.

Have a list of the things your kids need to do in easy sight (like on the fridge)- this way if they forget they can look at the list
Breathe, smile and relax – know that not every morning is going to go smoothly and some days you just need to go with the flow and take it one step at a time getting them out the door 🙂
Join the newsletter
Subscribe to get our latest content by email.
This post may contain affiliate links. Please read my disclosure policy here