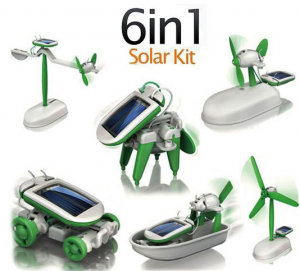 This 6-in-1 Solar powered Robot kit looks AWESOME, I think my son would LOVE it, What a great Christmas gift! It is on sale for $2.99 with $4.95 shipping which is still an AMAZING price because it is normally $59.99!!!
Your child will learn about sustainable solar power while building six different models like a puppy or car. The 6-in-1 Solar-Powered Educational Robotic Kit is a great hands-on project for your beginning builder. There are no tools required so building is easy, and you can get right down to demonstrating how the sun's ray can be converted into energy.

It may be a while before your kid enters a professional solar car race, but this robotic kit is sure to get them thinking about innovative applications for solar energy. Maybe next you'll be covering your roof in solar panels.
Shop Through ShopAtHome.com and get 2% cash back and if you are a new member you will get $5 Bonus cash for making your first purchase! Which will make this just $2.88 shipped!
This post may contain affiliate links. Please read my disclosure policy here