Well Here are the last of my shopping trips from 2010, we did go over our budget a little bit but I am proud to say we did very well this year and I am happy we stayed so close to our budget. Because we had stayed so close to our budget hubby and I decided that we needed a splurge shopping trip to let the kids pick out things that they wanted that we do not normally buy, they loved it!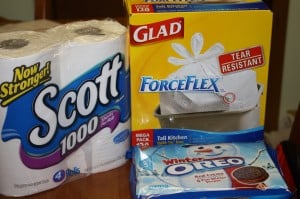 Target:
1 Glad Trash Bags @ 12.49(2/1q)
1 Scott toilet paper @ 3.99 (used 2/1 target q and 1/1 q)
2 Oreos @ 1.37
total spent-14.85
On Dec 30, I let the kids and hubby go have some fun at Walmart with out coupons and let them get all sorts of stuff that I do not normally buy and that they have asked for through out the year as a treat! I think I will do this every year they were all so excited hubby included:) I gave them a budget of $60 and they went a little over but I am ok with that. total spent- 63.62.
I recieved the last of my rebates that I had sent in for 2010
$20 Olay Rebate
$20 Secret/Venus Rebate
We did end up a little over our budget of $800 for May 1st-Dec 31st but I am ok with that, the amount of savings and the not having to buy diapers yet since the baby has been born(and I mean because we ran out not because I found them on sale, if they were on sale I bought them:) But we have never had the oh crap I need diapers now deal).
2010 Total:(may 1,2010-Dec 31, 2010)
Spent:840.52
Saved:7361.89