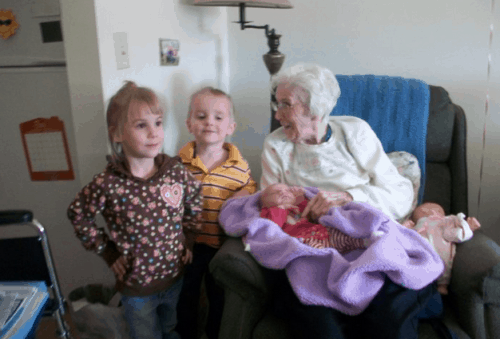 It is that time of year again that I start to get into a funk – it has not been always that this has happened just the past 3 years when 3 years ago my grandmother passed away. At times I feel like I should be "normal" by now but there is no "normal" when you can no longer hear their voice, see their face or even give them a hug. July is my grandmother's birthday and August is when she passed away so with those 2 dates being so close together the weeks in between are a tough one for me.

MY LATEST VIDEOS
I remember that day 3 years ago when I woke up and got the call from my mom that she had passed away. We had originally planned to go up to see her the day before but things got crazy and the doctors told us she would be ok and so we changed our plans to the next day. Then early in the morning the next day I got the phone call. One that I was not ready for, one that I had hoped would be a long time before it came and for me not being able to say my "see you laters", "I Love yous"  and give her one last hug has been something I have struggled with ever since and July and August are the hardest months of the year then followed by any holidays that we do. To be honest I feel guilty, I feel guilty that I didn't listen to my heart and just go that day and I put my trust in a doctor who I did not know who said everything would be ok and while it has been a long time fighting the guilt there are times that it still pops up.
My grandmother was a huge part of my life, she was the cheerleader along side of me when no one else believed I could do something, she was who I went to when I needed real true advice with out going to my parents, she was the one who had faith in me whenever I went to her with not having faith in myself. No matter what mistakes I made she still was proud of me and she still shared with me how much she loved me and now no matter what mistakes I made she was going to be my cheerleader.
It doesn't seem real even 3 years later. While I can not call her, visit her or hug her the thought that she is no longer here on earth with us is still a hard thing for me to admit. In our house the kids still talk about her all the time, she is still talked about like she always was and while now its memories we are talking about they are still fresh in my mind and the kids.
Three years, it has taken me three years to write this down, 3 years to write this post about her and 3 years for me to not break down crying when thinking about how things turned out with not being able to say "see you later". Tears still form as I think about the day I got the phone call but slowly over time I have used the good memories I had with her to replace the one of not seeing her one last time.
I am so very thankful though that she got to meet each of my kids, and while Alyssa was just a baby baby when she passed away Alyssa talks about her as if she remembers her and in our house her memory is alive daily and I could not ask for more then that.
As I go through life I can only hope that I am making her proud, that I one day will be as awesome of a person as she is and always will be.
Have you had someone who was important to you pass away that it took a long time to not feel guilty because you didn't get one more chance to tell them you loved them?
This post may contain affiliate links. Please read my disclosure policy here