Today marks 34 weeks and it has been a bit crazy here but the countdown is coming quickly! We have a few things left to do – get a bassinet, paint baby girl's dresser, wash the baby clothing and her bedding when it gets here and figure out a name. Yes we still have no name LOL. Oh and find a coming home outfit because I am still behind on that too!
On the doctor end – I am boarder line gestational diabetic so I have a nutrition appointment this coming week. Because of that I have 2 nonstress tests a week, thankfully baby girl moves plenty to get all the movement needed in about 20 minutes (which is the shortest time frame they can have me on the monitors). I had gestational diabetes with Logan and Alyssa so I thankfully know what to eat and what not to eat so the wait of 3 weeks to see the nutritionist is one I can handle.
I am switching to a new doctor (same practice but a different office and doctor) because all of my appointments with the ob/midwife have never been on time. I get there and I am not seen for 30 minutes to an hour past my appointment time and it is making me nutty to sit in the office with the other 3 kiddos for that long since I have been planning my appointments around when they are done with camp since the office was a 2 minute drive from the kids camp but the wait time I just can't do.
I also had an ultrasound today to check growth and I am a bit freaked out because she is measuring 5 pounds 1 ounce already. McKenzie was 5 pounds when she was born so she is already bigger then McKenzie was!!
We got a few photos today at the ultrasound! She is head down and that thing you see in front of her face is her umbilical cord! So here is a peek at little girl from today's ultrasound 🙂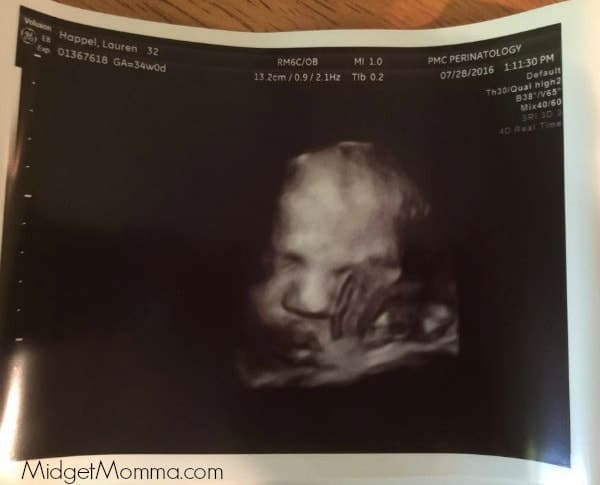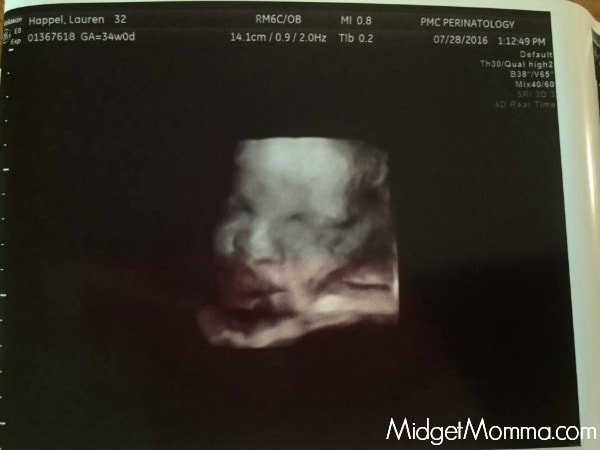 Only a few more weeks until we get to snuggle her <3