Easter is right around the corner and Easter baskets are something us Moms need to get started on! Thankfully we have places like Amazon where we can order it online and have it shipped to us so no one sees what the Easter Bunny is bringing 🙂
If you have a kiddo like my son Logan then you have one who loves video games. For me it is hard to find games that I consider age appropriate for him to play at 10 years old that are also considered "cool" at school. So I had him help me with testing out some games and finding out which ones he thinks would be Awesome Easter Basket Ideas for the Video Game loving Kid. (In full disclosure Nintendo sent us some games and I did not tell Logan that he was playing them and telling me about them to help the Easter Bunny Moms. I asked him which ones he thinks would be the best to give kiddos who got good grades 😉 ).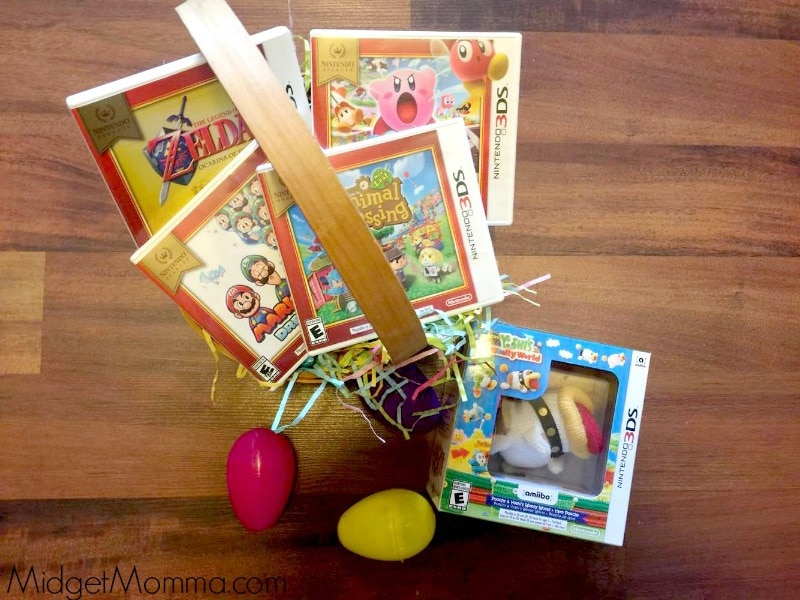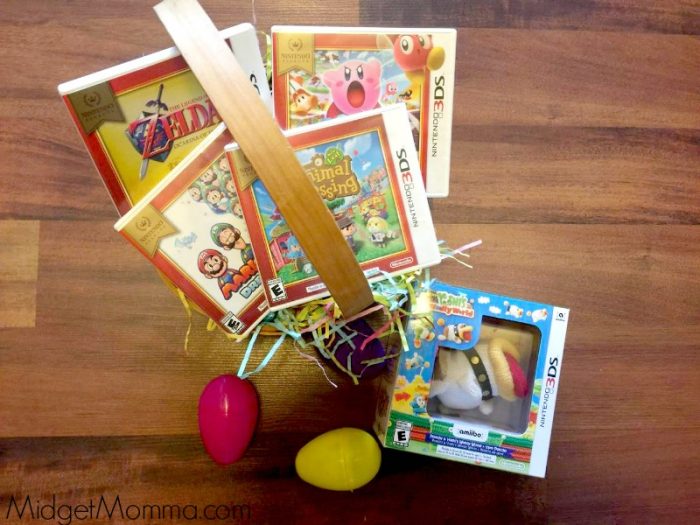 Poochy & Yoshi's Woolly World + Yarn Yoshi amiibo – Nintendo 3DS amiibo bundle Edition
Discover a handicraft world bursting at the seams with creativity, as you guide Yarn Yoshi or Yarn Poochy through clever side-scrolling stages. Unravel secrets, toss yarn to weave platforms, and power up with woolly transformations. All stages from the Wii U version are joined by new ones starring Poochy and more Nintendo 3DS exclusive features! It's a mad dash for beads in new Poochy stages: dodge stumps, mush down snowy paths, chase Lakitu, and unearth hidden paths and items. Sniffing out secrets is always a charm in Mellow Mode, thanks to the curious Poochy Pups. As you find collectables, you'll unlock rewards, from extra stages to new Patterned Yoshi. You can also design and play as your very own Yarn Yoshi, or share it with friends via the StreetPass function! When you want a break from exploring, peek into the lives of Yarn Poochy and Yarn Yoshi in hilarious stop-motion shorts. It's time to get crafty! Includes Yarn Poochy amiibo.
Nintendo Selects: Kirby Triple Deluxe – Nintendo 3DS
Nintendo Selects highlights a variety of great games at a great price, including this one. Pink? Check. Puffy? Check. Powerful? You have no idea. Devour trees, obstacles, and huge chunks of stages with Kirby's Hyper nova ability and inhale enemies to copy epic new moves like Archer. It's a grand new Kirby adventure PLUS a new multiplayer battle mode, Kirby Fighters. When a mysterious being kidnaps King Dedede atop a giant Dreams talk, only Kirby can save the day! Jump from the foreground to the background in dynamic 3D side-scrolling environments while using new and returning copy abilities to defeat enemies. Duke it out in Kirby Fighters, a fierce 4-player battle mode where you fight using a chosen ability like Sword or Ninja. The last Kirby standing reigns supreme. Whether you're new to Kirby or an old fan, the Kirby: Triple Deluxe game offers a triple threat-action, adventure, and a battle mode. Additional systems required for multiplayer mode; sold separately.
Nintendo 3DS Mario & Luigi Dream Team
Nintendo Selects highlights a variety of great games at a great price, including this one. Mario and Luigi embark on the adventure of their dreams in a hilarious action RPG that combines the real world with the wild landscapes of Luigi's imagination. In Luigi's dreams, anything is possible-legions of Luigis morph into forms like a bouncy tower or a wrecking ball. You can even poke a sleeping Luigi to alter events in his dream world. While on vacation on Pi'illo Island, the bros. discover that Luigi's sleeping mind can open portals to the dream world. In the real world, control both bros. at once, but in the dream world Mario partners with Dreamy Luigi and hundreds of Luiginoids. In battle, timing is key to pulling off the best moves to attack or defend. Mario & Luigi can team up for supercharged Bros. Attacks. In the dream world, Mario can use Luiginary Attacks to assemble a hoard of Luigis into attack formations. Adventure with Mario & Luigi to not only rescue Peach, but to help Prince Dreambert free fellow Pi'illo folk from the bat-king Antasama's petrifying spell.
Nintendo Selects: The Legend of Zelda Ocarina of Time 3D
Nintendo Selects highlights a variety of great games at a great price, including this one. The Legend of Zelda: Ocarina of Time 3D brings a completely re-mastered version of an epic entry in the beloved The Legend of Zelda game series to Nintendo's newest hand-held system, Nintendo 3DS. The game couples phenomenally enhanced graphics with stunning, glasses-free 3D visuals to bring to life the daring adventures of its hero, Link. A streamlined touch-screen interface and newly implemented motion controls provide a fresh and intuitive feel as players immerse themselves in the tale of the creation of Hyrule and the struggle for control of its all-powerful ancient relic. The game will also feature new challenges not included in the original game. The Legend of Zelda veterans can look forward to the Master Quest – a second quest with revamped puzzles and redesigned dungeons that feature the same graphical and interface upgrades as the main game. The Legend of Zelda: Ocarina of Time 3D is a masterful improvement on one of the landmark releases in video game history.
Nintendo Selects: Animal Crossing: New Leaf  
Nintendo Selects highlights a variety of great games at a great price, including this one. Animal Crossing: New Leaf is loaded with unique characters, items, and activities to enjoy all year long. Customize outfits in countless ways. Furnish your house with an extensive variety of furniture, carpet, and wall decorations to reflect your personality. Visit the new Main Street shopping area and Happy Home Showcase. Swim in the ocean to find rare shellfish. Collect insects and fossils all year long. As mayor, make the big decisions about what to build, business hours for shops, and other new ways to customize your town to your liking. Then connect with friends to show off what makes your character, your house, and your town unique. The game will be compatible with Animal Crossing amiibo figures and cards, along with select non-Animal Crossing amiibo. Includes 1 card from the Animal Crossing: New Leaf Welcome amiibo card series.
Disclaimer: Nintendo sent us games to try out. All opinions are 100% my own.