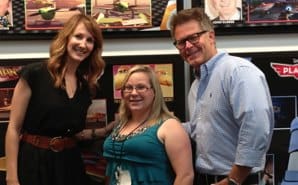 When I went with Disney to LA back in June I had the opportunity to sit down and talk with the director (Klay Hall) and the producer (Tracie Balthazor Flynn)  of planes to get some inside look at how they vision for Planes made it from just a thought to the big screen. One of the things I have learned about Disney as a whole in their movie production process is that they not only jump in full force on a project but that they explore to every extent that they can to make the movies as realistic as possible and pay attention to details.
1- For Planes they were working with giving personality to what we normally see as inanimate objects, of course realistically planes do not talk or have eyes and faces but if you look at the movement of the Planes in the movie you will see that while they were given personality they never lose the shape of what they really are – air planes. You will never see them hug, or get their wings move in ways that are un realistic.
2- The exploration of the characters background is also a major focus. The character Skipper is a Military Plane, and to get hands on with how the plane would have flown and landed they got hands on experience by flying on a Military plane and then landing on a ship in the ocean with a landing pad. With the focus of the movie being about a plane race and entrants are from all around the world you will see that the character from the part of the world the represent is very much realistic to where they are from – their colors, accents, their culture are all on spot with where they represent.
3- You will meet one character named Rochelle (well her name is Rochelle here in the US movie) but around the world she will have a different name and different background depending on what part of the world the movie is being viewed. It takes a lot of work to make one version of the movie and then to add a "new" character to certain parts of the movie is another challenge, but to make sure that anyone who is watching it can relate to the movie is a detail that didn't go unnoticed with Planes.
4- The movie planes is about more then just planes, it is about a valuable life lessons that we can all learn from. There are few different lessons that can be taken from the movie and applied to our everyday lives. I don't want to give to much of the movie away but it is important to remember that looks on the outside mean nothing to what is on the inside and having goals is important in life and you can not go anywhere with out having a goal to look forward to meeting.
5- Everyone will be able to find a character they relate to. I have seen the movie already (and if you are wondering if it made me cry I am not allowed to share that information just yet), but while watching it I found it easy to relate to the personality of some of the characters and then others I could see my kids, my mom, my dad and Tom being able to relate to. This movie is not just for kids, it is for the whole family.
After 4 years of being a dream, a thought, a drawing, a computer image Planes will make its landing to theaters on August 9, 2013.
Disclaimer: I was provided a most expenses paid press trip to attend a press junket with Disney. No compensation was received and all opinions are 100% my own.
This post may contain affiliate links. Please read my disclosure policy here