In this adventure of having Hannah I am learning so many new things about baby products and there are so many new products that I am excited about. The newest product is the Fit2 Infant and Toddler Car Seat from Chicco!
I am a big supporter of the remaining rear-facing until at least the age of 2 when it comes to kids and car seats. Chicco has announced their new TurnAfter2™ Campaign, a national movement designed to close the communications gap between parents by asking more people to celebrate the everyday milestone of riding rear-facing. I am happy to be not only a supporter of the movement but an influencer spreading the word about it!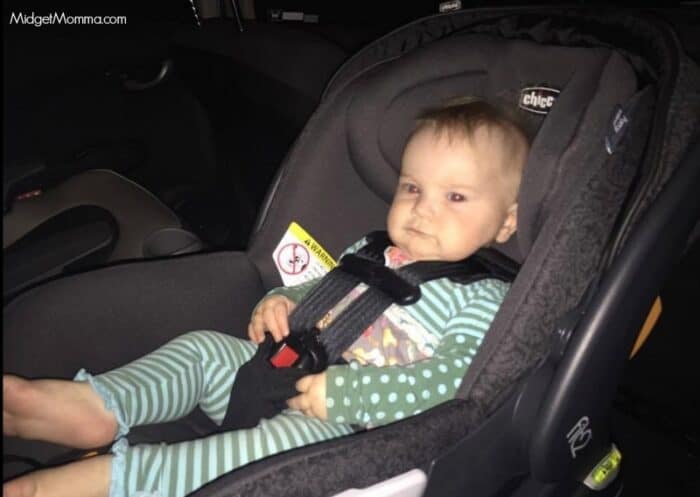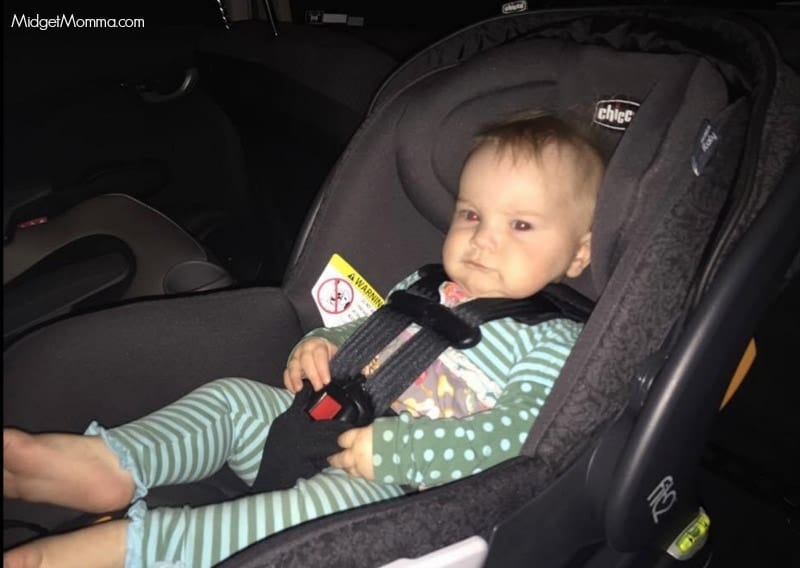 The longer I can keep them rear facing the better, and I have always been a big carseat "crazy". Don't believe me? Ask my Mom, she thinks I am nutso sometimes ;). I normally drive the minivan and that car has a TON of space compared to our little Honda Fit and I have been struggling with finding a rear facing seat that will go up to the 2 year minimum. The new Chicco Fit2 Infant and Toddler Car Seat is an easy way to keep your child rear facing for at least two years as it goes from infant to toddler mode to accommodate growing babies.
I am going to ask you all to do me a favor, and your friends who have kids. Inform them of car seats safety and the reasons behind keeping a child rear-facing. I know, trust me, that it is not always a fun conversation to have but it is important.
A recent study done by Chicco revealed that most parents of kids ages two and under would tell another parent if their kid was unsafe in their car seat. However, the American Academy of Pediatrics found that many parents say they are uncomfortable talking to other parents about keeping their kids rear-facing and putting their kids at risk.
You do not need to go calling them on the phone (now if you want to by all means please do!), you can do it by simply sharing photos on facebook of your child in their car seat rear-facing. While sharing, explain the WHY, you have your child rear-facing. I am not just talking about because it is the law, but how much better it is for kids. No one wants to be in the position where they could have said something and then something horrible happens to a friends kid. Even better use the #TurnAfter2 hashtag and they will be able to see all the information many others are posting about keeping the kiddos rear-facing until 2.
I know it sucks and it is hard to be the one to correct another mom – no Mom likes to hear they are doing something wrong. It is important, and if you are worried about them being upset with you – just share this post on your facebook wall. They will see it and hopefully read it and you don't have to do the "dirty" work! I have that covered for you 😉
5 Reasons I love the Chicco Fit2 Infant and Toddler Car Seat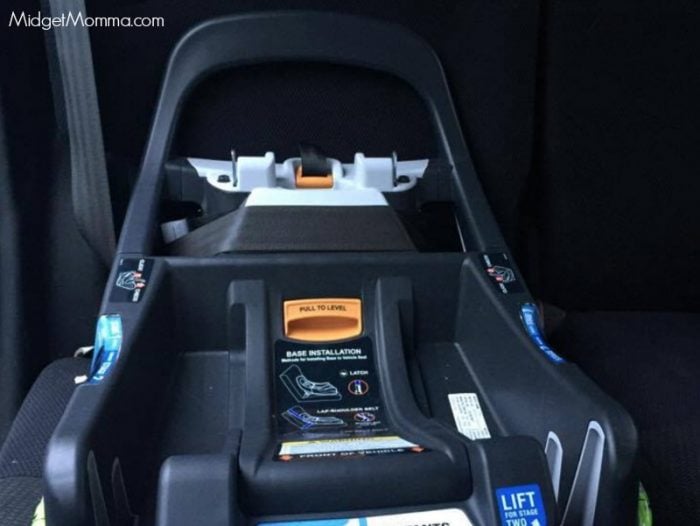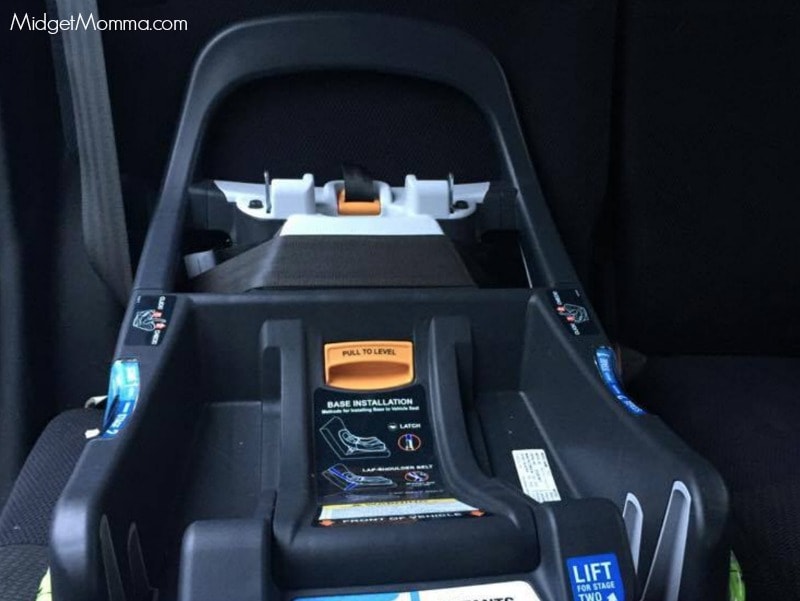 1.Multiple options for installation. Not all cars are made the same, and if you have an older car it may not have the latch system. With the Chicco Fit2 Infant and Toddler Car Seat there are 3 different ways to install the car seat in your car.
With latch system and carseat base
With carseat base and seatbelt
Seatbelt (also known as European installation)
Plus the install process is made even easier with the One-hand ability they have put in this seat. There is one-hand leveling, (The ReclineSure® leveling foot helps simplify installation by making it easy to level the base with one hand) and One-hand LATCH tightening (Equipped with force-multiplying technology, the SuperCinch® LATCH tightener helps facilitate a snug, secure fit in the vehicle seat). Plus the bubble level indicators, easily confirms the base angle by consulting the two RideRight® bubble level indicators during installation.
I tested installing the car seat all three ways, and all of them I was able to get the tight fit needed for the seat to be safe and secure. However my favorite way is the latch system with the base, for me it is the easiest way to get the fit I want and need.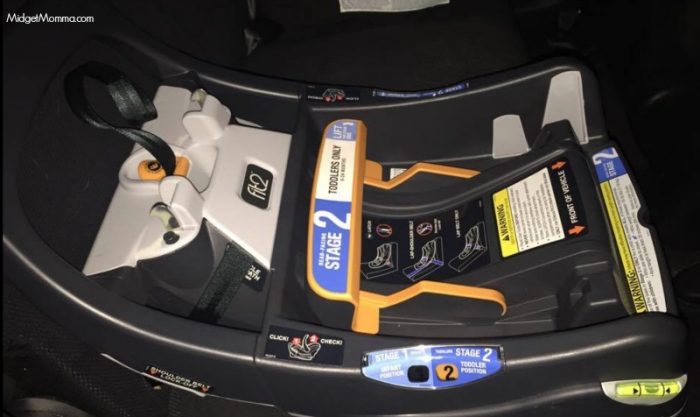 2. Infants and toddlers will TRULY fit in this carseat. When buying an infant seat I know many people plan on using it until at least their baby's first birthday, however they then realize that weight wise on the car seat they are ok, but height wise their infant is too big. The Chicco Fit2 Infant and Toddler Car Seat solves this issue with the two different stages, for seat settings
INFANT POSITION Used for 0 – 12 months. More reclined seating with removable head and body support for newborns and infants from 4 – 35 pounds.

TODDLER POSITION Used for 9 – 24 months. More upright, spacious seating, extended leg room, and adjustability to accommodate growing toddlers from 15 – 35 lbs.
If you are worried about how to change the seat positions, don't be. It is super easy with the flip of the stage position lever and you don't even have to take the base out of the car to switch it!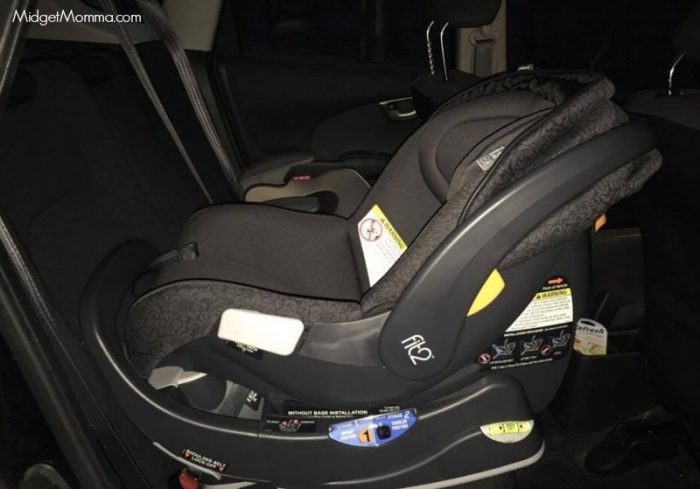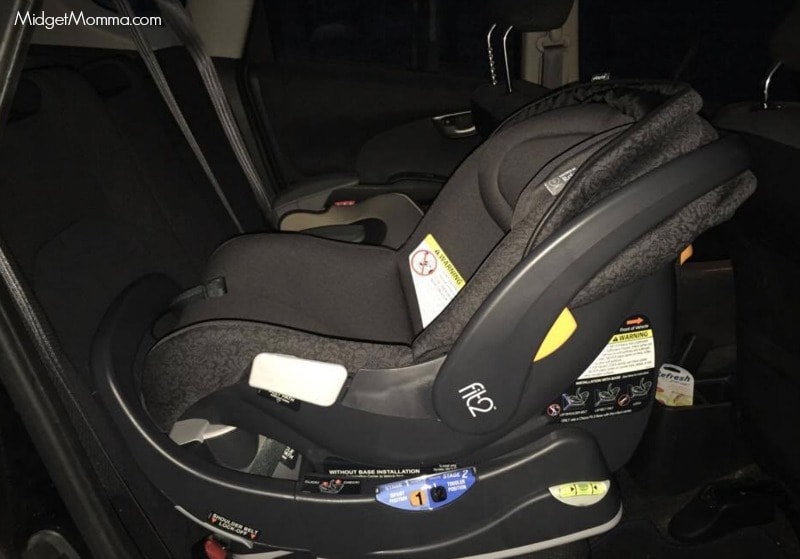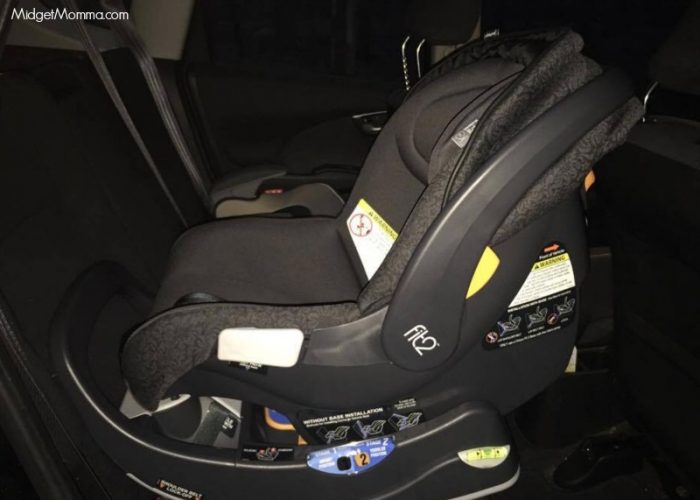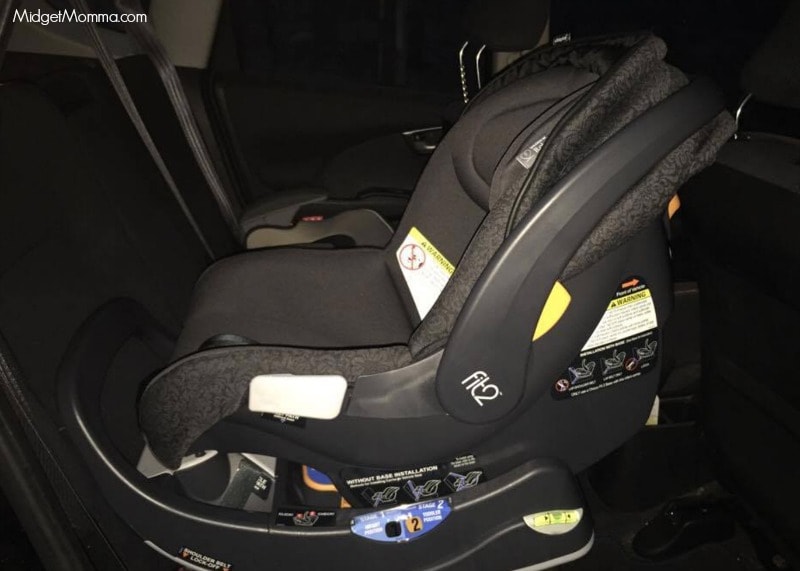 3. Fits in my tiny Honda Fit.  There are so many rear-facing seats that I can not fit in the backseat of my Honda fit, its like crazy tiny space wise back there. Normal carseats fit fine forward facing, but not so well rear facing, However, with the Fit2, I have no issues fitting it in both modes (Stage 1 and Stage 2) in my car!
4. Grows with your child. I am sure from above where I said I love that it has 2 positions you are wondering how in the world that it is possible for a 4 pounds baby and a growing toddler can fit in the same seat. Chicco has made it so parts of the seat "grow". It is designed for use from 4-35 pounds in Stage 1/Infant Position, and from 15-35 pounds in Stage 2/Toddler Position, and up to 35 inches.
Removable head and body supports for newborns and smaller infants.
Accommodates growth throughout both stages thanks to the seven-position headrest and padded, no-rethread harness.
5. Easy to use in general with out taking away safety! With 4 kids in the house I need things as easy as possible and I look for them purposefully. The Fit2 carseat, is easy to install, and easy to use, easy to adjust (since you don't have to take anything apart when making changes in headrest or strap length). It also means that I can have others put the car seat into a car (if I'm not there of course 😉 ) and not worry that it is not in the way I want it or it needs to be in.
To make it even better Chicco is giving one MidgetMomma Reader a Fit2 Infant and Toddler Car Seat of their own! I am so excited about it too 🙂 You are going to LOVE it!
Chicco Fit2 Infant and Toddler Car Seat Giveaway
Winner has been contacted 🙂
Mandatory Entries:
Sign up for my daily newsletter here  so you never miss anything
Tell me what makes you want this carseat the most.
Extra Entries:
Follow me on Pinterest – 1 entry
Follow me on YouTube – 1 entry
Follow Me on Instagram – 1 entry
Tweet – I want to win a @ChiccoUSA Fit2 car seat from @MidgetMomma1200 #TurnAfter2 #giveaway #parenting #safety #carseat – 5 entries per day, entries must be 2 hours apart
Join my Deal Group on Facebook here – 1 entry
Follow MidgetMomma on Twitter  – 1 entry
Leave a thoughtful comment on any of the posts here– 1 entry per post
Giveaway Rules:
No purchase necessary to enter, leave a separate comment for each entry method. This giveaway is not associated with any of the entry methods. This giveaway will run till 11:59 PM EST May 13th  2017. The winner(s) will be picked using And the winner is (a random winner picker) and will be announced in a new blog post. Giveaway is open to US residents who are 18 years or older. By entering this giveaway you are giving consent to be added to the MidgetMomma daily newsletter. Winner will be contacted and have 48 hours to reply to contact e-mail or the prize is forfeited. Open to US mailing addresses only. 
Join the newsletter
Subscribe to get our latest content by email.
This post may contain affiliate links. Please read my disclosure policy here