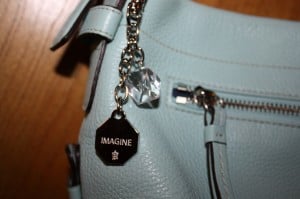 Isn't it pretty? I am not normally one to add things to my purses unless they are scarfs tied onto them or into a bow. However the purse dangle that Talk to The Turtle sent me looks awesome on my Seagreen Coach purse. The silver of the charm and the crystal quartz, I love the way it looks with the scarf tied to it too. Not only does it look great on my purse but it reminds me every time I look at it to Imagine. I choose that message for my dangle because with out imagining nothing in life would be done and it reminds me what imagining has brought to our family when I put my mind to it. I think it is a great reminder on the rough days.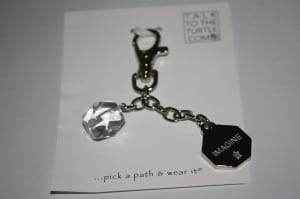 Not only are Talk to the Turtle Dangles pretty, but the messages they relay on their necklaces and dangles are all inspiratonal. Their goal is to to have a positive impact on people, which they do by using the 9 paths of Feng Shui; Love, Imagine, wealth, wisdom, peace, joy, journey, health and spirit. You can get them with or with out the crystal quartz and they have 3 different chain lengths. If a purse dangle is not your style, they have inspirational necklaces as well.
Disclaimer:I received product free of charge to facilitate this review. I was not compensated for this review. All opinions are my own.
This post may contain affiliate links. Please read my disclosure policy here