Using coupons is one of my favorite ways to save money! That tiny little piece of paper with amazing power to save money! I love it! Using coupons thru out the year on your groceries and other items is a great way to save $100 or more per year! Even if you don't go extreme couponing style, you can still save!
Getting started with couponing may seem overwhelming, but it doesn't have to be. Step away from the television, stop watching Extreme Couponing, and follow these tips to help you save big with coupons. I'll have you on the path to saving money in no time!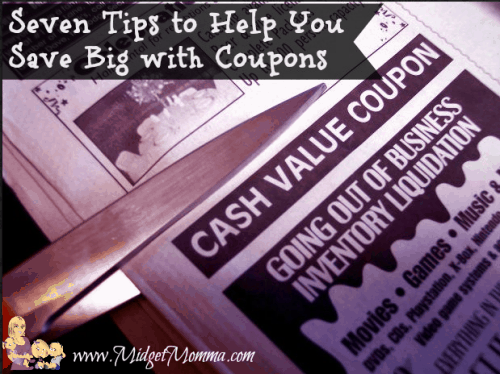 7 Tips to Help You Save Big with Coupons
Organization is king. The way you choose to organize your coupons is totally up to you. Some couponers prefer the binder method, while others use envelopes or file folders. I personally have had great luck with a coupon binder, because everything is so easy to access and organize. If a binder doesn't work out for you, don't give up on couponing! Try another way to organize. Be sure to print off all the store policies and keep them handy in your binder. You're probably going to need them.
Planning is not optional. You can't just grab the Sunday paper from your driveway, clip a few coupons, head to the store, and save a ton of cash. It sure would be nice, but couponing doesn't work that way. You have to have a game plan. Scour match-ups on coupon blogs for help creating yours.
More planning is helpful. You planned a lot? Okay, so plan some more. What I mean by this is set up a price list, watch sales cycles, subscribe to the newspaper to save some cash, make grocery lists and pair them with your coupon lists, the whole 9 yards. Yes, it might take an hour a week, but think about how much you're saving! That is money in your pocket. It's like you're getting paid to plan. Other ways to plan: look at the ads and price match, then pair items with your coupons. Keep them all together in a separate section of your binder so everything is prepared for your trip.
Patience is a virtue. Don't use coupons as soon as you get them. That is why your coupon binder is so important – you need to use them at the right time, not right now. Read up on Sales Cycles, and you'll know when the coupons are going to be at their highest value based on sales. Knowing when to use your coupons is probably the most important thing in all of couponing! It's all about saving big, right?
Make it fun! Yes, that's right… saving money is fun! So, don't make it a chore. If you have kids, include them in the madness. Let them help you clip coupons. If they're old enough to clip without ruining the coupon, consider paying them a penny a piece and hiring them as your "coupon clipping service". If you get multiple papers, have them gather all the clipped coupons and match them – kind of like the game, Memory. You can even make them their own miniature wallet and coupon binder! How cute would that be? If they're older, they can hold onto real coupons. If not, fill their binders with the expired coupons.
Follow the rules. I think it goes without saying, but don't commit fraud. I mean it. No photocopying coupons, no lying to the cashier about pricematching, and only use coupons on the exact item and size as specified by the coupon itself. While many cashiers will keep a watchful eye, and will stop any type of fraud, it's up to you to be completely honest. Do it the right way, and you'll save big bucks without the guilt.
Stay sane. It's fun to save money, and you get a total rush when you add to your stock pile – we all do! At the same time, you have to remind yourself to stay grounded. Don't turn into that crazy coupon lady. You don't need a fully stocked underground bunker full of Kotex just because you got it for free. Think logically, and if you must buy something, make sure you can use it or donate it. No wastefulness just for the sake of couponing!
Everyday for the month of October we are sharing a different way to save money. Each of these ways can help you save over $100 each per year! See the rest of the 31 Ways to Save $100 or More Per Year posts here. Using these ways to, you can save $100 in 31 different ways and you have a savings of $3100.00 in a year (if not more!)!