Lots of us travel during the holidays and it is important to make sure that we are keeping the kids as safe as we can when we are traveling! No one wants to have a holiday ruined due to not keeping our kids safe!
According to AAA 98.6 million people were on the roads, train tracks or in the skies during last year's holiday season. With all of those people, it's important that parents take the time to brush up on car seat safety, and make sure children are properly secured before hitting the road. We also understand traveling with kids is not easy.
You can check out a lot of the Safety 1st products here including car seats, booster seats and infant seats here
Here are 8 Tips for Traveling Safety with kids during the Holidays: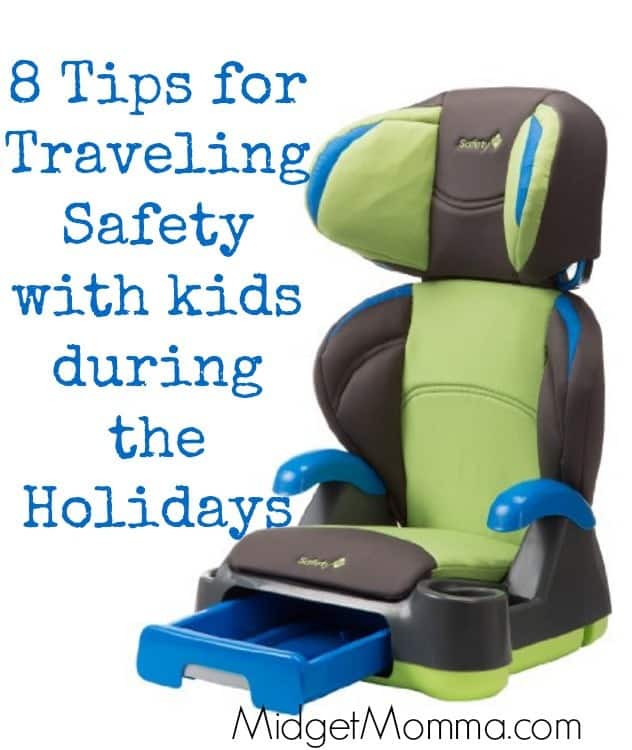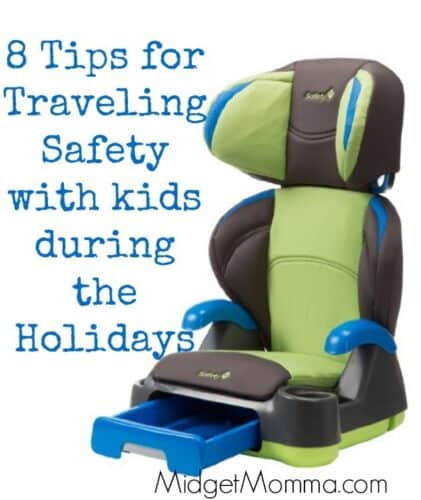 8 Tips for Traveling Safety with kids during the Holidays
1. Before you hit the road, check in with a local Child Passenger Safety Technician to ensure your child's seat is installed correctly. You can visit a local police station, fire station, AAA office or Safe Kids Chapter for guidance.
2. The American Academy of Pediatrics (AAP) advises children remain rear facing until the age of two. According to a study in the Journal of Injury Prevention children under the age of two are 75 percent less likely to die or be severely injured in the event of a car crash if they are rear facing.
3. For older children the AAP recommends children ride in boosters until the age of 12 or 57 inches. However, 72% of children are in seat belts but should still be in a belt positing booster. Booster seats reduce injury risk by 59% compared to seat belts alone.
4. If you are flying, check to make sure your car seat is FAA certified. If it's not clearly labeled contact the manufacturer. The Safety 1st Store 'n Go Booster can double as a kid survival kit and its FAA certified.
5. Once you all set to go you'll need a travel survival kit. Pack books, toys, diapers, a change of clothes and snacks to avoid this dreaded phrase, "Are we there yet?". Pre-load a tablet or smartphone with kid friendly apps or games. If you are driving, keep all necessary items such as wipes, hand sanitizer or tissues in an easy to reach location – you don't want to get distracted while digging at the bottom of a bag.
Prepare beyond packing the suitcase:
6. Avoid peak travel days –Try not to fly or drive the days immediately before and after the actual holiday. These are the busiest travel days. However, if you fly or take a train you might save money by traveling on the actual holiday; the roads are typically less congested as well.
7. Prepare your child – Holiday parties can cause sensory overload. Especially for young children, it's good to talk about the upcoming trip days, even weeks, in advance. Show photos of family members or friends your child has not met yet. This way, the new face may not seem so unfamiliar.
8. Prepare the guest room – If your child will be sleeping in a Play Yard during the trip, use it for bed or nap time the entire week before. This will help him or her get used to a new sleep environment. Also, if your infant or child sleeps better in a dark room or tends to wake up early with the morning light, bring garbage bags or dark fabric to tape over windows.