Heroes come in many different forms, for me I have quite a few different people who are heroes in my life. Each person is a hero to me for a different reason, each one of them has their own qualities that make them a Hero in my eyes, whether the know it or not.
For me one of my heroes is my husband Tom, he doesn't realize it most of the time and I honestly suck at saying anything to him about it and making it known but he is for what he did for our family. When our family was first starting out, Tom and I got pregnant before we got married, then we got married when I was 8.5 months pregnant and then when our oldest daughter was 6 months old he left for basic training for the Air Force.
This is us, at Tom's Basic Training Graduation. Ignore the horrible photo quality, we were to broke at the time to own a digital camera and so I had a disposable one. This is back in 2005! Boy have we changed since then!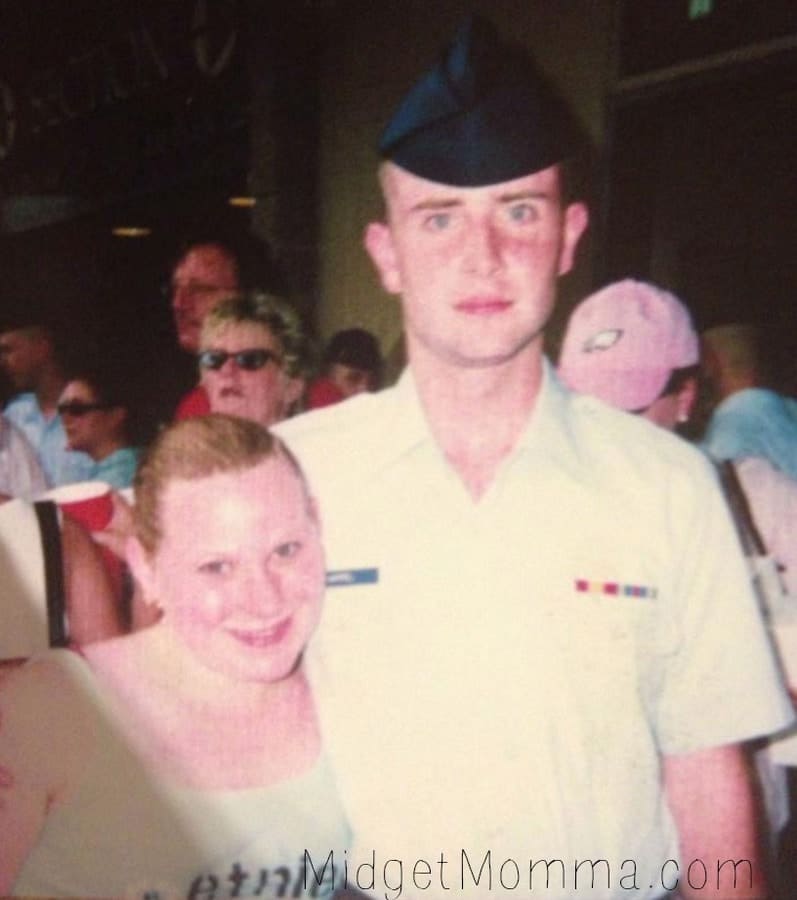 Times were tough during the early years of our marriage financially for us, when he made the choice to join the Air Force we were broke. Well actually broker then broke. We were living in 1 room in my parents house! Not a great situation for a newly married couple with a newborn baby!
While the Air Force pay, as we all know is not much, especially when you are just getting started, it was what would change our lives. Little pay or not, it was more then we could have done in the situation we were in and it gave our new little family a jump start that we wouldn't have had otherwise. While I might have been the one left at home with a baby, he is the one who joined knowing how much he could very well miss of the daughter we had then and any future children we were going to have.
He missed the second half of McKenzie's first year because he was in training, he also missed half of her second year because he was deployed. He missed most of my pregnancy with Logan, our middle kiddo, because when he left for the deployment I was 4 months pregnant. He missed lots of firsts with Alyssa because he was working overnights and 12 hour shifts. Through out being in the military when not deployed he missed a lot, due to the long shifts he worked as Military Police. He made a sacrifice, to better our family's future, to give us a chance at having a better life then we would have had, if we kept going on the path we were before that. Which was living in my parents house, broker then broke!
His deployment changed our lives when he got injured messing up his shoulder, which then led us to eventually him being medically discharged from the Air Force, but that jump start and his sacrifice is what has brought us to where we are today. In fact this very blog would not have been started had he not made the sacrifice for our family. Both of us would have had to work 2 jobs just to stay a float, since at that time neither of us had much skill, and neither of us had any college education.
His sacrifice made it possible for me to get my Associates degree, it made it possible for me to take the time to write this blog when I started it. There would have been no time for me to spend writing a blog post with both of us working 2 jobs just to survive.
He drives me absolutely insane at times, we have our ups and downs, we have our fights, he has times where I want to run away to Aruba and leave him home with the kids but with out him and the sacrifice he made of joining the military, knowing it would mean he would miss big things with his kids lives that makes him a Hero. (But don't tell him I said that, his ego might inflate more then I can handle 😉 )
Don't forget to Nominate your Thanksgiving Hero to Give them Thanksgiving Dinner from La Brea Bakery!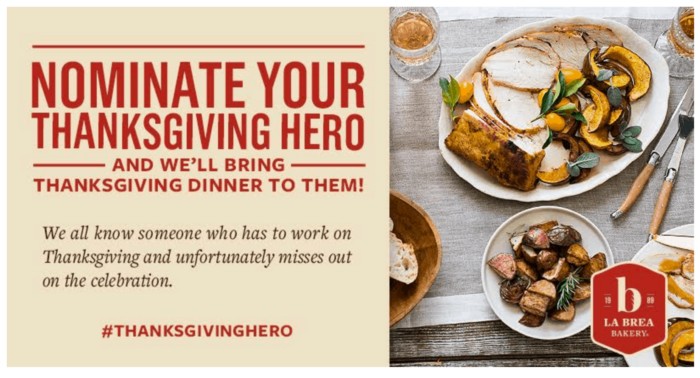 I am loving the new promotion that La Brea Bakery is running, the La Brea Bakery Thanksgiving Hero Giveaway! 
You can nominate your "Thanksgiving Hero", someone who you know and love who regularly works on Thanksgiving serving others (such as Military Members, firefighters, police, waiters, etc.) to win Thanksgiving Dinner!! La Brea Bakery will deliver fully catered meals to 5 finalists across the nation on Thanksgiving.
Submissions close Nov 15th 2015. How Awesome is that!?!? Just head on over here to enter the La Brea Bakery Thanksgiving Hero Giveaway and Nominate your Hero!
How to Enter the La Brea Bakery Thanksgiving Hero Giveaway! 
Go here and click on the "Thanksgiving Heroes" tab to create your form submission by including: your first and last name; zip code; email address
Write an essay of 100 words or less telling about your family member that you will be unable to share Thanksgiving dinner with
Submit at least one photograph showing both you and your family member that you will be unable to share Thanksgiving dinner with
Submissions must be received by November 15th 2015. Finalists will be announced November 17th 2015, after which the public will have a chance to vote for their favorites through November 20th 2015.
Disclaimer: This post is sponsored by La Brea. As always all opinions are 100% my own.