I figured since things have been a little hectic and people have been wanting to know how things are going the easiest way is to put it all in a post, I think I may start doing this more often and just updating about life in general in our house even if it is nothing all that exciting as a way for you all to get more of a peek into "us". Being personal on the facebook page gets tricky because facebook doesn't always show everyone everything and people feel like they are missing out on seeing us and keeping up with us so in the near future look for some more posts like this 🙂
Last week McKenzie and I woke up bright and early at 4:30 am to get to her school to go on her field trip to Harrisburg. As you all know there were some concerns due to the child who has not been nice to her and picking on her being on the bus with her and me not. Well the plan was for me to have her ride the bus then me follow the bus to the trip spots, when we got to school that morning one student was absent so that meant I got to ride the bus. Finding that out seemed to make McKenzie very happy and me much more relaxed. We had a fun day just the two of us being able to spend one on one time together.
We snapped a quick selfie of ourselves in front of the capitol building in Harrisburg. Which is mandatory now in our house for everywhere we go (according to the kids!)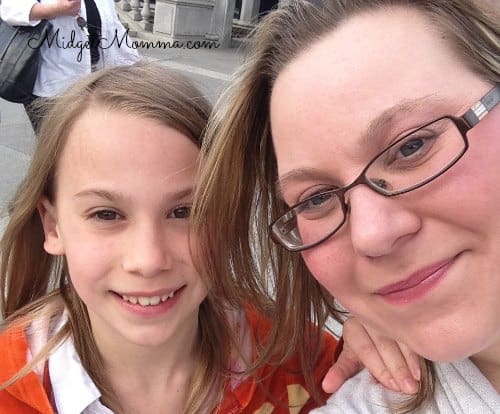 While on the field trip Tom and I were informed that his Grandmother passed away(more about that in a few minutes). So that afternoon was a bit rough.
Friday we all headed out to Woodloch Resort in the Poconos for their Carnival for a Cause to help JDRF and bring awareness to juvenile diabetes. I will have a blog post coming soon about that trip, it was a fun trip for us all even with everything that had gone on already this week but it was a much needed step out of the house and for us to just breathe a little.
The passing of Tom's grandmother was a difficult situation for us as we had not seen them in about 7 years due to some family issues. It left us spending the weekend (parts that we were not busy) debating on attending the viewing (since we both had to work today and get the kids to school at the same time the funeral would have been going on) and after a lot of discussion and some phone calls to people Tom hasn't talked to in years we ended up going to the viewing on Sunday afternoon. Both of us were nervous about the day as we had no idea what we were walking into but good news is it was not as bad as we were both expecting, however where this will lead us now is still up in the air. I would be lying if I didn't say that the door being open is a bit nerve racking for me. I haven't talked much on the blog about the issues because of fear for things being taken the wrong way by certain people but I am sure you can all relate to that one family member who makes life difficult in general for everyone involved. It is never a fun situation.
I am glad that we went though, I am glad that I could be there for Tom in this hard situation for him and that I could be there to support him and help him through it. That is what marriage is at times, doing things that are not exactly going to be fun but because you are supporting each other. Sometimes it also means getting into an argument and being pushy because you want what is best for them because you love them, even if they think you are just being mean 😉
When it comes to the school issues in general, we still have not heard anything about the teacher situation. I still stand that I want the teacher who let McKenzie have a bloody nose in the classroom and then denied it even happening to apologize to McKenzie, I feel that she deserves that as she was basically called a liar in the situation by the teacher and anytime someone accuses someone of lying like that when they are telling the truth an apology should be given. I will be contacting the school to push this because I feel it is important that McKenzie be given the apology that she deserves.
Through all of this my bottle of Stress Away is disappearing and I need more but thankfully it has been a great tool for all of this the past few weeks of craziness and hopefully life slows down just a bit so we can relax some and get more family time in.
We are currently getting ready for our upcoming trip to Disney World for the conference I am attending, which while work for me (and Tom and I will be getting the deals to you at the same time so it will be a bit crazy) I am excited for the family time that we will have in my free time from the conference and the memories we will make with the kids. We went 2 years ago to the conference and the kids still talk about it so I know they will remember even more this trip but the packing of 5 people up and getting things together for a trip in general can make a mom go crazy!
How has everything been going for everyone? I'd love to hear all about what is going on in your lives too 🙂