Disney Nature's Chimpanzee movie, which comes to theaters on April 20 (tomorrow) is a fantastic film, you can see my review of Disney Nature's Chimpanzee, and get a glimpse into the movie for yourself. However I am excited to share this clip with you that brings more into the making of the film. After watching the clip and learning the journey the film makers had to make to get to the locations of the Chimpanzees and seeing footage of where they "lived" while filming it brings more to the movie then just seeing it. Seeing that the people who made this movie have such a passion to bring the life of Chimpanzees to the big screen for all of us to see and seeing what the endoured to make this movie (like being attacked by bees and having creepy crawlies living with them inside their cabin, and the great lengths that they went through to capture the footage that they did gives me and even greater emotional feeling about the movie and a lot of respect for those who were in the jungle taping this film.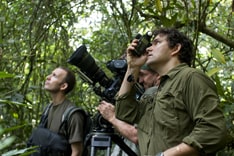 Check out the video clip below.

Fun Facts About the Making of Chimpanzee:
About the Crews Adventure in filming:
Getting to the Tai Forest took two days, including a 14-hour drive along bumpy dirt roads where the car would frequently break down miles away from the nearest village. The crew then carried all the equipment on an hour-long walk to camp.
The Film took 700 days to get enough footage to produce
On an average day the crew walked over 12 miles
When the crew was filming, each member carried over 40 pounds of gear- Filming equipment, GPS, Waterbottles, toilet paper, trash bags, bug spray, Walkie Talkies and other things that they needed.
They ate things like Noodles and Sardines for lunch.
They had to stay 23 feet away from the chimpanzees while filming them
They had to wear masks while filming and spend 8 days in quarantine so they did not bring any diseases in to the forest with them.
filmmakers had to be vaccinated for measles, meningitis, yellow fever and poliomyelitis, and take anti-worming tablets before entering the forest.
It was on average 86 degrees with 100% humidity.
They wore 2 pairs of socks and rubber boots to protect their feet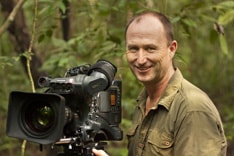 About their Campsite:
To Build their Camp the crew had to bring everything into the Forest themselves and they carried it on their heads. To make their camp they needed : 2.5 tons of cement, 7 tons of wood, 400 sheets of roofing tin, 4 truckloads of sand, 4 truckloads of gravel, 6 water tanks, 4 beds and mattresses, 3 sinks, 1 toilet, 1 shower and 1 stove
They did not keep nature out of their campsite, except for the ants that started evading them and to keep them away they pour generator fuel because the scent kept the ants away
They brought only 550 pounds of food with them each time they went in to the forest and that had to last them 3 months.
The team took a cold shower every morning, but the forest was so hot and humid that is was actually quite refreshing.  Unfortunately, the humidity also meant that the crew's towels would never dry.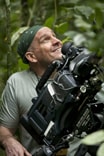 The Dangers they faced:
On a trip to a viewpoint to film forest scenics, team members were attacked by swarms of bees, each sustaining some 50 bee stings.  That night, the tree next to their tents was struck by lightning, which then traveled underground and electrocuted the team (they were OK).
On a trip to Tai village for supplies, Field Logistics Manager Ed Anderson got the vehicle stuck in the mud.  He left the vehicle to run back to camp, and on the way encountered a leopard on his path just a few yards away from him.  Fortunately, the leopard turned and disappeared into the forest.
Disclaimer: I went on an expenses paid Press trip by Disney/Pixar. All opinions are 100% mine. Photos and information provided by DisneyNature.
This post may contain affiliate links. Please read my disclosure policy here