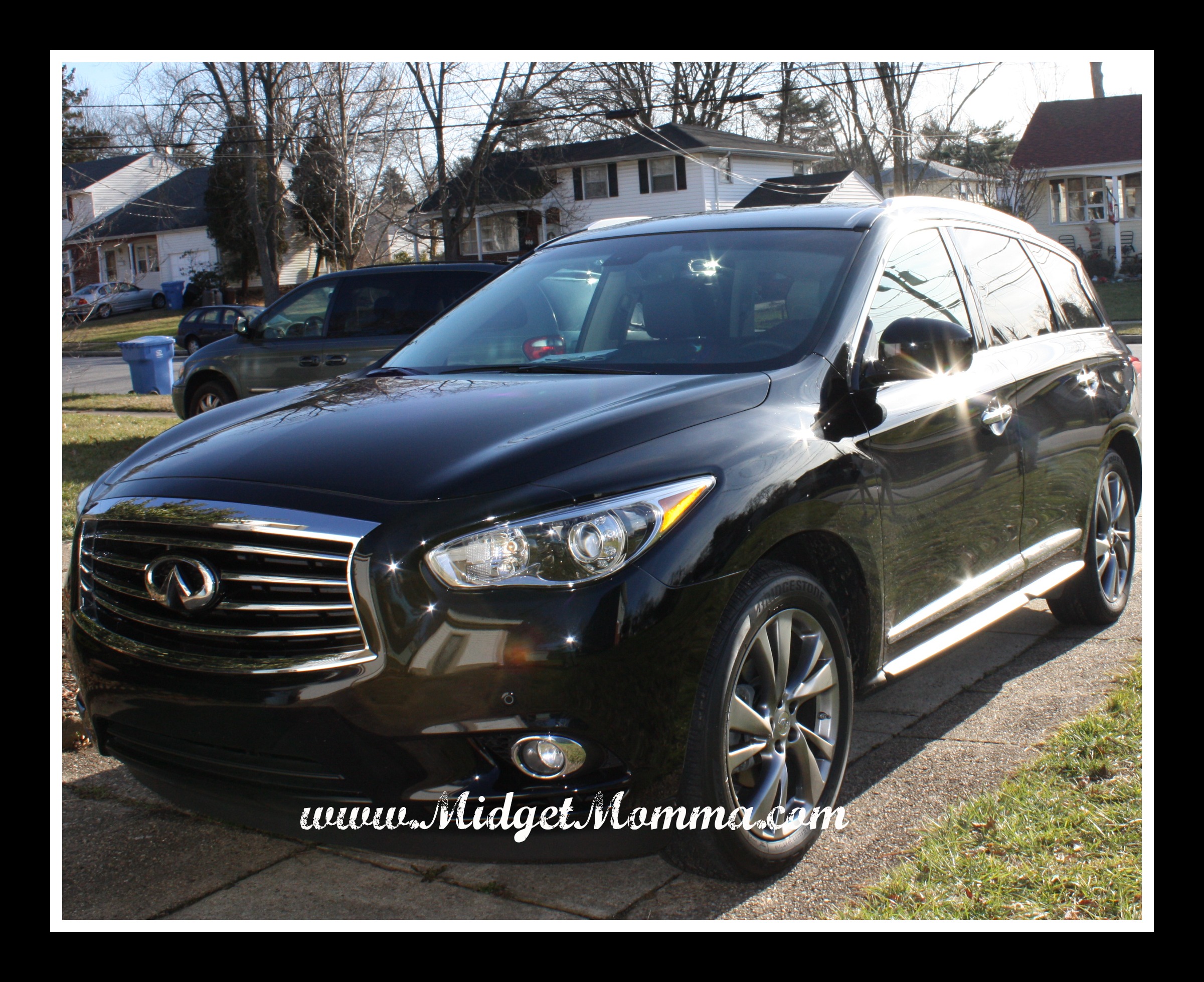 As a mom luxury now has a new meaning to me, it is not just how pretty a car is but how functioning a car is. While there are many cars that are a luxury car for some for me they aren't because they don't meet my needs as a mom. While at the same time being a mom doesn't mean I want a "mommy-mobile" (which I currently have aka minivan).
In the next few years our family's needs will change and the need for carseats to be in the car will soon be nonexistent and so while looking at cars it is important for us to look at how a car can grow with our family, not just meet the current needs we have.
When the Infiniti JX35 arrived in my drive way I was stunned at how gorgeous this car was, I had seen pictures online (of course I had to go and see what it was when they contacted me about reviewing it) and it exceded what I had imagined it was going to look like. Not only was it stylish in shape but the little extras, like the door handles really made the style pop.
Opening the door I was in for even more wonderful surprises, leather seats (that had heating and cooling features for the driver and the passenger), chrome accents through out the car and ample room for all my must needed items that are up front with me when I am driving.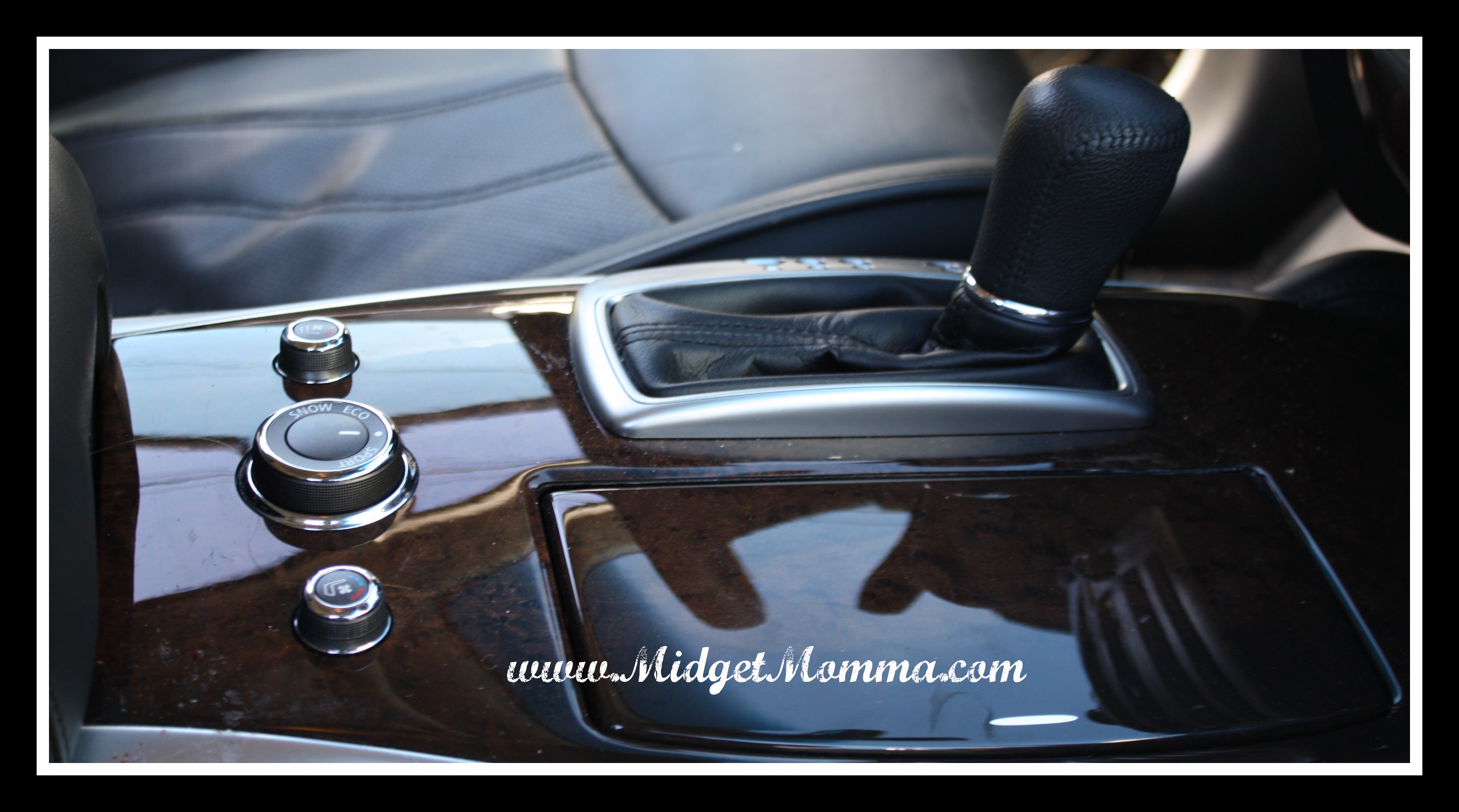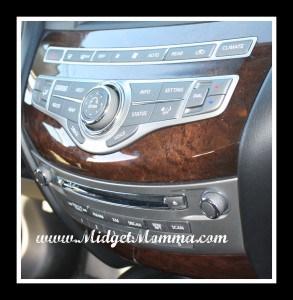 It arrived the weekend that we were moving (as you all know that was a crazy time and moving ourselves was interesting) but I am thankful that it arrived when it did and we had it to use during our move.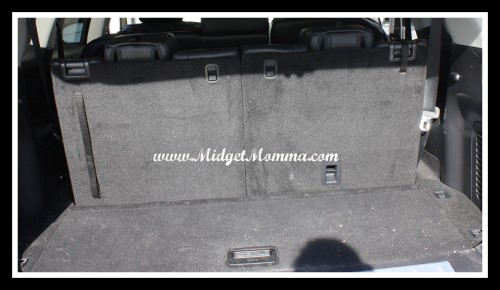 We were able to put more in the back of the Infiniti JX35, with the seats down then we can in my minivan! The space was amazing! Even when we loaded the car up with the kids in the front row we still had a TON of space! There is more then enough space for if a family of 5 like us wanted to pack everyone up and go on a trip that everything and everyone would fit.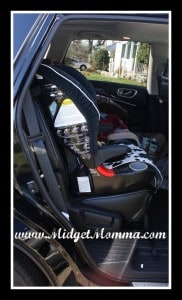 The ability to put the carseats all in one row was the big kicker for me and sealed the deal on my love for this car. With a Britax Frontier 85, a Britax Roundabout and a Diono getting them all in the same row can be VERY challenging and in many cars it is a no go (even in my minivan I can not put all three kids in the same row). The middle row even moved forward and back, to give ample leg room for whoever was sitting there! Love that! No one was kicking the back of the driver and passenger seats!
We made the 1.5 hours round trip to and from the new house to the old house about 6 times, along with driving the kids to school and my other daily driving and over the course of the week we had it I only had to fill the tank once! Amazing gas mileage!
Let's not forget the technology in this car! Not only does it have a back up camera, it has a camera that you can use to see infront of you and what is on the side of you! Which for short people like me is a major plus! Big car + short person + Cameras = one happy Momma! No way to possibly ding the beautiful exterior of this car!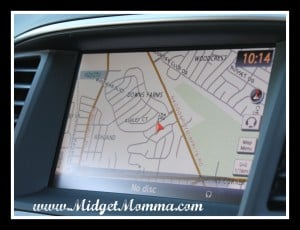 The kiddos will all be happy with the dual DVD screens in the front seat head rests. Using the DVD player is super easy too, just pop the DVD in up front and then use the remote to play it 🙂 If you are watching a movie and using the navigation system at the same time don't worry the volume goes down a tad so you can here what the navigation system is telling you. It also does this when you are using the radio!

Let's not also forget my kids other favorite feature, the sun roof! Open that up on a nice day and just let the wind blow through the car and not only does it feel awesome, but the kiddos love it!
Infiniti also has you covered, you won't be needing those printer paper directions from Mapquest with this car! Just punch in your address, or search for a location near you that you want to go and it will pull up your directions lickity split and you will be on your way!
The drive is amazing smooth, all those bumps and potholes I feel like crazy in my minivan, we as if they never existed while driving the infiniti.
I was sad to see this car go on the say they came to pick it up. There were no complaints from anyone in my family about this car and we all had an enjoyable time testing this one out!
Performance Features of the Infiniti JX 35 
3.5 liter v-6 engine
Infiniti Intelligent all wheel drive
Average Gas Mileage – 20mpg (18 city and 23 highway)
18-inch, 5 spoke/split aluminum-alloy wheels
front and rear stabilizer bars
Technology Features of the Infiniti JX 35
Rearview Monitor
7-inch color screen vehicle information display
Infiniti intelligence key
Illuminating Push button ignition
Bluetooth hands free phone system
6 speaker audio system
USB connection port for Ipod
Sirius radio
Luxury Features of the Infiniti JX 35
Leather-appointed seats
Heated  driver and passenger seats
Multi-mode 3rd row with 50/50 split
Multi-mode 2nd row with 60/40 split
Front fog lights
Power sliding tinted glass moon and sunroof with one touch opening
Rear seat heated vents under 2nd and 3rd rows
power folding and heated outside mirrors
Safety Features of the Infiniti JX 35
3 point height adjustable front seatbelts
lower anchors and tether for carseats
Latch system for carseats
4 wheel anti-lock brakes
Tire pressure monitoring system
Vehicle Security system
Infiniti Vehicle immobilizer system
Driver and front passenger airbags, side impact and curtain airbags with rollover sensor
Disclaimer: I was loaned this vehicle to facilitate my review. No compensation was received and all opinons are 100% my own.
This post may contain affiliate links. Please read my disclosure policy here