When I was invited to go on the San Francisco press trip for Brave I was super excited. I love Pixar and Disney and growing up as a kid the movies were a big part of our fun. So when the opportunity came to me to visit Pixar Animation Studios I danced around the house (literally). But it was way more than I ever expected the trip to be.
On Day 2 we started off our morning getting in the spirit of the Scottish heritage with activities that are known to them and a big part of the movie Brave. We arrived and there was a bagpipe player serenading us with beautiful bagpipe music. Wouldn't that be a wonderful sound to wake up to in the morning? Sure would be the beeping of my alarm clock!
(Thanks Sippy Cup Mom for the Video)
We had archery lessons- I totally thought I would not be able to do it (the Bow was bigger then me!). This was my first time trying archery and I don't think I did to bad at all I hit the target with 3 out of 5 of my arrows! It was fun and something that I think I am going to look into taking the kids to try when they get a little bit older, I think they would love it!
Me holding the bow that is taller then me 🙂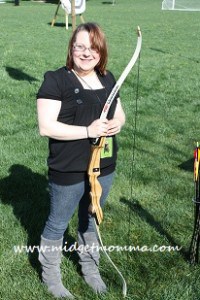 Me shooting the bow and arrows!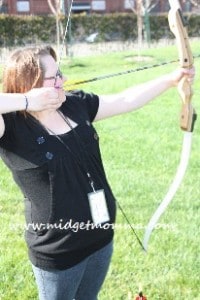 My arrows that I shot 🙂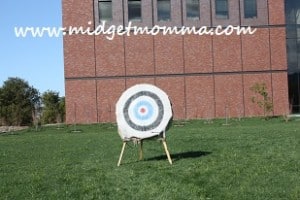 Then it was off to learn about Bagpipes! There is a whole lot more then I ever thought went into playing one. Not only are they blowing air into it (Which that is what the big bag under their arm has in it) but they have to move their fingers and use their arm to squeeze the bag with the air in it and blow into it all at the same time! And since they can not carry their music with them they must remember all the songs so they can play them, most songs are about 1 minute to 1 1/2 minutes long. I always thought that bagpipes were originally from Scottland, but I learned that I was wrong they originated in the Middle East.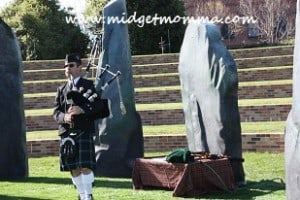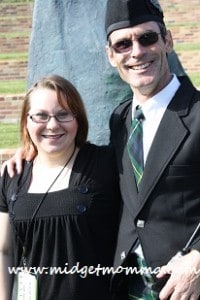 Then time to learn about Kilts, have you ever wondered what they wear under the kilt? I always did well I have the answer…. nothing! Now I am not sure how I would like that idea but after feeling how heavy the kilt is I can imagine how hot it gets! The Kilt is made out of a long piece of thick fabric and wrapped around 8 times (no wonder they don't need anything else to stay warm!) Every family has their own Tartan, which is the design of the Fabric (I will be sharing with you a Kilt 101 post later on because I think the whole outfit is just amazing!) Being a woman I sadly wouldn't get to wear one, only men get to.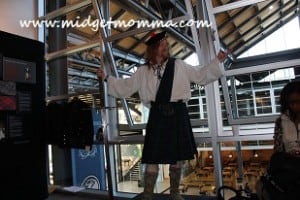 After our  Morning learning about the scottish culture we got our chance to shoot arrows with Merida (she was aiming for the target and I was aiming for the bird in the sky:) )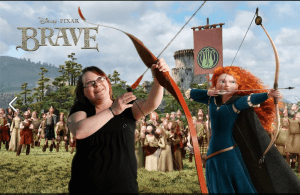 Photo Credit- Pixar
Then it was off to interviews with Mark Andrews (The Director of Brave), Katherine Sarafian (the producer of Brave), Enrico Casarosa  (the creator and director of La Luna) and a few others who are part of the staff and animators of Brave. These interviews will be coming as soon as I am allowed to talk about them! I also have a post coming soon for you of a tour of the Pixar Animation Studios, sadly we were not allowed to see the whole building because things are BIG secrets but I will be sharing with you everything that I got to see.
Disclaimer: I went on an all expenses paid press trip with Disney/Pixar. Many thanks to Disney and Pixar for this experience. All opinions are my own.
Join the newsletter
Subscribe to get our latest content by email.
This post may contain affiliate links. Please read my disclosure policy here