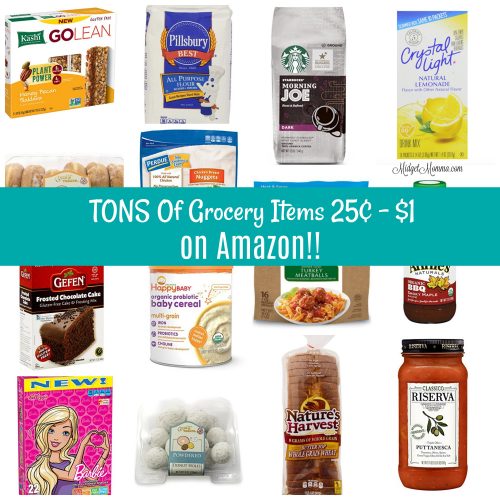 Hurry on over here to Amazon Fresh! There are INSANE Savings going on right now!!! TONS of items are marked down to 25¢ – $1!!!! If you are having trouble finding them go to the grocery section and sort low to high, then scroll thru! There is soooo much on mark down! Shipping is FREE on orders of $40 or more and it is a great time to stock up with out even having to leave the house!!
Here are a few of the INSANE Deals that I found!
Kellogg's Fruit snacks 22 count 25¢
Kashi Golean Bar, Honey Nut Baklava, 7.95 oz – 75¢
Crystal Light Lemonade On The Go, 0.14 Ounce (Pack of 10) 75¢
Maplehurst Bakeries Powdered Sugar Cake Donut Holes, 9 oz 75¢
Classico Riserva Sauce, Olive Puttanesca, 24 oz 75¢
Gefen Chocolate Cake Mix and Frosting, 17 oz 75¢
Maplehurst Bakeries Glazed Yeast Ring Donuts, 13 oz, 6 ct 75¢
Annie's Naturals Organic BBQ Sauce, Smoky Maple, 12 fl oz 75¢
Brew Rite Basket Style Coffee Filter, 100 ct 67¢
FIJI Natural Artesian Water, 500mL Bottle (Pack of 6) $1
Cottonelle CleanCare Double Roll Toilet Paper, Bath Tissue, 4 Count $1
Softsoap Antibacterial Liquid Hand Soap, 7.5 Oz. Pump 99¢
And soooooo much more! Like it is crazy insane the deals that they have right now!!!