How many time have you been brushing your hair or your daughters and thought "Oh my these knots!" Both of my girls have thin, straight hair and I hate when they get knots, I cannot imagine being Merida's Mom (from the new Disney/Pixar Movie Brave) with the crazy, beautiful, red, curly hair that she has!
The creators and artists for the new Brave movie put a tremendous amount of thought and work into Merida's red curly hair and it shows! There are 4 different layers to her hair and over 1500 individually sculpted curly red strands that make up her hair which has a total of over 111,700 strands of hair! Wow! Can you imagine brushing that?!? Especially with all the adventures she goes on through the woods that could end up using a full bottle of detangler! If you were to stretch out her curls her hair would be 4 feet long and reach the middle of her calf!  That is some really long hair!
But the talented pixar animation team did it and made it look fabulous and while at Pixar I got the change to talk to Claudia Chung, the one who made Merida's hair magic work! To make Merida's hair she had to build a curling iron on the computer and then curl the hair all 1500 individual curls, each piece of hair is a different length, different size curl and different stiffness all to make the hair work. In the above picture you see the 4 stages of her hair, each color is a different layer of Merida's Hair, everything from the curls that are thick and make her hair full to the single stray away curls that you see.
In order to get the hair just right there was a lot of exploring and hands on work. They start with hand drawings of what they want it to look like and then they get hands on with people and hair, including having both the men and woman who were working on the movie wear wigs of long hair so they could learn how the hair felt. They worked with many models of different types of curls, and hair thickness to make sure they got the texture just right. Then to make sure they got the hair movement just right they used models and wind to learn about the flow and movement and then duplicate it on the computer for Merida's hair.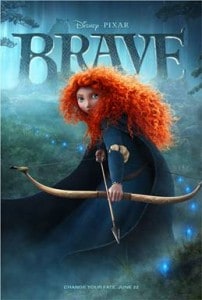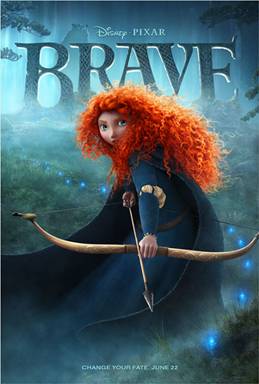 Brave comes to theaters on June 22!
Disclaimer: I was provided an all expenses paid trip to the Brave Press Event in San Francisco. No compensation was received for this post and as always all opinions are 100% my own. And a big thanks to Disney for including me on this trip.
This post may contain affiliate links. Please read my disclosure policy here