Make sure you also check out my interview with Interview with Freddie Prinze Jr and Dave Filoni to get even more inside scoop on this awesome new series.
Star Wars Rebels premiered last week with the 1 hour series premiere and now tonight the actual weekly series will begin! To say that we are excited would be an understatement, the last family series we were this excited about was Girl Meets World but the excitement for all things Star Wars in our house trumps just about anything else. Star Wars Rebels: Spark of Rebellion will air at 9pm on Disney XD Monday night 10/13, and will be available on DVD tomorrow October 14! You can purchase it here on Amazon 🙂 
If you missed last weeks 1 hour episode, before the series starts tonight watch the first one from last week, you can find it on demand and with Watch Disney on the ipads 🙂
As I mentioned previously no one who was auditioning for the series knew it was a Star Wars series.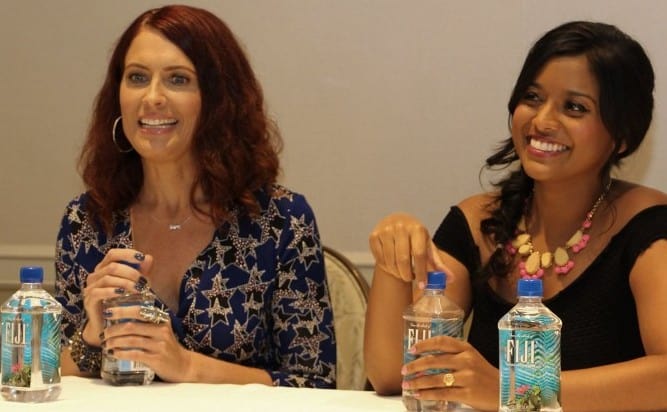 What I loved about this interview was how much they talked about the strong female roles in the series. Star wars is for everyone, kids, adults, boys, girls it doesn't matter and everyone can be a Jedi and I LOVE that about the Star Wars things in general and love what had to say about it 🙂
Question  :    We were talking about, how having strong female characters in this generation when we had these girls, you know, to include them in this beautiful world? So, how do you feel about the part of this have a female character that you can actually portray these strong characters and how, how will you think about it? How you feel?
Vanessa   :    Well, Hera is the leader and while she is fierce, she's a great fighter and a great pilot, she's also very nurturing, and she sort of plays a maternal role, within the crew. I think she sets a really great example, and I think she does a lot of mentoring to — Sabine. Now, I will also say parenthetically as a Star Wars fan, she is a Mandalorian. So I personally bow down to her character.

Tiya :    But that's Vanessa not Hera.

Vanessa   :    Yeah.

Vanessa   :    Right. Getting back to Hera. I do think it's really wonderful, that Star Wars Rebels embodies two, female characters that we all can aspire to act like them whether we're adults or children or even little boys or little girls.
I've  said before that the empire universally oppresses all races and all gender to where it sort of neutralizes elements. These aren't good women or good female characters. They're all good people.

Tiya :    Mm-hmm.

Vanessa   :    So that we're not even thinking in terms of gender or class. We're united towards doing the right thing. So, while they are strong, female characters, it's also kinda cool that there's this different element that even transcends those distinctions.

Tiya : Not to get too, you know, well, social commentary on you, but there are, in my own personal opinion, there are, so many female personalities that [CHUCKLES], well, for better or worse, you know, there, there, there may be famous not for a specific skill or talent but just famous for the sake of being famous. And maybe not for the right reasons — if you know what I mean.

Vanessa   :    Yeah.

Tiya :    So, which I think you do — because you're all nodding.

Tiya:     So, it's such an honor you know, and it makes me cringe, I don't have kids, but it makes me cringe to think like all little girls are like this is what they have to look up to and to aspire to be, and it's worrisome for me. So, to me, it's such an honor to get to play this female character who, you know, Sabine's a teenager and yet she is so intelligent and not even concerned about the superficial stuff whatsoever.

Vanessa   :    Right.

Tiya :    She's never taken a selfie in her life, you know.

Vanessa   :    Exactly.

Tiya :    If she knew what that was, she wouldn't be interested. So I think it's amazing to get to play these two smart women. They are right there alongside the guys, beating up the bad guys. You know, I hope that young girls and young boys, I mean can aspire to be like these characters, because they're fighting for the greater good. They're doing the right thing and they're just like really smart and savvy about it while they are doing it.

Vanessa   :    Definitely.

Tiya :    — maybe they might replace some, some other stereotypes out there.

Vanessa   :    Yeah. Yeah. I think also what we're all driven by is hope. Once again in transcending gender that I hope that kids take that hope that it's important to have faith, to have morals, to have ethics, and adults could probably learn from that as well. Some of those bigger human values that are not often embodied in, say, the people who are famous for things less than, you know, desirable. It's really cool. There are some very wonderful, delicious ideas, that are also inspiring over all, you know. But I agree, definitely. These are really cool women for younger girls to emulate.

Tiya :    And they're still fun, too. It's not all about —

Vanessa   :    Yeah. They're hilarious.

Tiya :    You know, how the moral like high ground and, you know, it's not all like that stuff. It is fun.

Vanessa   :    Yes.

Tiya :    Sabine's can be a little sassy and she has a little attitude, but meanwhile she's also like fighting the empire.

Vanessa   :   Exactly.

Vanessa   :    Yeah, it's cool. Those things are sort of hidden beneath all the, the jokes and, and the high stakes.

Tiya :    The banter.

Vanessa   :    Exactly.

Tiya :    Yeah.

Vanessa   :    Yeah. It, it very much feels like the original trilogy. It has the same with get this walking carpet out of my way. You know, we talk to each other like that.

Tiya :    Oh, you mean on the show? Yeah, yeah.
Question  :    I love Sabine's character, because she's very multidimensional. Like she's out there shooting and fighting with them, but then she'll like be gone over doing some technical stuff, like shutting down the field and all of that stuff. One thing I notice about her character, she's the only one that wears a cover over a face. Do you know if there's a significance to that?
Tiya :    Well, she's Mandalorian, so that's like Mandalorian armor, the full thing. The only difference is that, I think she's probably the only Mandalorian that has armor that's been graffitied.

Vanessa   :    Mm-hmm. Hot Pink.

Tiya :    — she designs her own. Yeah she actually like sort of, embellishes her armor, but, the significance of the helmet is that she's a Mandalorian and that's full Mandalorian, like, warrior armor.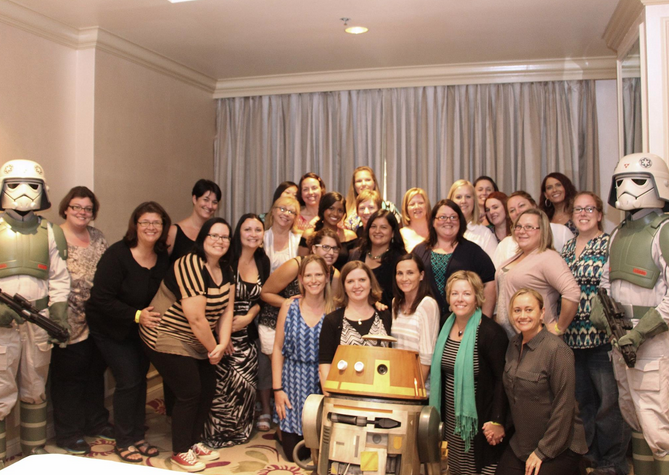 Question  :    Who are you guys' favorite characters in the Star Wars universe? Can you pick one or?
Vanessa   :    Well, you know we both love Princess Leia, because she's a strong female character, but I also don't wanna forget Ahsoka from the Clone Wars.

Tiya :    Sure. Absolutely

Vanessa   :    Ashley Eckstein is so wonderful and she's really a wonderful character that we watched grow from being a young padawan, you know, towards becoming a Jedi. I think it's the same principles.

Women who are strong on so many levels that they're really inspiring. So, I would say, overall, probably Princess Leia.

Tiya :    And I have a soft spot for Han Solo, but who doesn't? But as inspiration, Leia.

Vanessa   :    You know, it's really — it's, it's hard to choose.

Tiya :    It's true. There's so many good ones.

Vanessa   :    Yeah, I sort of believe that I love Chewie, but I think that's born on the fact that it was my first action figure that I got. You know, in terms of things that have really touched my heart, I would say Leia.
Check out these 2 movie clips where you can meet Haba and Sabine, I love these two characters in the series and I can not wait to see more from them!!
Don't forget to tune in tonight for the start of this Star Wars Rebels Series!!
Disclaimer: I was invited to an all expenses paid press trip with Disney. No compensation was received and all opinions are 100% my own.