School time is here! Whether you are homeschooling or sending the kiddos to school there is a lot to prepare! I wanted to make your life easier by finding some of the coolest things for back to school! There are really some amazing things for back to school this year and I am super excited about them!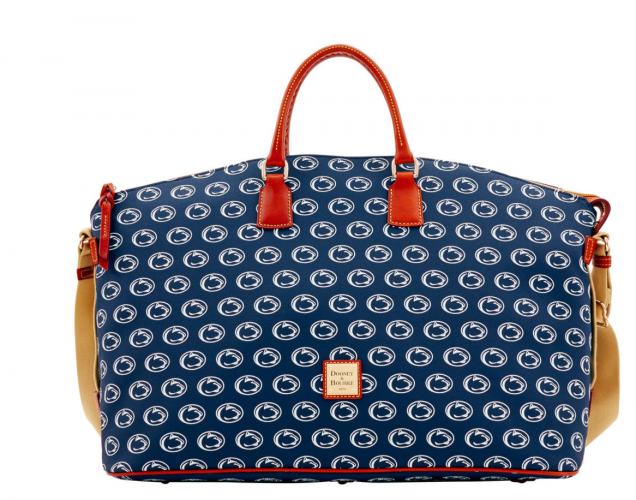 Dooney & Bourke Collegiate Collection Weekender: This one is for the college kids but one that I think needs to be also for Mom. 😉 The weekender bag comes in many college teams and is perfect for weekend travel! There are 40 different schools to pick from and a large range of other awesome bags too! I personally also have my eye on the PennState Dooney and Bourke Hobo and the PennState Zip Top Shopper… I am TOTALLY drooling over them! (Hint Hint Tom! 😉 ) You can tell where my loyalty lies when it comes to colleges can't you! 😉 But I promise I will still love you all even if you are a fan of a school other than PennState!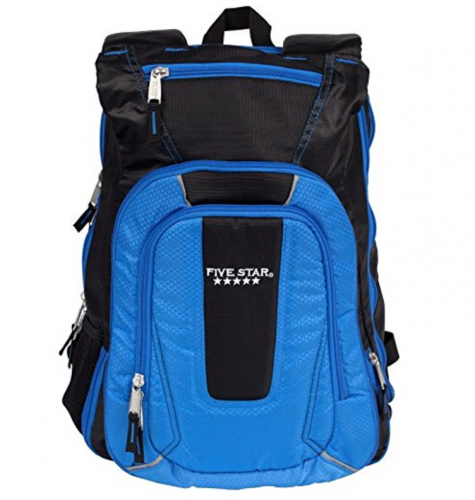 Five Star Expandable Backpack: This backpack is super cool! It expands so it can fit a TON of stuff in it! It is big enough to carry one of the HUGE Five Star zip binders, books and anything else the kiddos need for school! You can find it here on Amazon. 
Junkless Granola Bars: Junkless is a new line of better-for-you, family-friendly snacks that are minimally processed, non-GMO, and contain no artificial flavors, colors or preservatives. Produced by Simply Eight LLC, all are made with less than eight ingredients commonly found in a kitchen pantry or local grocery store.There are four flavors: Chocolate Chip, Peanut Butter Chocolate Chip, 100% REAL Strawberries and Cinnamon Roll. You can find them on Amazon here.
Contigo Waterbottles: You have to have waterbottles for back to school! For us they are a must have for when we are in the car, and they are also great for keeping the kids hydrated during the school day! Contigo has 2 awesome new water bottles that are perfect for back to school! The AUTOSEAL® Chill Stainless Steel Water Bottle keeps beverages cold for up to 28 hours! Grab yours here on Amazon! The NEW Spill Proof Kids Tumbler has been a hit thus far with children ages 3+. Grab yours here on Amazon!
tri-FACTa™ Multiplication & Division Game: A game to keep their brains learning while having fun! This one is great for all kids no matter how they are getting their school done! Grab yours here!
Erupting Cross-section Volcano Model: Have fun and learn science at the same time with this volcano! Create your very own erupting volcano with this unique no assembly required model. Includes an easy-to-prepare lava recipe, a 13″ clear plastic tray and a removable tube that allows for quick clean up. Detailed cross-section shows the inside of the volcano. Includes a fact-filled Activity Guide, with all the information kids want to know about volcanoes. Grab yours here!
Weather Tracker: Weather affects everyone, every day! Introduce isobars, jet streams, wind chills and more with this super-sized weather map of the U.S. and Canada. Chart temperatures and cities using bar and line graphs. Includes a write-on/wipe-off board for easy display and conveniently folds flat for storage. Grab yours here!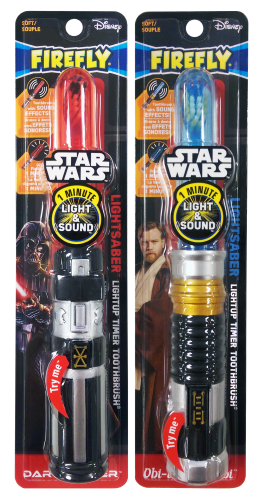 Firefly® Star Wars™ Lightsaber Toothbrush
The Firefly® Star Wars™ Lightsaber Toothbrush gives kids the opportunity to bring the battle for the galaxy into their homes! The Lightsaber toothbrush lights up with the press of a button for 60 seconds and includes light saber sounds and character voices. To keep the brush clean, the toothbrush comes with a no-mess protective cap that shields the bristles from lurking bathroom countertop debris.
Firefly® Rotary Toothbrush
The Firefly® Rotary Toothbrush gives every child's daily oral care routine a powerful push, using its motorized bristles to blast away plaque and keep those pearly whites bright. Featuring flashing LED lights that turn off automatically with the brush after two minutes, the dentist recommended time for brushing, the Rotary toothbrush promotes proper brushing habits for kids while teaching them the correct amount of time needed to thoroughly clean their teeth.
Firefly® Fun Pump Anti-Cavity Fluoride Rinses
The Firefly® Fun Pump Anti-Cavity Fluoride Rinses are designed to encourage healthy oral care habits that include proper brushing, flossing and rinsing. Each bottle features a 3D character head so children can rinse with their favorite character. A convenient "no mess" cup is attached to the bottom of the bottle that makes measuring the right quantity simple. The sugar-free, alcohol-free formula is safe for kids!
Back to school doesn't have to be boring, it can be totally amazing! It will be totally amazing with these awesome products for back to school that you might not have thought about 🙂
This post may contain affiliate links. Please read my disclosure policy here