I am so excited that Stephanie has finally let the cat out of the bag because I have been waiting for what seems like forever to share this because I am sooo excited for her 🙂 For those who don't know Stephanie she is the mastermind behind a lot of recipes here at Midgetmomma.com and helps me out greatly and I would probably lose my mind with out her 🙂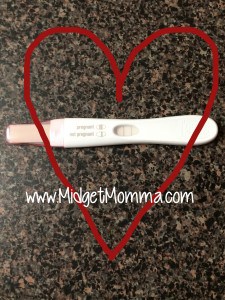 Hey everyone is Stephanie and we have some pretty exciting news!! If you cant guess by the picture I"M PREGNANT!!! This will be my husband and I's second child.
We have a beautiful daughter who is 18 months we will call her A on here. They will be two years and a few days apart! We wanted to have our kids close together but I didn't think they would end up sharing the same month as their birthday I just hope this new baby doesn't come early and come on A's birthday. It looks like its going to be another HOT summer for me. But I find it fun to have a summer baby it makes so fun birthday parties. This pregnancy has sure had it up and downs so far and having a wild toddler running around the house doesn't make it easier. I am glad I am only a week away from my second trimester hopefully things will get a little easier than.
Everyone will have to keep their eyes out because now that I'm expecting this bundle of joy there will be a lot of fun pregnancy and baby past to come! Fun things like baby product review, nursery crafts, and pregnancy tips.