I had the opportunity to try out some new products that are great for oral care for kids. The Baby Buddy Oral Care Kit has products for the little ones up to the older kids to help them make sure they are having proper dental hygiene.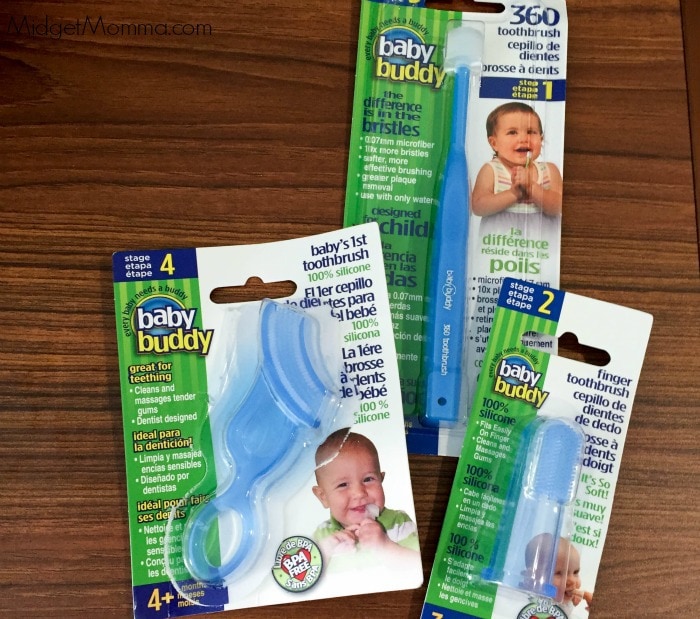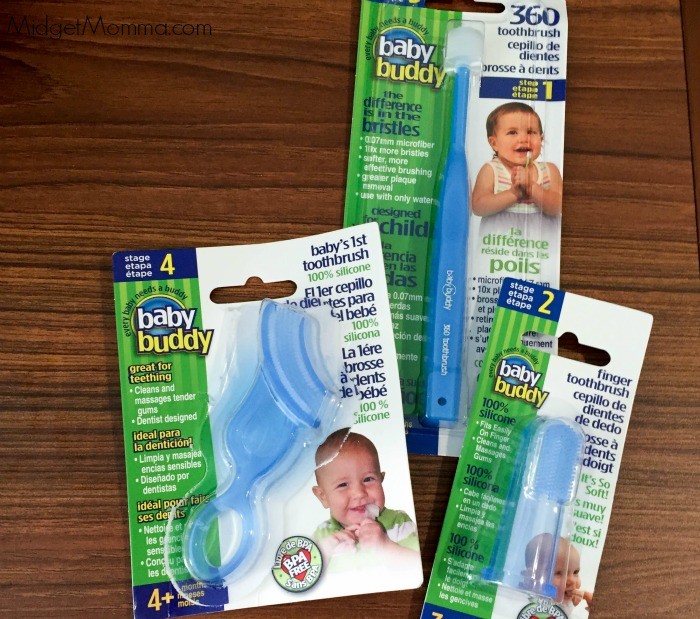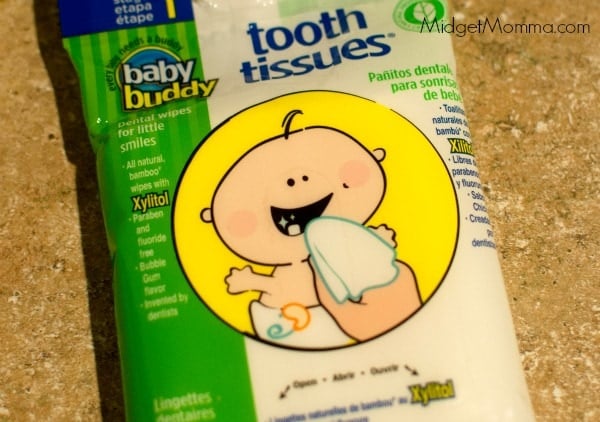 I had the opportunity to try out the Baby Buddy Oral Care Kit with my four-month- old son. Recently, we noticed that he has two little teeth that are starting to show under the gums. This is the perfect time to start an oral care regimen! We used the Finger Toothbrush to brush and massage our baby's gums. He really seemed to enjoy it! I think that the massaging bumps on the finger toothbrush were great at soothing his sore gums!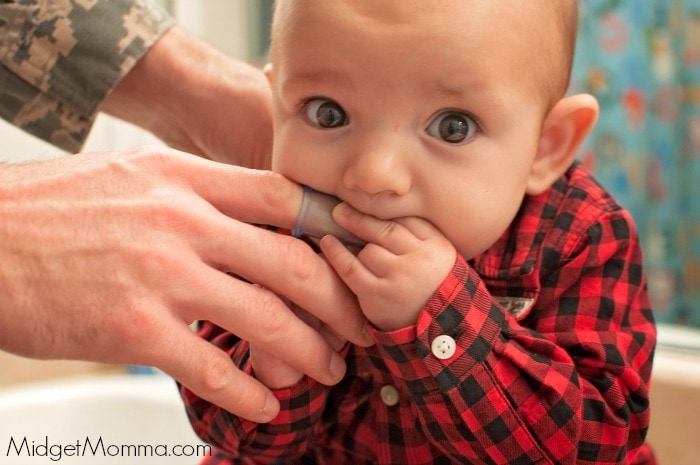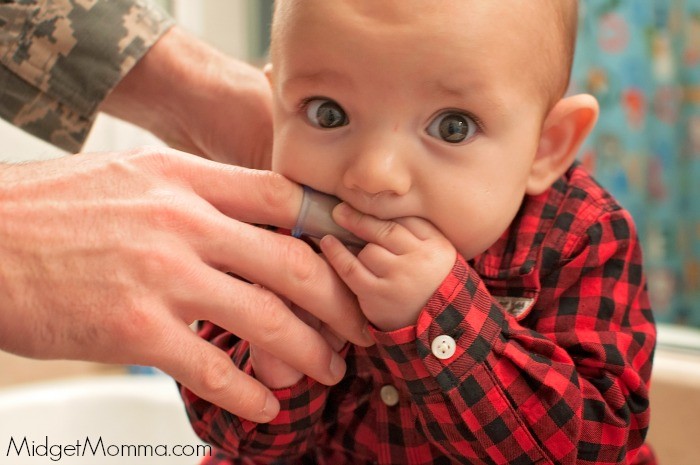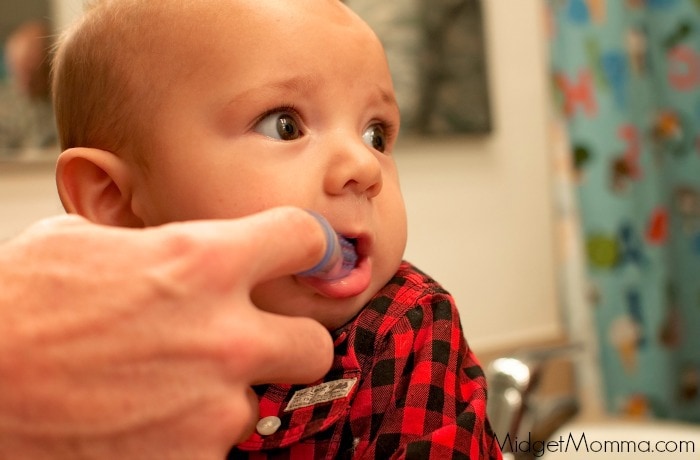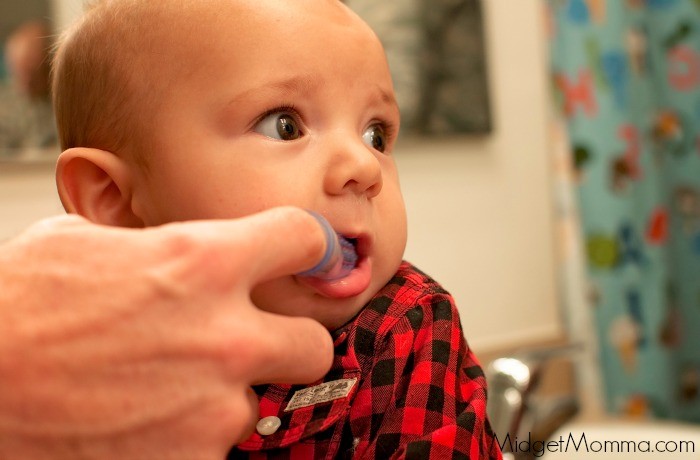 Starting with gentle Tooth Tissues®, a Certified Natural Product made of bamboo with Xylitol, parents can step up to massaging tender gums and soothing budding teeth with the Finger Toothbrush and the Wipe-N-Brush, which is used in conjunction with a Tooth Tissue. Once babies are ready for the Baby's First Toothbrush, they can use and manipulate it on their own with guidance. From there, a transition can be made to the 360 Toothbrush Step 1, an intelligent advancement in toothbrush design that features state- of-the-art, circular bristle rings to effectively remove plaque and prevent build-up with regular use.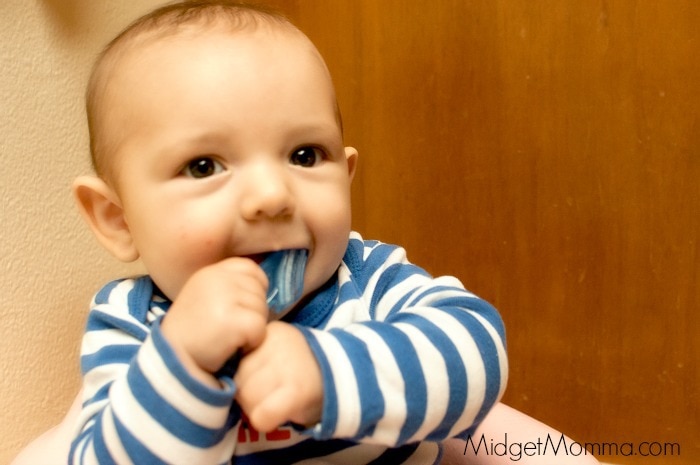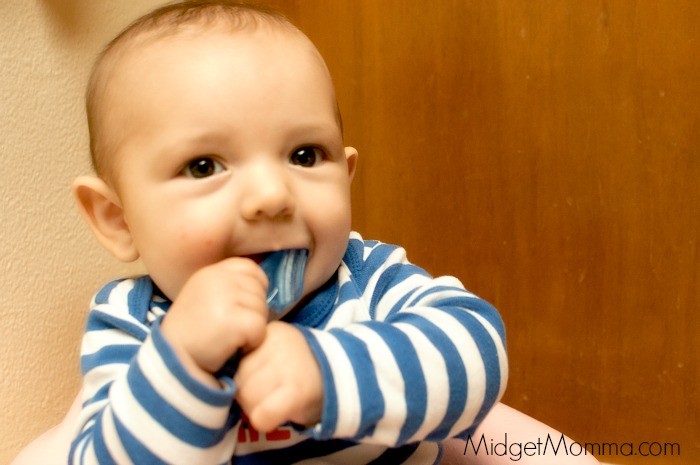 Next, we tried to use the Baby Buddy Baby's First Toothbrush. The Baby's First Toothbrush is made of soft, flexible plastic. Although our son is in the recommended age range for this product, I felt that it was a bit large for his mouth. Regardless, he loved putting it in his mouth and chewing on it! We were also able to test out the Baby Buddy Tooth Tissues. Again, our son really loved that we were massaging his sore gums while cleaning them. He seemed to enjoy the taste of the tooth tissues as well. We will definitely continue to use these products as we await the arrival of his first teeth! Once his first teeth come through, we are excited to try the Step One 360 toothbrush.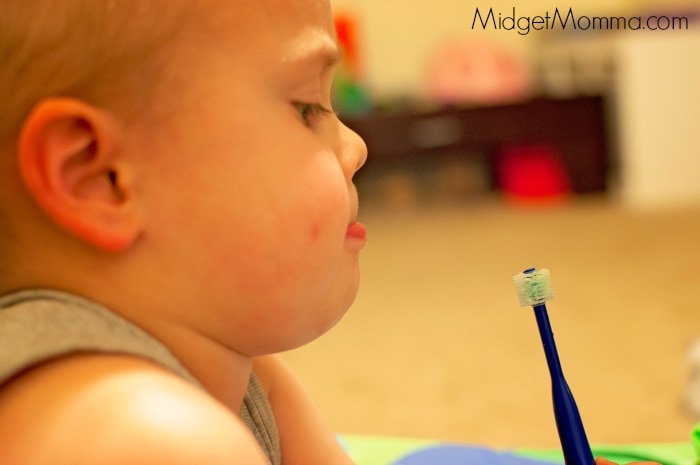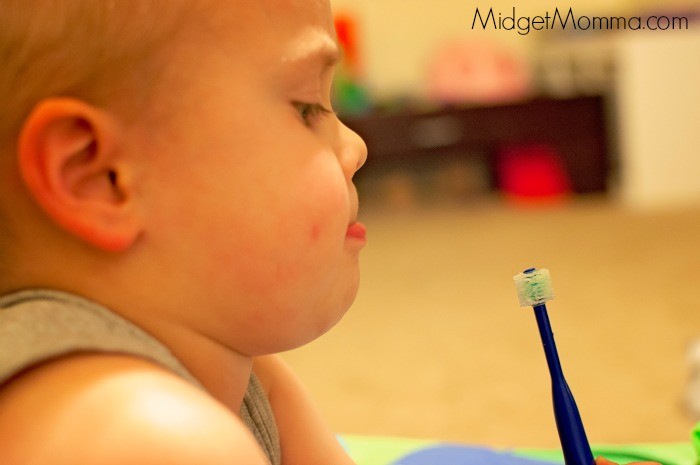 We were able to test out the Step Two: Baby Buddy 360 Toothbrush with our older children. The recommended age range for the Step Two brush is 2-12 years old. We tested it out with our two year old and our six year olds. What makes this toothbrush different is the shape. The toothbrush is round, with bristles in 360 around the brush.
From the company:
The Baby Buddy 360 degree toothbrush is truly innovative — it is the world's first 360 degree designed toothbrush. Developed in the Osaka University Dental Hospital of Japan, the 360 Toothbrush has unparalleled cleaning power thanks to over 10,000 micro fine bristles—10 times more than the average toothbrush. Circular rings firmly hold bristles in place, while spacing washers between bristle layers make it more effective for removing plaque and keeping the brush clean. Works great for cleaning the tongue and for massaging gums. Take a 360 Toothbrush to work, out camping, or on the road, as it may be used effectively with water alone when you are on the go. Available as Step 2 for 2-12 year olds.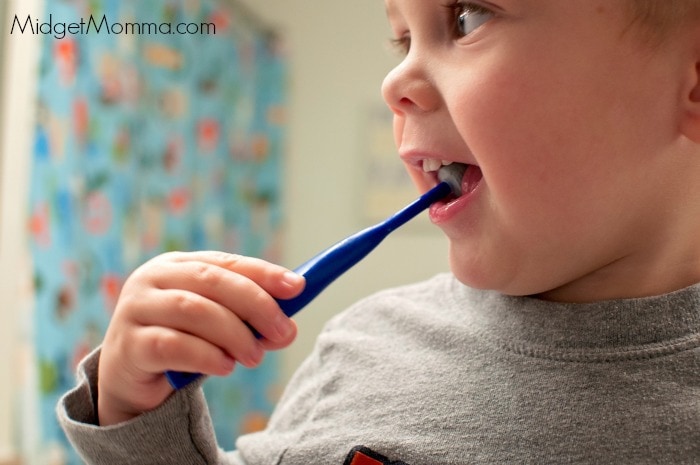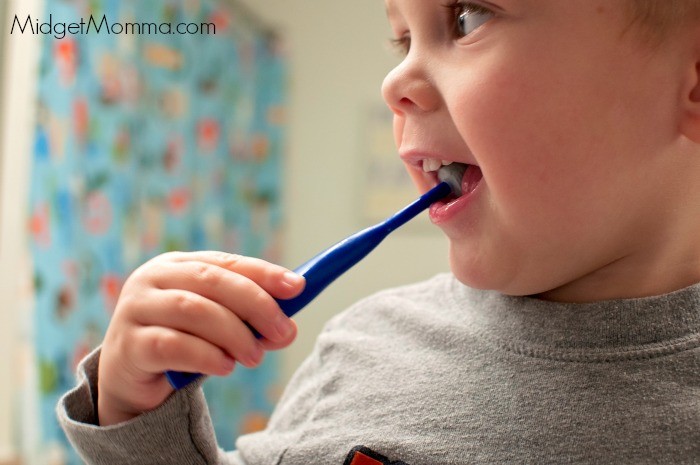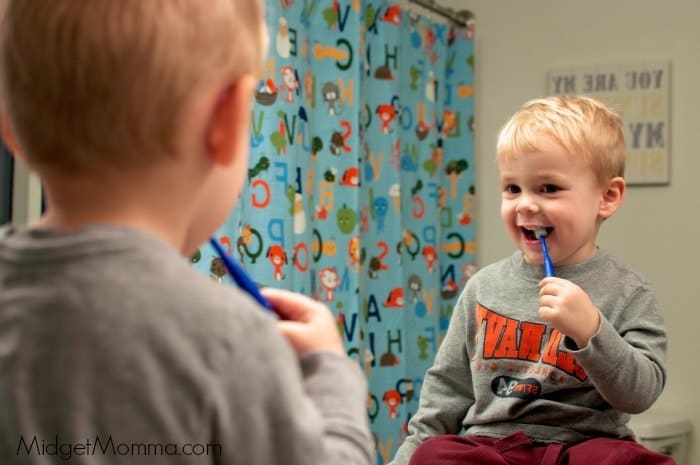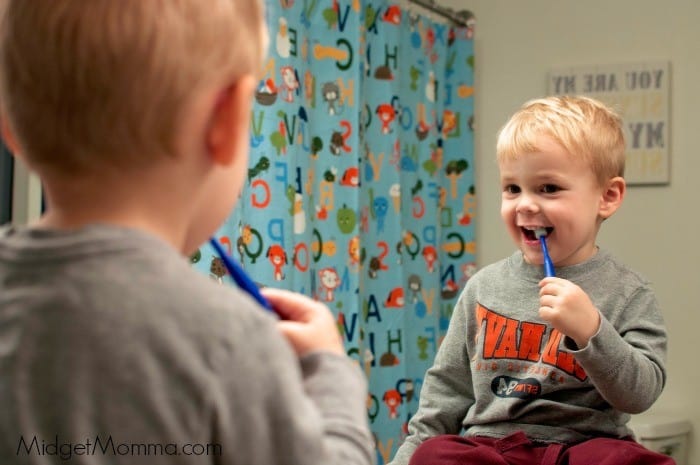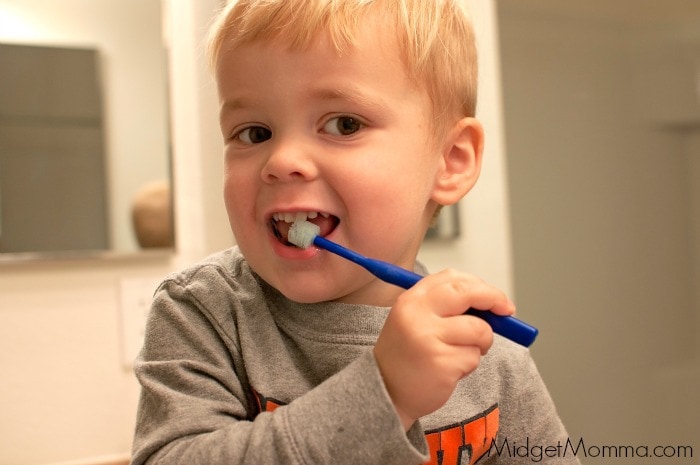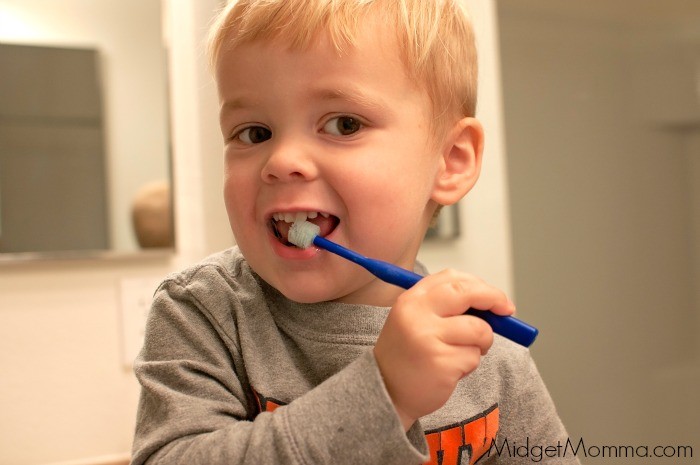 My husband and I usually let our two year old try to brush his teeth on his own, and then we come back through and re-brush them. Our son was a confused about the toothbrush at first, because it was so different than the shape he is used to. After some coercing, we were able to get him to brush his teeth with it. He laughed and thought it was funny and different. When I took over, the first thing I noticed is that the handle of the toothbrush is much more comfortable to hold and much easier to manipulate around the child's mouth than a traditional toothbrush. I felt that the brush was a little thick for our two-year-olds mouth, specifically when trying to brush his molars. He didn't seem to mind.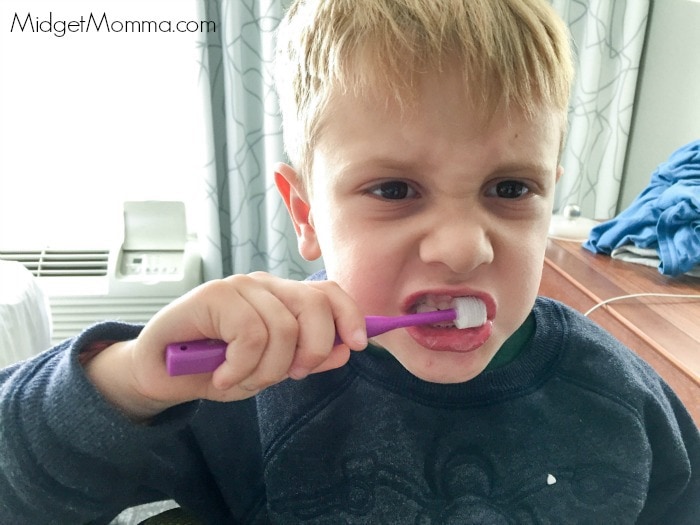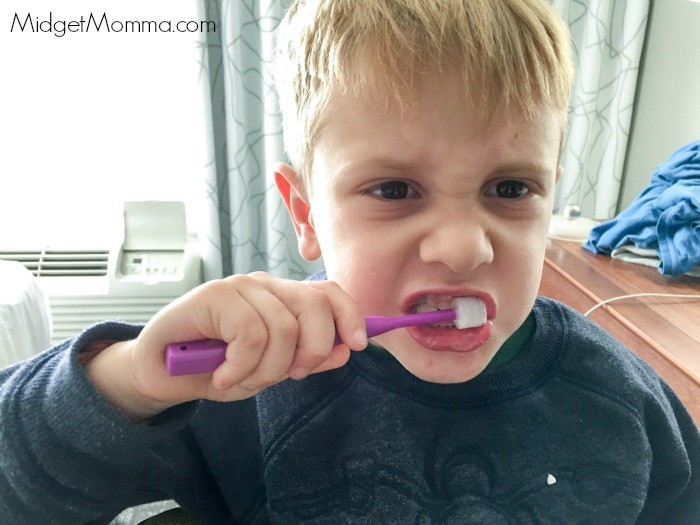 Our six-year-old twins are pretty good at brushing their teeth on their own. When I gave them their first 360 Toothbrush they seemed very unsure about them. After I explained a little, they were happy to try them out. They both reported that they loved the toothbrushes and that their teeth felt very clean! After they brushed the first time, I noticed that both of their gums were bleeding. When looking at the package again, I noticed that it said, "Brush lighter than you would usually brush." I neglected to tell them to do that the first time (Mom fail!), which probably explains the bloody gums. They have been using the brushes to brush daily and it has not happened since.