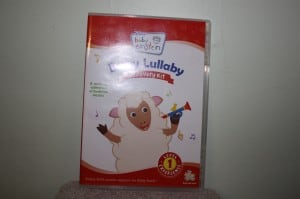 Angel Face has been having a blast dancing around the house while watching this Baby Einstein Baby Lullaby DVD. It is adorable when she starts "singing" along with it. The Baby Einstein Discovery Kit comes with a DVD, CD and book (which is MIA since Angel Face has been walking around and "reading" it since it arrived). The CD that comes with the DVD has the same songs that the DVD has and it great for bringing in the car to entertain little ones.
One thing I really like about these, other then they entertain the little one while I get a quick load of dishes done or laundry folded is that it is not annoying. Many of the kids shoes on TV tend to be annoying and even though the kids enjoy them sometimes them being repeated a bunch of times can make a mommy loose her mind lol. I can even play the CD in the car with out driving myself crazy with annoying baby music and make the baby happy as can be as she "dances" in her seat, ok so yea its more of a head bobbing but its about as close as she can get to dancing in the car.
The Baby Einstein Discovery kits have 3 levels, Level 1 is Experience, Level 2 is Explore and Level 3 is Expression. Each level of Discovery kits has different titles of DVD/CD/Book combinations. So there are Discovery kits for each stage of development for your child
Disclaimer:I was provided product to facilitate my review, I was not compensated for this review. All opinions are my own.
This post may contain affiliate links. Please read my disclosure policy here