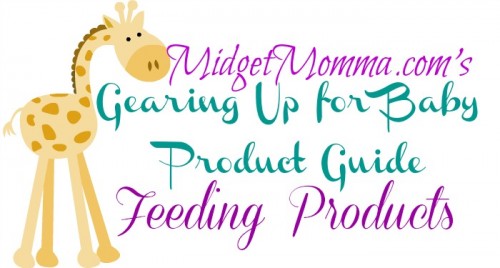 Feeding baby is CRAZY overwhelming! To breastfeed? To bottle feed? What bottles and pacifiers you need… All of it can be totally confusing and make you feel like you are lost at sea. First let me just say that whatever option you choose to feed your baby – formula or breastmilk, do it for you and what YOU think is best for your baby. The best option for feeding your baby is whatever option works for YOU, YOUR baby and YOUR Family. 
I have formula feed two of my children, one of my children was breastfed and I plan on breastfeeding this one that is due in September as well, but I want to make sure that whatever option you are going to choose to feed your baby that this guide has products to help you 🙂

Fresh Food Feeder – Lets babies explore new food tastes, textures and colours in a fun and safe way. Tots as young as 4 months can enjoy melon, apples, pear, berries, veggies and more. It's also great for soothing teething pain. Just pop an ice cube or cold fruit inside. BPA, Phthalates and PVC free.
Travel Bib + Spoon–  Cool travel bib and spoon has bub covered. And there's no need for zip lock bags – after bub has finished eating, pop the spoon inside, fold the bib into the catcher and zip closed. Then when you get home, just wash and dry it ready for your next adventure. BPA, Phthalates and PVC free.
SnackPack – With two separate compartments that seal separately, you're able to serve different foods. Also great for crackers and dip, little sandwich shapes and berries. Fab for all ages and stages. Handy spoon stows away in the lid. BPA, Phthalates and PVC free.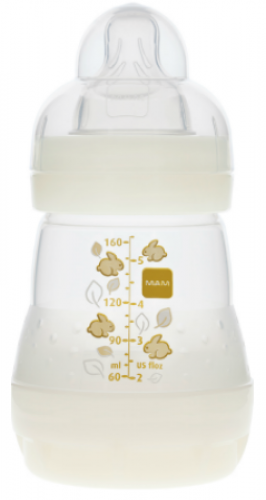 MAM Anti-Colic bottles
Ideal for newborns, the innovative MAM Anti-Colic Bottle helps reduce the stress associated with newborn feedings. Patented ventilation holes in the bottle's base regulate the pressure balance of baby's milk, allowing it to flow evenly without bubbles or air pockets for reduced gas and colic symptoms. The bottle's savvy design makes it a pleasure to use; wide openings at both ends allow for effortless filling and cleaning, and an innovative self-sterilizing feature lets busy parents sterilize an empty bottle in the microwave with a few simple steps. Available in a 5 ounce or 9 ounce size; recommended for newborns and up. Suggested retail price: $6.99 each and $13.49 for two.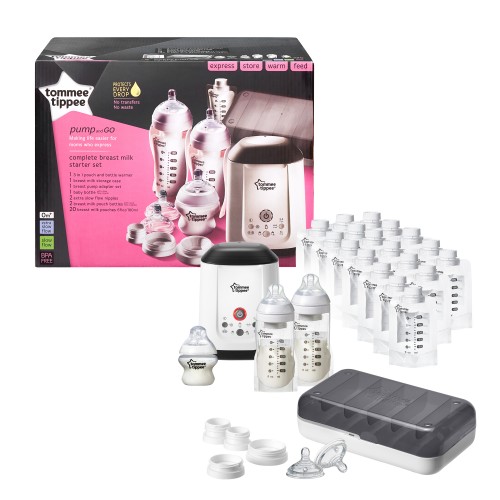 If you're a busy breastfeeding mom who wants to pump, this Complete Breast Milk Starter Set contains a complete solution to help keep things simple:
Breast pump adapter set to fit with Medela® • Lansinoh® • Evenflo® • Ameda® • Philips Avent® • Tommee Tippee®
Pre-sterilized Pump and Go pouches – use just one to pump, store, warm and feed, so no transfers, and no waste!
Bottle and pouch warmer automatically heats milk to perfect temperature from frozen, fridge or room temperature
Compact and lightweight breast milk storage case neatly stores up to 12 pouches in your fridge or freezer
Breast milk pouch bottle comes with our award-winning closer to nature nipple for a smooth transition from breast to bottle.
Natural Latch: Features an extra wide nipple offering a more breast-like shape for baby to latch onto. The nipple is made from a super-soft, high grade silicone which allows the nipple to move in multiple directions like a breast replicating a natural feeding action, making for an easy transition between breast and bottle.
Secure Seal: A contour zone has been uniquely built into the Ultra nipple, which forms a perfect match to baby's open mouth, allowing baby to form a secure seal around the nipple to reduce air ingestion and discomfort. It also helps prevent messy milk dribbles for a more comfortable feed.
Perfect Flow: The innovative angled nipple provides a more comfortable, upright feeding position for baby as milk flows down the bottle in an even way throughout the feed.
Perfect Form: Perfectly shaped to be cradled comfortably in the hand during feedings. The bottle can be gripped as a wide neck, held from the base or shrouded round the contoured base, making feeding comfortable for everyone.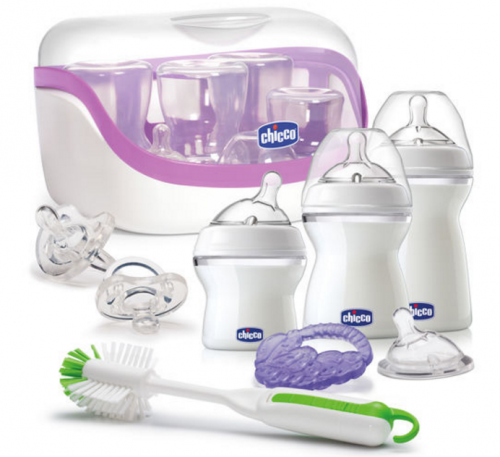 Chicco NaturalFit All you Need Starter Set 
The "All You Need Starter Set" includes everything but the baby! Our bottle and pacifier system has been engineered to be responsive to the changing feeding styles of babies.
This gift set includes:
2 – 5 oz bottles with newborn flow nipples
1 – 8 oz bottle with adjustable flow nipple
1 – 11 oz bottle with fast flow nipple
1 medium flow nipple
2 silicone orthodontic pacifiers
1 bottle brush
1 microwave sterilizer
1 teethe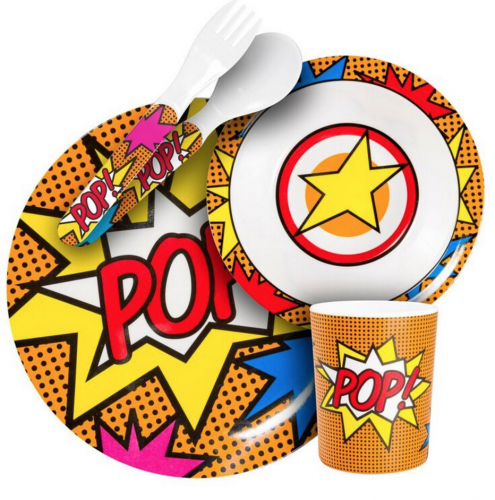 Mealtime will be SUPER fun with this super power themed dinner set. Fill them with your favorite POWER foods. The collection is perfect for mixing and matching!
BPA and PVC Free
100% high quality melamine
Top-rack dishwasher safe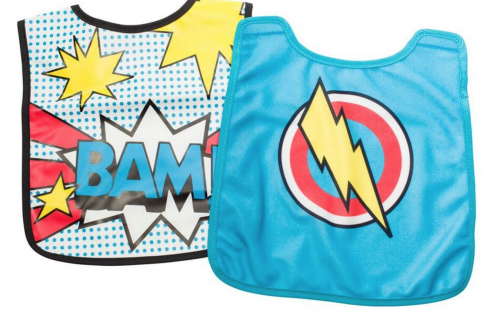 bib with attached cape will bring our your Lil' Boogin's Super Powers!
Cape easily attaches to bib with velcro
PVC FREE
52" round design covers more area than a typical square mat
Compact for easy travel
Fits under any high chair
Great for picnics, parks, airports, art projects and beaches
Keep in your purse or bag for an impromptu play mat
BPA and phthalate free
Reusable and durable
CARE: Wipe clean with soapy water. Line dry only (do not place in dryer).
Breast-shaped Natural nipples help baby transition between breast and bottle; and they're soft and flexible without nipple collapse. The Classic+ bottles are not only proven to reduce colic, but also have fewer parts that are easier to assemble than other brands. All of the bottles have wide necks, so they're easy for you to clean.
Booginhead's Thermal Storage Pots with insulated to keep food hot or cold for longer! The ergonomic designs makes it easy to hold for filling and feeding.
Booginhead

's
Super Grip Bowl & Lid secures your little one's bowl so he or she cannot spill, throw, or otherwise muck up his or her meal.
The First Years Breastflow Bottles
Unlike traditional nipples, baby uses suction and compression, just like breastfeeding
Supports every combination of breastfeeding and formula feeding
2-in-1 silicone nipple works like your breast, letting your baby instinctively control the flow
Designed to help reduce colic symptoms, gas & spit up
Two 5oz. bottles with slow flow nipple; two 9oz. bottles with medium flow nipple
Bottle cover fits onto bottle base, to help keep it within reach
Works with breastmilk and formula
Wide neck design for easy filling
Easy to assemble and clean
Starter Set includes full-size bottle & nipple brush
BPA-Free
Dishwasher-safe
Join the newsletter
Subscribe to get our latest content by email.