With baby number 4 due in just a few weeks my back to school planning has started earlier then usual. The to do list is longer than normal with McKenzie heading off to middle school this year so that is adding some "fun" to the back to school to do list. I know Tom and his grocery shopping skills would land my kid with "fun" lunches and not the lunches that I would pack for them, so with the partnership with Giant Food Stores I was able to stock the house with all the back to school food essentials needed, aside from lunchmeat, produce and bread.
Going to Giant makes getting my shopping done easy, I can walk down 2-3 sections and have the majority of the back to school snacks I need done. Which is sooo much easier than having to walk down every lane and find the items I need. I just look for the Nature's Promise logo on the items, grab them and put them in my cart! Of course not every item I put in the kids lunches is going to be a healthy one, because I do like to give them a fun treat as well but I want the majority of it to be healthy. Not even so much as want, but it needs to be or they will never make it thru the hours of school that are after lunch!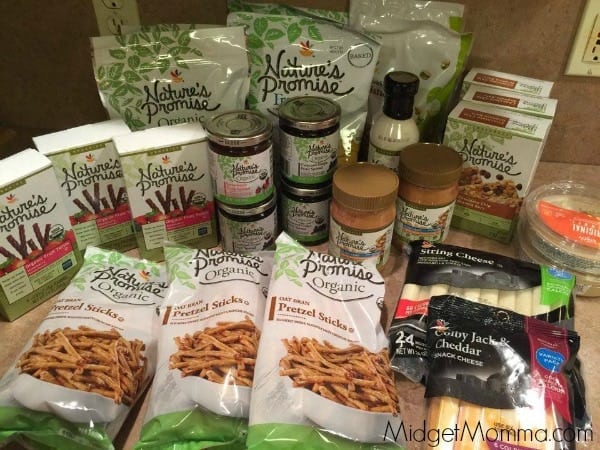 I was able to quickly grab what I needed for their snacks! Things that they love from whole grain pretzels, pistachio nuts, granola bars, string cheese, pita chips, hummus and more! Now I know that when the lunches are being packed they are going to get the nutrition they need with snacks they love!
I love the options that I can find at Giant, things like granola that the kids can put on top of their yogurt, fruit snacks that are made with real fruit (and they don't even realize it 😉 ) and so much more! It really made the process of getting things I needed easy.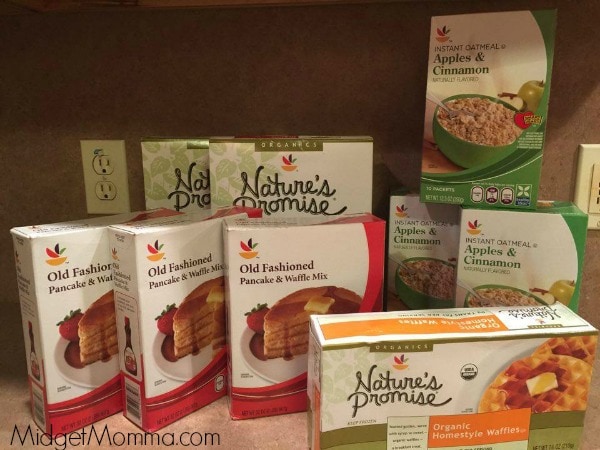 I am also stocking our freezer with homemade pancakes – including apple cinnamon pancakes,  I am spending one day next week making TONS of pancakes in the kiddos favorite flavors so we can easily pull them from the freezer and heat them in the microwave in the mornings. I grabbed 3 boxes of pancake mix while shopping and can easily add things like blueberries, chocolate chips, bananas ect to the mix to change up the flavors. That should mean we are good for a while on pancakes for the kids!
Breakfasts need to be easy to do because mornings in our house are crazy so I also grabbed a few boxes of oatmeal was an easy go to option and I also grabbed a box of Nature's Promise frozen waffles! I also made sure to grab a few boxes of cereal for those mornings we are running late. Which I am sure we will have a few of them as we all get adjusted to McKenzie having to be at the bus stop by 6:40 in the morning!
Be sure when you are doing your planning to shop that you check out the digital coupons and load them to your card! I found lots of loadable coupons for the Nature's Promise items that I had on my shopping list and was able to save money on them but just loading the coupon to my card!
I am happy with the price points of the products as well! I was able to stick with the budget I have for the monthly school lunch shopping easily and still have what I needed and the options are healthy and ones the kids love.
Disclaimer: This post is sponsored by Giant Foods. All opinions are 100% my own.