This past Saturday was our Backpack Party! It turned out amazing! The last few weeks of collecting donations and putting the bags filled with school supplies ended up with us making tons of kids smile! With hurricane Irene's rain heading our way I was hoping and praying the rain would stay away until after it was over, and with the exception of a few rain showers early in the day it did 🙂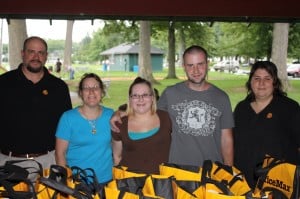 (Pictured From Left to Right: Joe (from Office Max), Sue, Me, Tom and Tabitha(From Office Max) Missing from the picture is Mer, Savannah and Amber who all helped me out as well. ) Everyone that came made us all smile, they were so happy and the kids were so excited to be getting their school supplies, the little kids smiles melted my heart! Tabitha (from Office Max), after it was over told me about one little boy who was talking to her about how he was going to Kindergarten this year and how he loved Transformers, Tabitha made his day by giving him the one Transformer backpack that had been donated to us. How awesome is it that this little boy is now even more excited to start school because he has a cool backpack!
With the help of Epson we were able to give one lucky person a brand new Epson Printer!!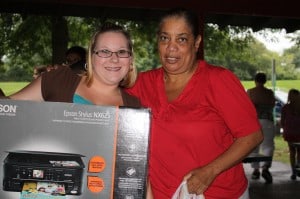 We had fantastic helpers during the Backpack party, Hubby, my mom, a few of my friends and 2 amazing Office Max employees came out to help set up and hand out the bags! We had 307 bags filled (thanks to a TON of help from my dad and kids who helped me put them all together) with school supplies to hand out thanks to so many great people who donated!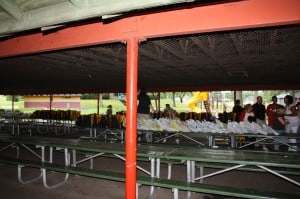 I am happy to say we even did the event "Luxury Living Frugal Style", with donations from readers, $25 Gift card to Bj's (donated by BJ's), $30 Gift Card to ShopRite(donated by ShopRite), $25 Gift Card to Weis(donated by Weis), a donation of 48 packs of pens/pencils from Zebra Gel Pens, and a budget of $310 cash we were able to fill 307 bags and MANY Thanks to the Awesome staff at my local Office Max who generously allowed us to purchase the sale items each week that we needed! I can not say enough good things about the staff at my local Office Max store, from the get go of this event they were fully on board and extremely generous and helpful. They donated the Office Max bags that we used to put some of the supplies into!
Here are some pictures from the Backpack Party! I can not wait to get started on next years planning, I have goals to fill at least 600 bags and get 600 backpacks so not only do kids get school supplies but backpacks as well!!!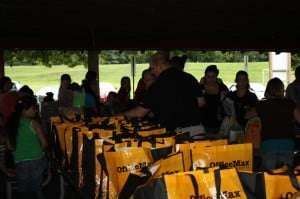 This post may contain affiliate links. Please read my disclosure policy here