These easy Baked Zucchini Fries are better for you then eating regular fries and they taste amazing! These Baked Zucchini Fries are perfect for kids and adults and everyone will love them! They go great with just about any meal and any thing that you would make fries with made. Make sure you also try these Crispy Baked Sweet Potato Fries that are also an awesome alternative to fries. These baked Zucchini fries also go great with the BBQ Sloppy Joes Recipe and Slow Cooker Barbecue Pulled Chicken.
Baked Zucchini Fries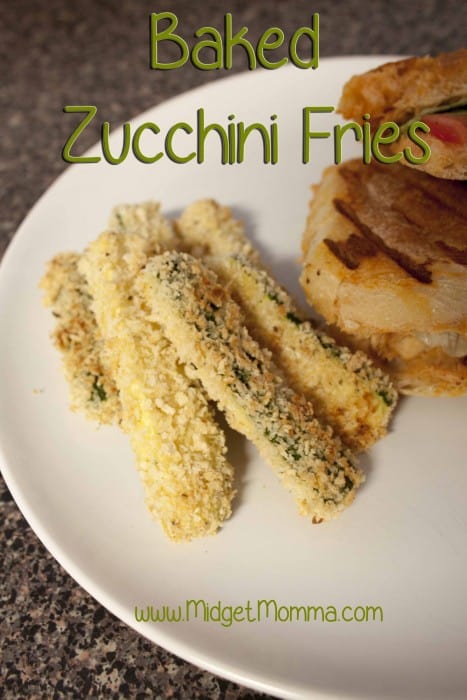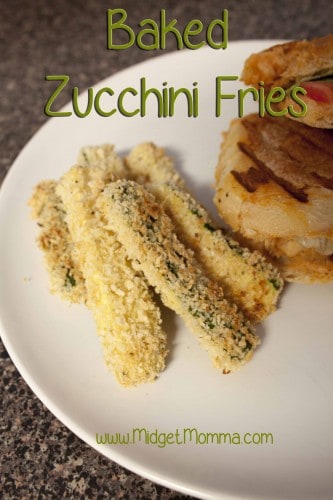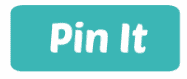 I am so glad my husband loves to garden. Its funny because if you saw him you wouldn't think of him as a gardening type but I think it helps him relax. Well we don't have a big back yard so we have to chose or plant carefully and I really wanted zucchini. I now have so much zucchini I am always looking for healthy ways to make it. One of my friends introduced me to zucchini fries and boy are they good! Your family will enjoy
Baked Zucchini Fries Ingredients
1 lb. zucchini squash
¼ cup all-purpose flour
⅛ tsp salt
1 cup  Italian seasoned panko bread crumbs
¼ cup parmesan cheese
1 egg
Baked Zucchini Fries Directions
Preheat your oven to 425 degrees. Cover a baking sheet with foil and then place a wire cooling rack over top, set aside. Cut the ends off the zucchini and then cut each one into strips, approximately ⅓ inch thick. In a large zip top bag add the zucchini, flour and salt. Shake the bag to coat the zucchini in flour. In a bowl combine the panko bread crumbs and parmesan cheese, stir to combine. In a second bowl, whisk the egg with about 1 tablespoon of water until fairly smooth. One by one, dip the zucchini into the egg mix than into the bread crumb mix. Place them onto the cooling rack and bake for 10 to 15 minutes or until they are a medium golden brown color.