The last thing I think of when I think of CVS is baking, let alone for a holiday but I recently found out that they have a TON of great baking needs that are also a TON of fun to do with the kids!
CVS sent us a whole bunch of fun baking supplies to get our baking on! The kids loved it! They got to decorate their own cupcakes!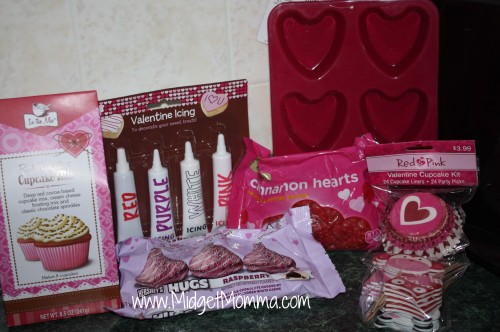 Seriously I never would have thought that going to CVS for my baking needs would be something I would do, but after trying their Red Velvet cupcakes (which I don't normally like red velvet) it looks like I will be heading there when I want some Red Velvet cupcakes to make at home! I was quite shocked at how great they tasted and the box came with everything I needed to make them including the icing and the sprinkles!
CVS sent us a whole bunch of baking items for us to have a little Valentine's Day Baking party here at the house. The kids loved it and it was a TON of fun for us to do as a family!
We set up little work stations for each of the kids and they had a blast making their own cupcakes! They were also a nice little treat for after dinner 🙂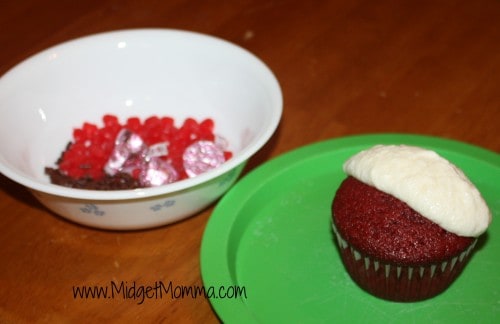 Aren't they super cute?! I think they are 😉 (If you have not tried the raspberry hershey kisses I totally recommend that you do they are super YUMMY!)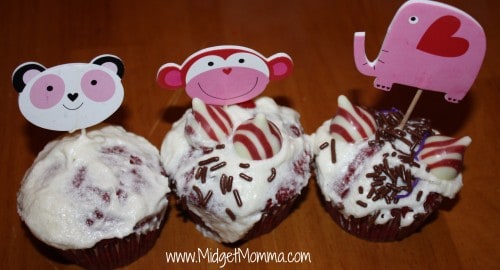 Here are the 3 that I made 🙂 Don't they look yummy!
You can purchase all of the items that we used at your local CVS store 🙂 A great way to use some of those Extra Bucks 😉
Disclaimer: CVS supplied us the products to have our Valentine's Day baking party here at the house. No compensation was received for this post and all opinions are 100% my own!
This post may contain affiliate links. Please read my disclosure policy here