BBQ Bacon Lil' Weenies
If you are looking for an easy and tasty appetizer these BBQ Bacon Lil' Weenies are perfect! They are great for parties of any type and they are easy to make and don't take long so you can do other things while they are cooking! You use toothpicks to hold them together before cooking them but they also serve as an easy way for people to eat them!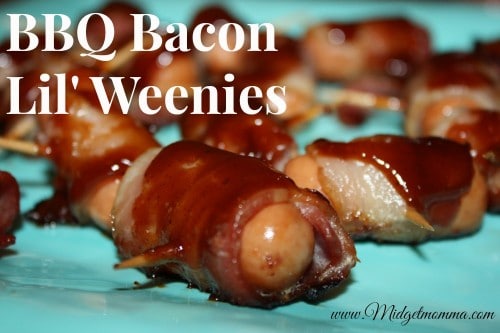 BBQ Bacon Lil' Weenies Ingredients:
1 bottle of your favorite BBQ sauce
1 Package Lil' weenies
1 package of bacon
Toothpicks
BBQ Bacon Lil' Weenies Directions:
Spray a baking sheet or baking dish with non stick spray. Cut your strips of bacon in halves. Wrap each lil weenie with a piece of bacon and use a toothpick to hold them together. Once all are wrapped on on your trays spread BBQ sauce on top of them. Bake at 350 degrees for 8-10 minutes (until bacon is cooked)
Join the newsletter
Subscribe to get our latest content by email.
This post may contain affiliate links. Please read my disclosure policy here