Ok so when I went to LA There was only one thing about the trip that upset my kids and that was that I would be interviewing Bella Thorne. The three of them love the Disney channel and Shake it Up is one of their favorite shows and when her name came up on my itinerary my kids had loonnngg lists of questions they wanted me to ask her. Sadly though all the questions they wanted me to ask did not go with what we were talking about, such as "can she make them bring back Shake it up" and a few others the interview was something they have all enjoyed listening to once I got home.
I fully did not expected the laid back attitude she had when she came into the room. For as popular as she is she had no issues wearing comfy slippers (My type of person!)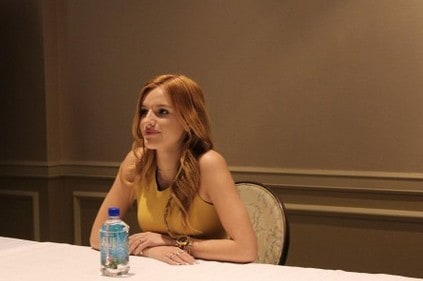 Question  :    What was your most fun scene to shoot?
Bella Thorne   :    The most fun  scene to shoot was probably when we were in the car with Steve and everybody's making those loud noises.

Blogger   :    That's what everyone tell us about Steve.

Bella Thorne   :    Oh, really?

Blogger   :     Yeah.

Bella Thorne   :    It was cool, because Steve's obviously funny and  he knows that, but, in this scene, it was just so weird and so funny. But it was so weird that I'm sitting in a car with Steve Carell and he's just being ridiculous. It's so funny. I'm not the one that's supposed to be really not laughing, and  Dylan starts laughing.

Bella Thorne   :    He starts like kind of cracking up. Then Ed, then comes me laughing — because they're right next to me, and I just can't help but laugh now. I was like guys, stop, stop, you're making me laugh. It was so funny. It was actually really fun to shoot.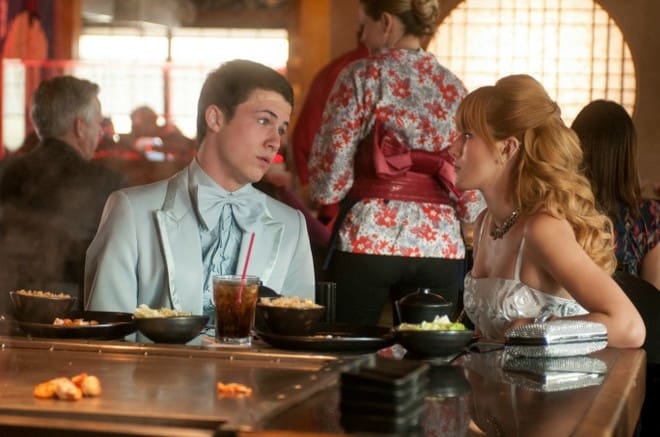 Question:  Being the mean girl is kind of a departure for you. So,  what were you channeling? Some of your own experiences or how did you find Celia? 
Bella Thorne   :    Well, are you guys all moms?

Blogger   :    Yes

Bella Thorne   :    Okay, cool. You can't think of Celia as a mean character, 'cause she's not. You have to think of Celia as a perfectionist. Now, you guys are all moms, so let's say I've completely organized these phones all in a very great order, okay, very straight, and somebody comes in and knocks this water over all your guys' phones. Are you guys gonna be mad?

Blogger   :    No, I would.

Bella Thorne   :     Probably mad. So, Celia's,  she's a perfectionist, and when things don't go her way, she wants to make them perfect, and when someone keeps messing that up, she ends up getting angry. That's understandable.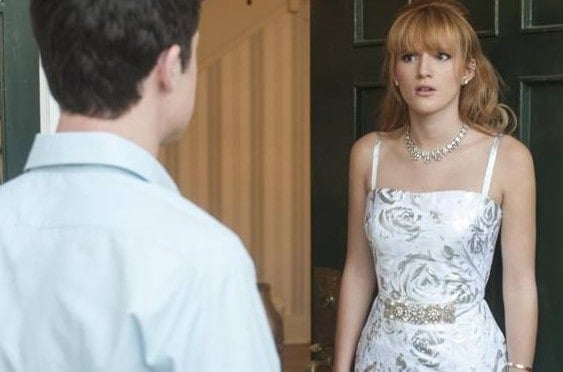 Blogger:    They wanted to know, what the hardest part of filming this movie was for you.
Bella Thorne   :    The hardest part about filming this movie is probably the really long hours. I don't think people realize how much work actually goes in, not just from the cast, because, of course, the cast works hard, but — the crew members. You're there, you know,  your scene could be 15 seconds and you look at that scene and you're like, yeah, whatever, you don't think anything of it. That scene took 16 hours to shoot. Maybe — a couple days, 16 hours a day. That's crazy. It's crazy to work that many hours and it's crazy to always be on that many hours.So, I think the job is a lot harder than people wanna admit, and so you have to think of it, you know, is your crew can get [SIGHS]. You know, everybody's like, oh, we're doing the skies. We're doing this take again. Okay. You're doing the same thing over and over. Especially with comedy, it's worse, because comedy falls flat if you do it more than four times. Then you're beating a dead cow — and it's not funny anymore. Then you get frustrated, 'cause you're not funny. So, that's the hardest part about filming — a comedy.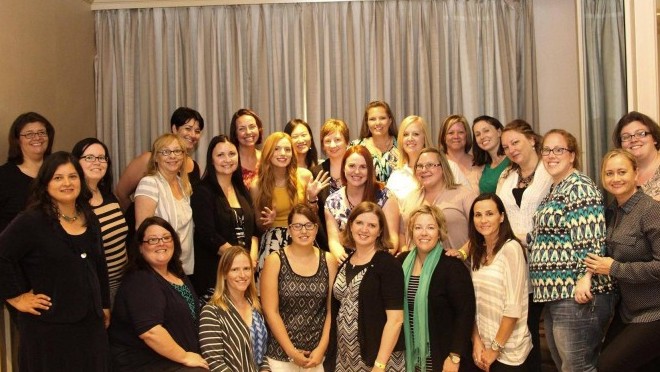 Disclaimer: I was invited to an all expenses paid press trip with Disney. No compensation was received and all opinions are 100% my own.