Back in April I went to the Brave Press event and I was able to get all of you some inside scoop on the movie, that comes to theaters on June 22, so only a few more days 🙂 One of my favorite interviews was with Mark Andrews the Director of Brave. Interviewing him was a ton of fun, he was spunky and full of energy and quite humorous too.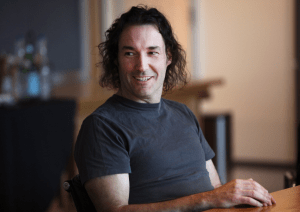 Although extremely talented his life track was not always to be making movies,
Mark Andrews: I kind of fell into animation.  I've been driving all my life just because I like drawing.  Self taught.  I didn't have my first actual art lesson until I was out high school and I went into city college and I took perspective in drawing and life drawing and all that stuff.  I was gonna be a marine.  I was gonna into military. All my friends were going into the army and navy and stuff.  my best friend's a navy fire pilot so I said, okay, when I get out of high school I'm gonna join the marines.  They're all you better not……So, through a class in city college I found at about Cal Arts down in Los Angeles which was a school started by Walt Disney.  And I said, I can actually have a career where I'm just drawing all the time?  Done. Check and that's about as far as my inhibition went.  Everything else, doors just opened for me and I just jumped through.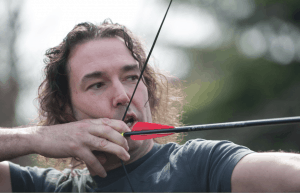 When he was talking about how he got in to working with Pixar and how he was a "rebel" and couldn't get a job with Disney I had no choice but to let out a little giggle. Myself not being a person who likes to be told what to do and liking to use my own ideas I can relate to having ideas and wanting to use them instead of just doing what I am told to do.
Mark Andrews: I was black listed at Disney.  They wouldn't hire me after the intern.  I went to the Disney internship after Cal Arts, after four years of Cal Arts. I got my BFA.  I was one of five who got the Disney internship.  After that, three months of the internship they would never hire me again.  Just being myself, being a rebel and now I've shown them.  Now, I've shown them. that's right.

John Lasseter has the same story.  He got fired from Disney.  Brad Bird has the same story. You know, it's, it's, it's expectations. You know, it's hard to swallow. You know, we call, you know, Brad has a term for it.  He says, strong coffee and a lot of people don't like strong coffee, but, sometimes strong coffee's exactly what you need to wake up in the morning and get going, so.

I think it was more conservative or you pluck and play.  Cannot be told what to do.  We don't want your ideas.  we just want you to do it.  That kind of thinking and I'm just lie hey, I'm excited, I've got a lot of ideas, la, la, la.  It's what it was.
As I have mentioned before Brave took 7 years to produce and as a director Mark Andrews went in on it with all he had:)
Mark Andrews: I go in, I go in full throttle. I'm not timid.  So, so I mean I've been, you know, being a director here at Pixar and sitting in at the branch after we see the reels each time that the movie is done here, for every movie, I mean there is a, there is a, you know, what's wrong with it?  How can we fix it, and give suggestions to the director. You know, help them navigate because story's the hardest thing there is.
He even gave us a little more information on what to expect when the DVD comes out!
Mark Andrews: It's gonna be awesome. It's gonna have stuff on it that is not gonna be in the movie.
Here is a new video clip for you to check out 🙂 Enjoy!
Disclaimer: I went on an all expenses paid press trip thanks to Disney and Pixar. All opinions are as always 100% my own!
This post may contain affiliate links. Please read my disclosure policy here