One person we don't get much information from about movies from or hear about is the story artists, however they do play a large roll in the making of a movie. When I was in San Francisco on the Press trip for Brave I had the opportunity to interview Louis Gonzales the story artist for the Brave movie. A lot of great information was shared by him of the making of Brave and I think it gives an even bigger look in to the process and gives even more of an appreciation for the hard work and dedication that a team has when making a movie, especially one as awesome as Brave(Look for my review next week I can not wait to spill the beans!)
A little bit about Louis Gonzales
I've been with Pixar since 2000. I started on Brave in 2006 in the summer.  I worked on Brave, for about three or four years, and then I was called to work on Monsters University for a year and then came back, luckily came back enough to finish the last shoot with Brave on the story team. Okay, that's the long and short of it. So I actually lived with the movie for quite a while.
Wondering what a Story Artist Does and how the process works??
So I'm gonna run you through a few milestones of what we do. Get back to the start. Um, so here's my title is from page to screen, bear with me. It's a work in progress. The utline, this is what the director has when he gets the green light, right, from the creative leadership here to go ahead and make your movie. Right, every step that we have is to make the movie better. Everything is in service of making our stories better. Research, right? Finding out about where the setting is and people there. Beat boards, this is when we start– really starting to hone in the story, the actual movie. Script, we giving voices to the characters. Storyboarding, we're bringing visuals to the voices of the characters and location. Editorial, that's when they do all the sound effects, and they actually put it together, make it feel like a movie. All that is in service at the progression reel, which is where we try end up because that is also what we're gonna look at as a movie and really make corrections or make it better, right?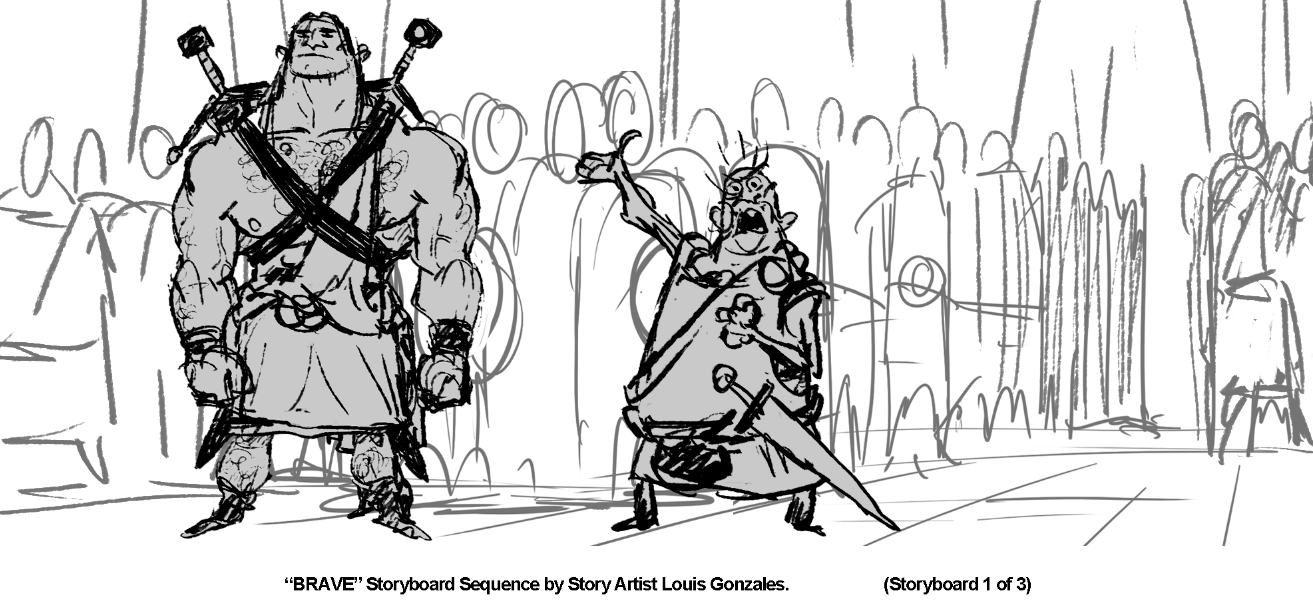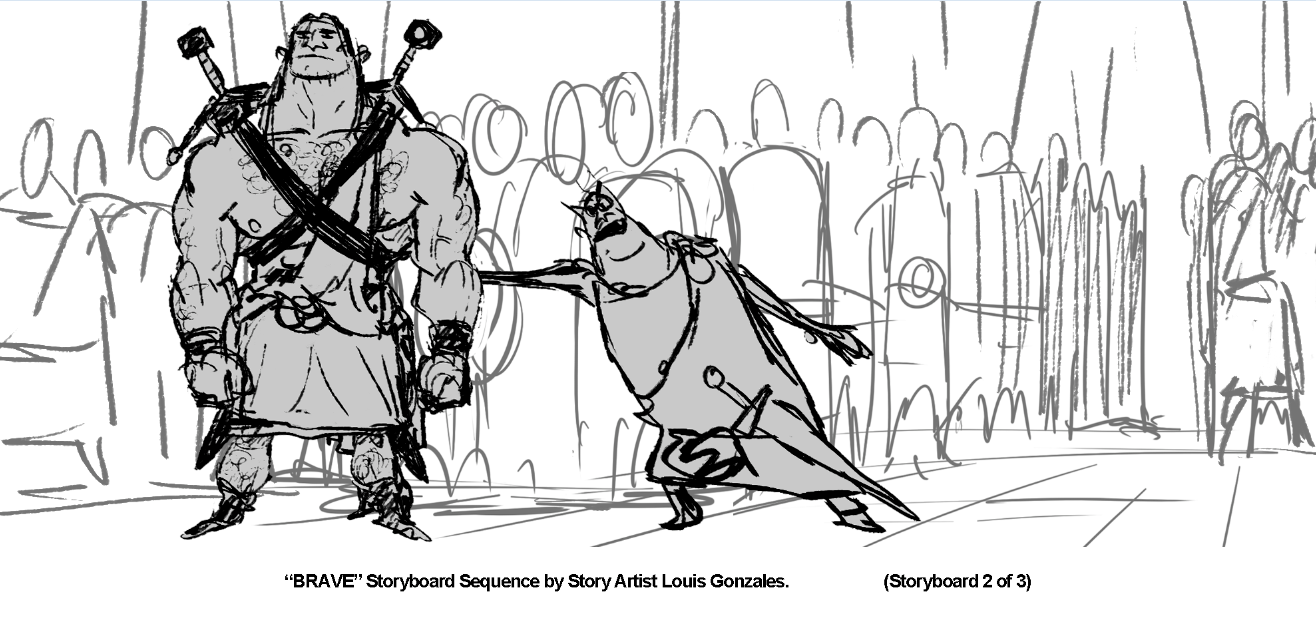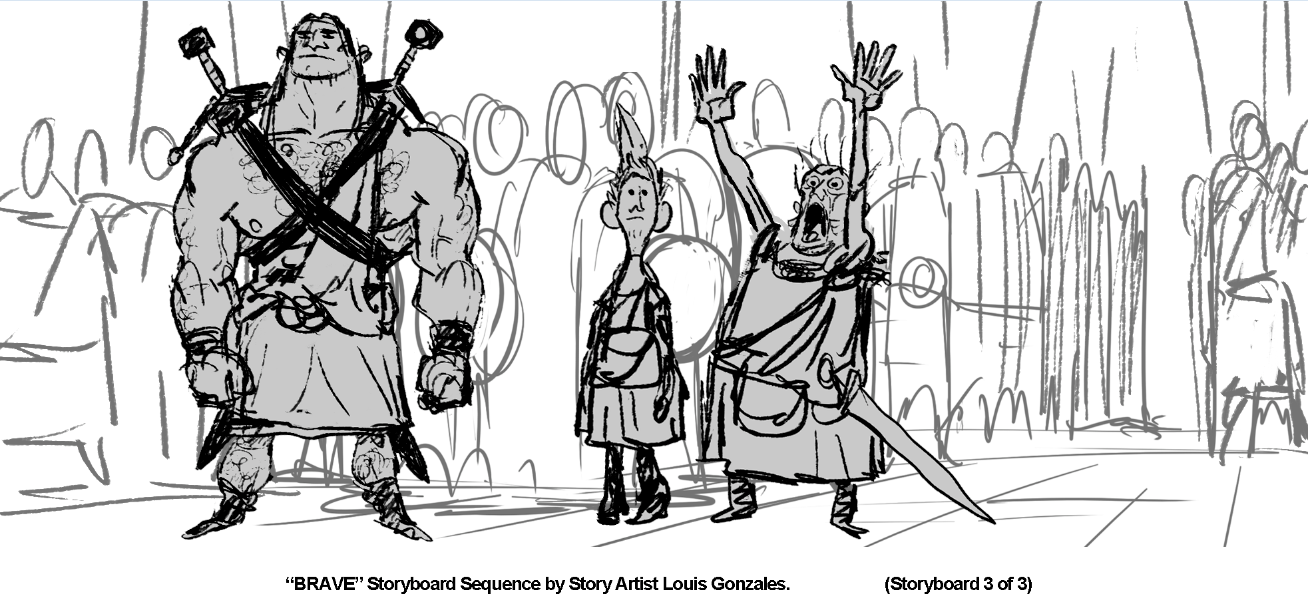 Try and make it better 'cause that's when we go, okay, the movie's not really playing well here. It's not funny, or it's not heartfelt. Or it's just boring, you know? How can we make the entertainment? How can we make it fun? Or how can we make it have the things that we wanted it? So let's talk about these things. Outline, so outline is, you know, basically it's a short version of the story, very, very short version. It is roughly, like, you know, the beginning, middle, and end. You know, for instance, this is, you know, a parent-child relationship, you know, with inner turmoil.
What type of research do they do for a movie like Brave?
So research means a lot of things. They can give us a little bit of money to go buy DVDs, books, talk to people, you know, specialists, you know, uh, specialists of Scotland or whatever. You know, we try and gather as much information as we can. You know, we're good students around here. And sometimes we– they send us on trips. You know, Up, we got to go to Venezuela, climb the tepuis, hang out in the– in the rain forest or whatever, uh, in the jungles of Venezuela. Toy Story 3 went to the dump over here in Oakland, right? Right, because that's part of the movie. It's in service of the story. They can't go, oh, okay, we're gonna do Toy Story 3, and we have this scene in the dump. So can we go to Hawaii? That's not how it works, right? You don't just call– it's not– it's not vacation mode. We don't call vacation,  research. So luckily enough for us, we got to go to Scotland 'cause it's set in Scotland obviously. And I was– I was fortunate to be– enough to be a part of the trip. Like, I started in– in 2006, and literally a month later, I was going to Scotland. Okay? So we went to Scotland, and what we're looking for is we're looking to soak up as much of Scotland as we can, everything, everything, uh, from the smallest detail to the biggest castle, okay? So, you know, we start in Edinburgh. This is the royal mile, and we– we're trying to see castles. You know– you know, architecture, things of that nature, right, old castles, new castles, vast landscapes, very particular landscapes. You know, this one on the right is called the Fairy Citadel, and, you know, the belief is that fairies used to live there, right, like, way, way, way, way, way, way, way, way, way back in the back in the day. Okay? We're looking at stuff that's more, you know, modern in the sense of, like, you know, 300 A.D. or 500 A.D. compared to the Fairy Citadel…..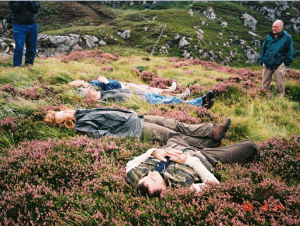 It's a black house, right? And what it was is, like, this is the houses like they would have outside the castles. Right, you know, people that live up in, you know, little small villages they have living on their own, they'd build these rock houses. And, you know, they were very interesting, right. I mean we know that we're– our movie is set in 1900 A.D.-ish, so we need this kind of architecture. Right? We want the locks and, you know, the feeling of Scotland, the weather. You know, we want the culture. You know, this is a group of folk musicians from one of the small towns that we passed through that we met for lunch.

And they sang us songs, answered a ton of our questions 'cause we were like what about this? What does a blue beanie mean? How come this room is orange and green 'cause we're asking everything?  So we ask a ton of questions about the culture, about their songs, just about them and how they, you know, arrived at that place at that time. You know, we went to some of the games where we experienced more of the traditional, uh, aspect of, you know, Scottish garb and– and tradition, you know? Uh, we talked to gentlemen such as this, you know, real characters.

You know, we knew that we wanted strong– strong horses in our film, Clydesdales, specific horses. So we got to go to a farm where this, you know, uh, farmer raised these, uh, Clydesdales. These guys actually were raised to go, uh, fire fighting. They would go up into the hills, and they would drag trees down. And they were very much a part of a fire fighting force, so it was very interesting, feed them apples. So we're there to soak up Scotland, right, taking it all in, in every way we can, snapping pictures and– and doing drawings.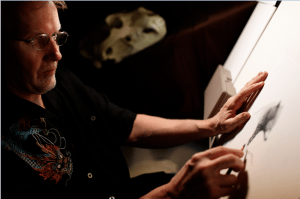 So we come back after our research trip. We gather all of our– our data or whatever, our information. And we know what the story is, and that– that story, that outline is– think of it like it's like a skeleton, right? And we're gonna hang everything. Everything's gonna be built on that skeleton, right? So the research helps inform what our skeleton, what we're gonna hang on it is gonna look like. And what we do, our next step, is to get that information and develop the movie into beats, right? Beats are– are small, one-drawing, like, examples like this of what each scene of the movie will entail, right?

Let's get this scene into– into production or at least into our storyboard artist's hands. And he– and they'll hand it off, right, and sometimes, you know, ultimately what you can always assume as a storyboard artist is dir– when the director hands it off to you is I want it to be great.
Wondering how an idea becomes a scene? Before it can get anywhere near that they scenes must be "pitched"
So, it's nighttime, and we have– hear in the distance loud thunder crashes [MAKES THUNDER SOUND.] We hear a sound– we hear a voice coming off the side, uh, off-screen, singing voice.[SINGS] Skip that, and we see, you know, this– and [MAKES LOUD THUNDER NOICE] a big thunder crash. Ah! Little girl gets scared and underneath the tapestry. She comes out. "Ah, wee lass," Mom says, "I'm here. I'll always be here," as she caresses her head. Mom starts singing again [SINGS.]Little girl chimes in too, and now they start doing a little duet [SINGS] right? And they have this little loving glance at the end of it, real heartfelt moment. And that's the end of the scene, and I pitch it to Mark like that.
Brave comes to theaters on June 22, here is a fun new movie clip for you to check out 🙂
You can see more inside scoop about the Brave movie here 
Disclaimer: I was provided an all expenses paid trip from Disney and Pixar. A big thanks to them for sending me on the trip. As Always all opinions are 100% my own
This post may contain affiliate links. Please read my disclosure policy here