Before you even get into the AMAZING Brave movie you are greeted with an AMAZING heartfelt short, La Luna. I had the amazing opportunity to interview Enrico Casarosa, the director of La Luna when I was in San Francisco in April.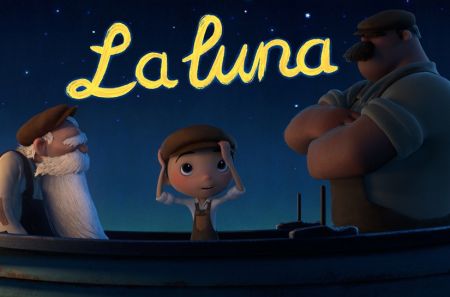 The short La Luna, gives us a look into "what really happens on the moon" (ok so it is not exactly what really happens on the moon but it is a great magical way of thinking about it), with fun events with a grandfather, a father and a boy. There are no words spoken in the whole short, yet the story it tells and emotions that are felt I don't think could be expressed with words. The story is loosely based on Enricos childhood where he was put in the middle of his father and grandfather.
it's just that grew up with my dad and grandfather not getting along.  Once my, when my grandmother died, we, our grandfather moved with us, moved in with us, and they would never quite, you know, they would talk to me but wouldn't talk to each other.Yeah, so I was a bit of the bone of contention often, and, if you go back twenty-five years, and you see the kitchen and the dinners, it would have been a lot like this boat where it would be, like, my dad and grandfather, and I'd be in the middle.  So that was something visually ins- I wanted to capture.  So it felt like the right kind of memory and personal story to then convey a coming of age you know, a boy that has to find his own way when someone is telling him do this- no, no, no, no, no, do that.
I was surprised to learn that the process for making a short is not that much different from making a full length animated film but at the same time the way they are made is very different.
It's very much the same process.  We're usually on tools that are plenty older.  We're, like the cheap version and the fast version, and we have to fight for anyone to help us in, on the crew, so they're done, scrappily, but that's kinda what's great about it, too, because you have a smaller crew, there's a great camaraderie, everybody has to do a little more, so you get on, you get to learn more, and you get to have a little more responsibility, so a lot of people are kinda using it as a new stepping stone. I kinda equate it to the, the old jalopy you hear from your parents, you know.  They give you the keys to the little car, and maybe a little beat up, but it's kinda fun, it's your first car, and it's, it's more maneuverable than the big car, and, uh, so it's, it's a really fun process.  But yeah, ultimately,  the same exact, the kind of things that the, the new movie, a movie like Brave has usually new technology, so that we didn't have.  And that's how, I wish we had. Just for example, Brave has amazing hair as you probably heard.  We wish we had that because we had a hard time making our, our,, talking beard and mustaches.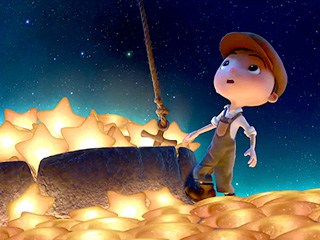 I thought It was really cool that while they were given a budget for only a certain amount of time, they were able to stretch their budget and make it longer! Don't you just love money conscious directors? I know I do!
  Our story reels were four minutes and forty-five seconds, and they gave us a budget for four and a half minutes.  We ended up with a, uh, it's almost seven minutes, so we we're able to stretch that money,
Check out the sneek peek into the short with this video clip:
Disclaimer: I was provided an all expenses paid Press trip to San Francisco from Disney and Pixar. All opinions are 100% honest and my own.
This post may contain affiliate links. Please read my disclosure policy here