I have been having a lot of fun sharing with you the inside secrets for the Ant-Man movie that comes to theaters tomorrow and I am excited to share this Behind the Scenes of Ant-Man Interview with Corey Stoll with you. Learning about the characters and meanings of the movie from the actors themselves gives us a greater look into the movie.
When I think of Marvel movies I think the same thing as most people, action packed, adventure, super heroes and awesome stunts and technology are used to make it all happen. What I don't expect is a moral story of how family is important, and how being yourself is important and through all of the Ant-Man movie these two things are highly seen and I love it. I love that tied in with action and adventure and super heroes these two amazing messages that I work hard to teach my kids is seen. In my Behind the Scenes of Marvel's Ant-Man Movie, Interview with Paul Rudd & Evangeline Lilly I spilled about how we see the importance of relationships and parenting between the character Hank Pym and Hope Van Dyne. That is the perfect connection for parents and there is also a perfect connection for the teenagers in Ant-Man, that is really making this movie so much more then just an action movie, it really is a family film.
Behind the Scenes of Ant-Man Interview with Corey Stoll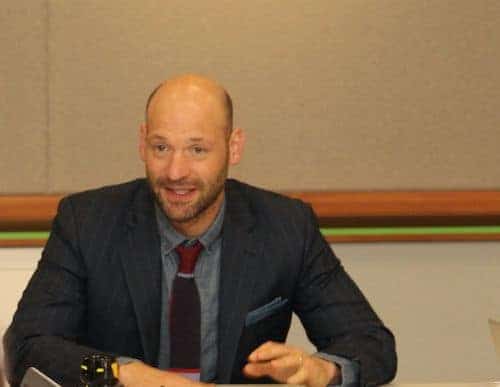 The teen years are always a rough time, for parents and teens a like. I remember the teen years of mine and I have had many conversations with readers and friends who have teens who are all having the same struggle. Teenagers are looking to find themselves, figure out who they are, where they belong in the world and that makes a struggle for the teen and the parent.
While Corey Stoll doesn't play a teenager in this movie, he plays the character Darrin aka Yellowjacket, who teens will totally be able to relate to. We all know that one teen at school who is trying so hard to fit in and trying so hard to be accepted and to be cool and they end up being the "loser kid", which is hard to deal with, everyone wants to be the "cool kid", no one wants to be the "loser kid".
Corey Stoll:
I want to make sure this character is scary but I also love how, what a Loser he was. H's the least cool guy in the World. He wants to be Tony Stark. He wants to be the coolest guy in the world.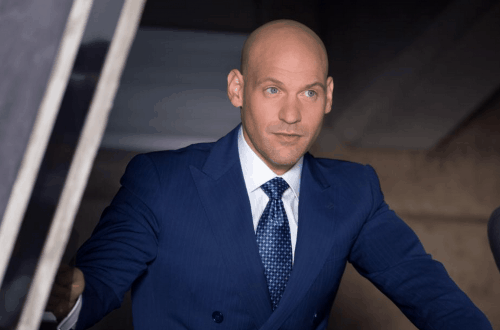 Yellowjacket is the villain in Ant-Man, but just because someone is a villain or a person who is just a meanie and a bully doesn't mean we can not learn something from the. Hearing that their parents or parental figures that they look up to just want them to do good and be the best they can be with out going overboard is a great message for the teenagers.
Corey Stoll:
He's puffing himself up with these Tom Ford Suits and driving an Aston Martin.So he puffs himself up, but he doesn't really… He knows that he's not that guy. That's the irony, he's trying to buff himself up in the end to impress this Father figure and it's exactly the opposite of what a Father figure wants.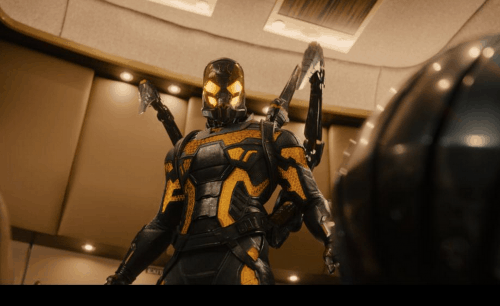 I also like that we see that while Darrin (Yellowjacket) is a villian and he is "bad" he is not all bad. Which for the most part those who are trying to prove themselves, trying to give their parents what they think they want are not doing things because they are intentionally wanting to hurt someone else or other people in their lives. They just are going about how they want to accomplish things in the wrong way. With an idea to help make the world better, Darrin makes the wrong choice and we all know that teens act that way often and that is a big struggle for teens and parents alike.
Corey Stoll:
In Darrin that's like he wants to change the world for the better. It's just that this Military Application has to be the most lucrative and, you know he just made the wrong choice.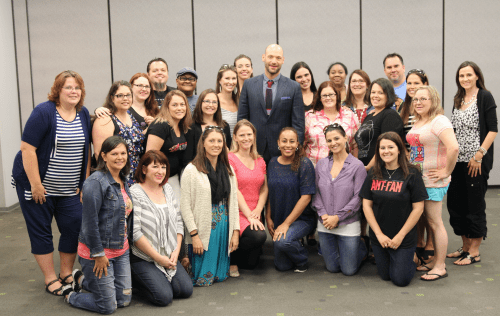 The fact that this movie has so much to offer when it comes to life lessons I think it is awesome and I can not wait for it to come out tomorrow in theaters and for you all to get to see it. I know I am also looking forward to taking the kids to see it this weekend!
Disclaimer: I was invited to an all expenses paid press trip with Disney for the Marvel ANT-MAN Movie. All opinions are 100% my own.