I hope you are all enjoying this fun journey into the making of Brave as much as I am sharing it with you. The deeper look we get into a movie the more we are able to appreciate it when we finally see it. As you all know in April I traveled to San Francisco on a press trip with Disney and got to have a sneak peek of the new Pixar film, Brave the only sad thing about the trip was being left hanging after the first 30 minutes of the movie but I am anxiously awaiting for June 22 when it comes to theaters.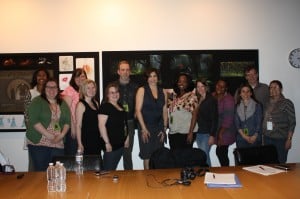 While there I had the pleasure to meet and talk with Katherine Sarafian, the producer of the Brave movie and learned that she is not new to working on animated films and in fact she was the production coordinator on one of my favorite movies Toy Story, that alone added to my excitement of getting to talk with her.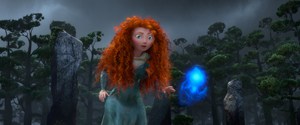 Brave is the story of Merida a strong willed girl who has dreams of her own, and I know my daughter is like me and strong willed and opinionated and there are other parents who may also have children like that as well. Katherine cleared the air and let us know that it does have a great moral behind going against what you are told to do and that there are consequences for your actions, which is a great value to teach children and for them to see it with a character that they can relate to I think is great (I am hoping maybe some of it will rub off on my daughter)
 Katherine-

"wanted to make sure that we are not putting out the message like be like her, you know? I think we've offered up a character who is willful and strong and very sure of herself but also a member of a family, a royal family with huge ripple effects of any decision she makes and any reckless choice she makes. There are tremendous consequences and, makes and any reckless choice she makes. But still a member of a family and when you see the full movie I think you'll know what I mean when you see that there are, there are serious consequences for her behavior but, without that rift in the beginning you cannot have healing. We really have tried to create something that's about the relationship of a family and how itgrows and develops during a teenager's coming-of-age.
There is a scene where Dingwall Moons another person, I have shared the clip with you and I know some people may think that is is a bit much for being a Pixar film, but the way that Katherine explained the need to have that scene in the movie,
Katherine-

"it might seem like it's like on the borderline of what might be acceptable but,  we're in Scotland and there's kilts… we play a little fast and loose with the wardrobe at times, and it really was about Dingwall, he's a curmudgeon and  to get his point of view across anyway he can… and he's the only guy who would do that in our whole movie….there's always jokes with Scotland. It's like, what's under the kilt?That's our moment"
For those wondering where the Brave Storyline came from, it is an original idea, and I really love that is is not based of any other movie or story and I think it adds charm to the movie,
Katherine-

It is not based on an existing fairytale. Original story,  and it's conceived by Brenda Chapman and based on  the relationship similar to … butting heads with her own daughter, actually.We're all big fans of traditional and classic and dark old fairy tales, but there's not one that it's based on at all. It's an original Pixar creation.
Brave is the first movie to have a female lead in a Pixar film, and it was not a complete coincidence,
Katherine-

It wasn't a complete coincidence so much as a, a great convergence of the timing and the story and the talent. Our directors and our filmmakers are pitching the ideas from the beginning and, and when it's their turn to pitch an idea they could pitch one but they write what they know, and at this particular time in, you know, when Brenda Chapman pitched this idea, it was very dear to her heart, she had a six-year-old daughter at the time and they were really, really butting heads and she said, what will this kid be like as a teenager?
Brave comes to theaters in Just a few weeks on June 22!
If you missed any of my other Behind the Scenes of Brave Posts be sure to Check them out!
Disclaimer: I was provided and all expenses paid trip thanks to Disney and Pixar for a Brave Press Junket. All opinions and excitement are 100% my own!
Join the newsletter
Subscribe to get our latest content by email.
This post may contain affiliate links. Please read my disclosure policy here