Back in November I took a trip to New York City to get a behind the scenes look at the making of Delivery Man. I had the chance to watch  Cobie Smulders in one of her scenes and then have a fun chat with her afterward.
To get into character and know what her character's job is she took a visit to a police station and I think that is awesome of her for doing that. Going the extra step to learn about her character's job I think shows in the movie even though we only see her a short bit acting in the job scene.
Colbie: I did actually. I was, yeah, I, uh, I met this guy when I was doing press for another movie and he works at the 34th Street Precinct. Said you know what, just come in and look around and talk to some people. He was super sweet.Took me around then I met a woman who was a single mom. And that, uh, was really interesting because it's possibly like the hardest job to be a single mom. Because your hours are, um, you never know when you're coming home really. They do like twelve hour shifts and she worked from like twelve to twelve, or, she had a shift where she was able to sometime pick her kid up from school. But if she booked somebody she'd have to stay and file all that paperwork, and that takes like hours. So that was really interesting and kind of having that in the back of my head going I don't have a partner in this, then I'm screwed. So I have to kind of make it work.
As a big fan of New York City I loved hearing what she had to say about filming there. While it is to busy of a place for me to live it is one of my favorite places to visit.
I love shooting in New York. I shot another movie here over the summer and it just, it's very realistic. I mean like walking by and try to get their jobs and it, it gives like… New York itself is a, New York's a character unto itself. It always provides such a beautiful backdrop and it also gives energy to the movie as well.
Being a mother and working is something that I have a challenge with, while I work from home it is a major balancing act. Hearing what she had to say about how being a mom helped her with her role I thought was interesting as well.
Yeah, of course. You definitely, uh, it definitely helped. I think that, you know, you worry you don't have kids, you think you understand what it's like to be a mom, you know. But being a mom is a totally different thing. Um, there's that, and it's also, they really found that they were a working mom. That- that helped a lot, too.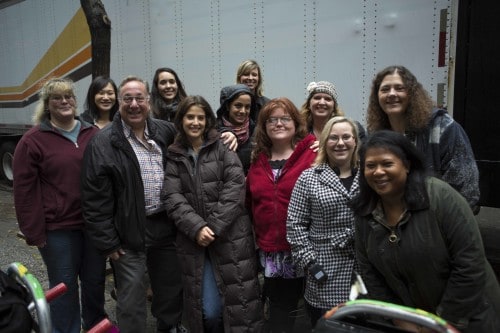 Cobie Smulders plays the part of Emma in the Delivery Man movie that comes to theaters on November 22. Learn more about the movie here with my interview with Director Ken Scott
Disclaimer: I was provided transportation and hotel for my stay in New York City thanks to Disney. No compensation was recieved and all opinions are 100% my own.
This post may contain affiliate links. Please read my disclosure policy here