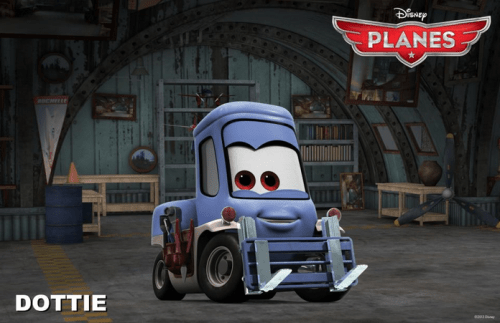 In June I packed my bags and headed to LA to attend the Monsters University World Premiere and to get some inside scoop and behind the scenes information on the new Disney Planes movie. One of my "stops" was to have a round table interview with Teri Hatcher who plays Dotti.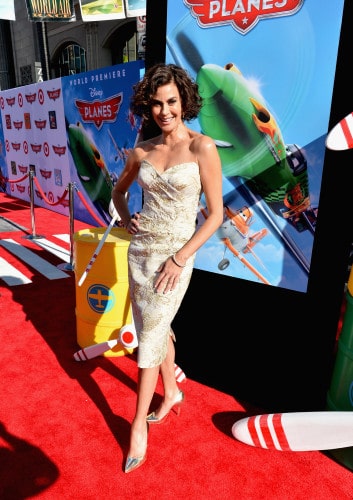 Unfortunately when we were there Teri Hatcher (the voice of Dotti) was sick and while I missed being able to meet her I am glad she was willing to talk to us over the phone even while sick. She had a sinus infection and I know how much pain those can be and they can make even functioning a task in itself so her doing this interview while fighting a sinus infection gets her same major props from me.
While talking with us her pride in being a mom, her humor and her drive to be successful as a mom and an actor shined.
When asked what she thought about the female mechanic role in planes and playing the part she responded with
"I think that that was a really great choice that they made for the movie. I also have to be honest that while I do consider myself as a single mom, I haven't told the story in a long time, but it does seem to happen very frequently in my real life; I'll, I'll hear a soft sort of, um, you know, a mom can just tell when there's a tone in their child's voice that something's wrong. And I'll sort of hear a soft, Mom, and I just know there's a spider on the wall, but it needs to be removed and my child's too scared to do it. So while there's a lot of that kind of quality in me that sort of just something needs to be done, then I'm gonna get it done, and I consider myself fairly tough, I knew nothing about fixing cars, or planes, or mechanics, or anything else. Thank God for AAA. That's all I have to say. "
What Teri had to say about her Character Dotti
 "I love that she was or is that sort of tough, and smart, and capable, and also friendly and caring"
What Teri had to say about playing an animated character versus an actress in a movie or on TV. – Which I LOVE her response because I am one who loves to be able to relax when I am working at the same time and not worry about how I look and focus on the other things I need to get done. I also like that she was not afraid to admit that she enjoys not having to worry about it.
I get to show up not in hair and makeup; not worrying about, any physicality, and really just, you know, relaxing into my voice, and just trying to tell the story through my voice.
And one of my favorite lines of hers from the interview when talking about being a mom and an actress and how she handles it is
And I just think, I think that it, there's, there's no other answer than moms- they just seem to give and give and give. I mean, like right now- I'm no sick with this sinus infection, like massively, massively sick, and it turns out I probably had the sinus infection for four months. And I said to the doctor last week when he put me on these really strong antibiotics, I said, how could I have been functioning like this? Because he showed me, like, a scan of my head, and he said because you're a mom. That was literally his answer and, and I knew what he meant which is, we just kinda keep going.
Disclaimer: I was provided a most expenses paid press trip to attend a press junket with Disney. No compensation was received and all opinions are 100% my own.
This post may contain affiliate links. Please read my disclosure policy here